Christ's suffering redeemed all of creation. All of it. His mercy is great enough to redeem every single one of us! But the problem is, not everyone takes Him up on this offer.
What happens to that rejected mercy?
St. Therese of Lisieux had the courage to ask Jesus for it: for all of the mercy that others rejected. In essence, this prayer is what it means to be consecrated to Divine Mercy.
I knew little about this before diving into Fr. Gaitley's wonderful book titled 33 Days to Merciful Love.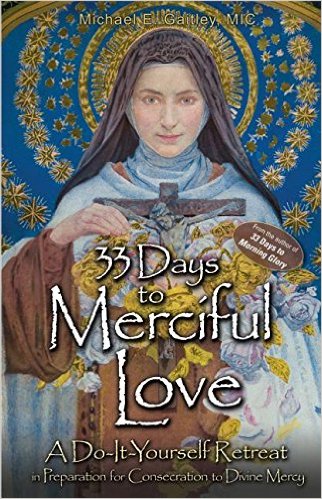 Inside of this book, Fr. Gaitley offers a pathway for both individuals and families to consecrate themselves to Divine Mercy.
In the personal consecration to Divine Mercy, people ask Jesus for the mercy that others reject. But what if you could take all of the mercy that other families reject and ask Jesus to give it to your family? This is what it means for your family to be consecrated to Divine Mercy.
Your family then becomes kind of a storehouse of mercy. Most importantly, you then ask Jesus to help you distribute this mercy to other families who are thirsting for it – and aren't we all?
Through consecration to Divine Mercy, you are then striving for your family to be the domestic Church in the fullest sense possible: through merciful love.
[Tweet "A family consecration to Divine Mercy is a beautiful spiritual step to strengthen your family."]
My husband and I started reading this book together, and ultimately decided that a family consecration to Divine Mercy was going to be a beautiful spiritual step to strengthen our family.
The evening of our consecration, we sat in our daughters' room. I remember they were especially joyful that night. They were running around on their bed, bouncing up and down, doing somersaults, and giggling a lot. It was difficult to get them settled enough to hear the prayers we said. But they're pretty young so we really didn't mind, and I do believe they heard them as they jumped and played together anyways.
What a blessing.
I purchased a beautiful, small canvas Divine Mercy image at a Mercy & Mary retreat I attended earlier this year (more on that here). We then placed this image on our mantel to remind us of this consecration and of Christ's unbelievably awesome mercy that is available to us always if we just ask!!!
We then put our little jumping beans to bed.
I'm not kidding you, within days or maybe even hours of this consecration, a very interesting opportunity came to our family. I didn't really realize it fully at the time, but as time unfolded in the next days and weeks, we truly were presented with a golden opportunity to extend mercy to another family--a family we loved and cared for and one who truly needed mercy from us!!!
God is awesome. He is awesome and He is merciful. And He heard our prayer. He heard that we wanted to be a family full of His merciful love, and that we were ready to try to pour it out to other families who were parched and thirsting for mercy.
I use the word "try" here because being merciful is not easy. It requires forgiveness, patience, and lots of hope. These are not things of this world, but rather, they are things of Heaven. They are things that stretch us spiritually, and I can tell you that sometimes they really hurt. And so we cannot be merciful unless we are fully dependent on God. I really do try to remember my dependence on God every day as I fall short of His will for me all the time. I try to be merciful with myself when this happens, too.
But you know what? In the end, our family persevered through this challenge. And I am so grateful that we were given this opportunity to learn together what it means to be merciful as our Father is merciful (see Luke 6:36).
I invite you to consider learning more about consecration to Divine Mercy in Fr. Gaitley's book 33 Days to Merciful Love. It is a gem. That St. Therese is pretty clever, isn't she? You'll love her words scattered throughout these pages. May God bless you on your journey!
I pray that our families may continue to grow in humility and mercy – come what may!
"God's mercy can make even the driest land become a garden, can restore life to dry bones (cf. Ez 37:1-14). … Let us be renewed by God's mercy, let us be loved by Jesus, let us enable the power of his love to transform our lives too; and let us become agents of this mercy, channels through which God can water the earth, protect all creation and make justice and peace flourish." — Pope Francis, Easter Urbi et Orbi message on March 31, 2013
P.S. God is merciful and He loves you! Pass it on…
Buy this book through our Amazon affiliate link and support CatholicMom.com with your purchase!
Copyright 2016 Kaitlyn Mason
About the Author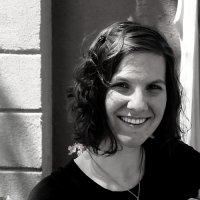 Kaitlyn Clare Mason is founder of Mary Garden Showers, a national ministry sharing Christ's mercy with women and families in crisis pregnancies. Author, songwriter, and homesteader, she is blessed to be a wife and the mother of four children. She writes to help you trust & serve the world through your home at KaitlynClareMason.com.