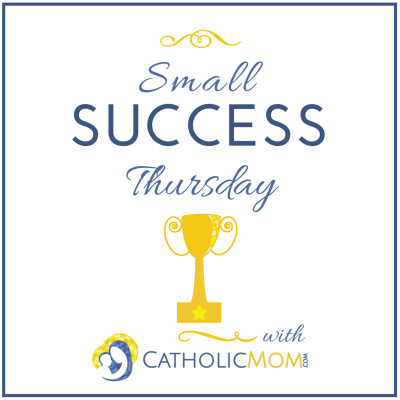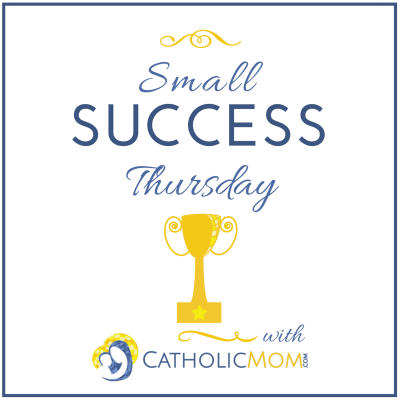 This weekend, the kids got a trip to the museum. Their father took a group to DC while he picked up some papers. They got to make hats and Teddy Roosevelt photobombed the shot they took with Lincoln.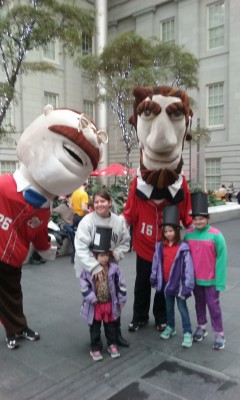 It was a fun time for all. When we got to Sunday evening, we wished the weekend would go on...and wonder of wonders, we got two snow days. We played card games, we practiced music, we read books. It was wonderful.
But the best moment of the week came on Tuesday, when five of us sat and prayed the rosary together before bedtime. I've always been somewhat leery of praying such a long prayer with my young children. However, I wanted to reset things after the long weekend, to calm them for the remaining part of the week. It worked. What's more, they loved it. I hope to make it part of bedtime, as much as the request (and that request is always there) for one more story.
Small Success Thursday is about the victories made minute by minute, day by day. So I'll say, the small successes of this week were:
1) getting a column finished for the paper and published.
2) we got to get the kids to clean the basement. (Believe me, that's a scary thing to even consider).
3) that rosary with Rita, Regina, Paul and Anna, and the glimmer, the hope of doing it again.
I hope your Lent is bearing fruit. Fasting is not my strong suit but I'm trying. That's the great part of Lent; God takes whatever little effort we make. God does the multiplying. If I give Him a mustard seed, He grows a tree. If I offer a day's discomfort, he takes it for far more than it is worth. Here's hoping your week was full of small successes.
[inlinkz_linkup id=604826 mode=1]
Copyright 2016 Sherry Antonetti
About the Author

Sherry Antonetti is a mother of ten children, published author of The Book of Helen and a freelance writer of humor and family life columns. You can read additional pieces from her blog, http://sherryantonettiwrites.blogspot.com.