You've created your products, and are ready to share them with the world - not online, but in person. Feeling a bit apprehensive about the idea of your first show? This month, we're sitting down with Monica McConkey, of Arma Dei: Equipping Catholic Families to talk about how to prepare for the show before, during, and after. Monica has been attending Catholic conferences for about 12 years, offering her Catechism, Saints and Sacrament-based books, quizzing cards and paper craft kits to help teach and celebrate the Catholic Faith.
SELLING AT YOUR FIRST SHOW
1. Register as an exhibitor as early as possible and pick a spot:
If you are able to choose the location of your booth, consider the following: traffic flow from the main entrance of the hall and to food concessions and or washrooms.
Avoid the back corner of a big hall.
Consider paying the premium for a corner booth or island to get additional sides for display. Sometimes your booth will be a walk-in space, sometimes a counter. Consider how customers will best be able to study the items you sell, where you can store and access additional product (under tables, covered by tablecloths)
What infrastructure is included?
Will you have an 8' curtain wall behind you or a wall?
Will you be able to hang appropriate signage...banners or posters?
Do you need to bring your own tables and chairs or are they included within the booth rental. Some of the bigger shows require floor covering, so you'll need to either rent some carpet at exorbitant prices....or bring your own carpet remnant or floor mats. You will appreciate the cushiony surface...especially after standing for 8 hours on a concrete floor.
Don't forget tablecloths...some venues require additional tablecloths to cover products, closing booths and sales during talks (within the same hall).

2. Booth Signage:
Most shows will have a range of vendors with every form of professionally printed banners and fancy pop up displays. We have had printed banners and have tried many different homemade display configurations and have finally settled on 23' of hand-painted canvas!
Do something that makes you stand out. I painted a castle wall and an 8' knight mascot to match our Arma Dei "Armor of God" motif. It's clearly not the glossy banner or expensive pop up display, but it think it reflects our creative products and helps us stand apart.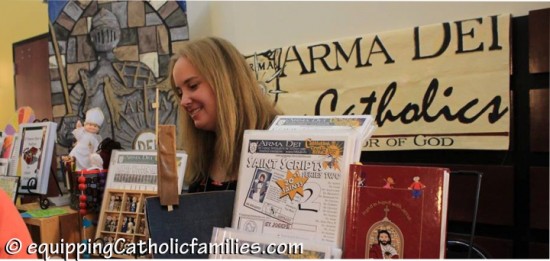 3. Table Signage:
Most people find it pretty annoying when they see products they like, but they're not clearly marked for price. Price your items clearly and consistently for all that are on display.
Many people want to look but may be reluctant to strike up conversation before they're sure they're interested in purchasing an item. Create consistent signage, ideally reflecting the style of your booth, to maximize these opportunities for conversation.
4. Shipping Product Ahead of Time:
Pay close attention to the fees involved as provided by the conference venue. Sometimes, you can send boxes of product ahead of time to the hotel you're booked to stay at - but call ahead to (1) make sure they can hold them there for you and (2) determine if there are any fees involved.
If there is a Fed Ex in the hotel....ask ahead about fees! We've been surprised by exorbitant handling fees!

5. Display:
Determine how you want your booth to be arranged. In a glance, you'll see that I struggle with having a cluttered booth. I just have so many Catechism, Saints and Sacrament training tools and gifts to show! My products are all about crafts and activities families and classrooms of kids can do to celebrate the Catholic Faith. Finished examples of the crafts from the kits or within the books are essential for people who may not take the time to read what is packed into each product. With over 30 different Cathletics Craft Kits, it's difficult to avoid a really busy display, especially when the venue imposes a one-table limit! I need to have my display kits easily accessible...and as much as possible, have some completed kits displayed.
Be flexible from one show to the next, and adjust your displays until you find one that works for you. Over the years, I have tried various stands and racks and tiered shelving. For my 8.5"x11" paper kits, I use folding wire racks. They stand up about 30" from the table and provide necessary height to my display. The wood crates offer shelves for books and height for display sets. My Wooden Painted Saints and Saints Church are described in tutorials on my blog. While I sell the kit of Clipart to make the Church, I don't actually sell the painted saints or even a craft kit to make them, but these finished pieces are magnets for Catholic Moms and kids and always draw people into my booth.
6. Read the fine print of the conference booth rental contract:
In addition to what is included (and what is required) for your booth space, sometimes special sales permits applications are required as well.
Look into sales tax requirements for the State you are selling in.
Pay attention to set up and close down times and loading dock logistics.
Do you need a dolly to carry your stuff to your booth?
Can you fit your stuff in rolling suitcases...easily transported through the entrance?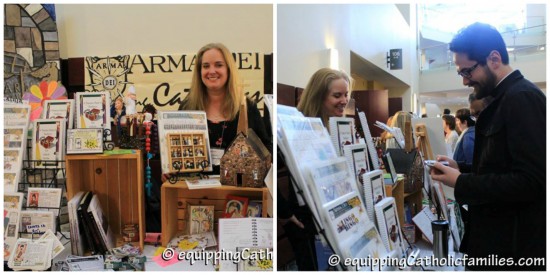 7. Taking payments:
With Square, and other phone apps, you will likely be able to accept credit cards for sales. This is definitely a draw for many customers! Make sure that you've set up this account and have tested your ability to accept payment plenty of time before the conference.
8. Handouts (invoices, mailing lists, business cards, pamphlets, catalogs):
Make sure that you have enough of whatever type of handouts you are planning to distribute.
Consider printing promotional handouts on a high-gloss paper so they'll last as customers add them - and all their purchases - into a shopping bag.
Find out if the venue has a way to print additional copies if you need them...but remember that pricing will be quite a bit more than you're used to!
9. Look for special promotional features and opportunities at the show:
Contribute samples or flyers to grab bags
Make sure your information is listed in the event program or booth directory
List your special discounts or host a giveaway in efforts to lure more people to your booth.
Consider having freebies...even little wrapped candies. Some of the big publishers give away free copies of new books, but if you're self-publishing: don't feel pressured to do the same. Offer to sign purchased copies, or print little bookmarks promoting your work.
Offer an item in a giveaway, requiring them to sign your mailing list for their entry. It's always helpful to build up your mailing list, sending infrequent newsletters or updates as new products are released.
Make sure any free items or promotional material have your website listed for easy access. Attendees can be intimidated by an expo hall of vendors and may want to purchase online, after the show.
Consider offering incentives to promote purchases at the show. Special discounts and/or free shipping may add a little sense of urgency, prompting attendees to buy now rather than later.
10. Make friends with vendors you're displaying near. Walk the floor and discover the other products available. You may even collaborate with other vendors in future shows!
11. Have fun! Try not to get overwhelmed by the logistics and the inevitable glitches that happen, no matter how well you plan! Remember what you love about the things you create (and sell), and let it show through as you introduce others to your work.
Copyright 2016 Jen Frost
About the Author