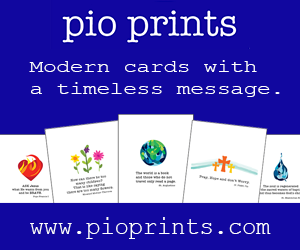 Editor's note: This month, we are grateful to have the sponsorship of the beautiful new apostolate Pio Prints. This new enterprise has a great mission:
Pio Prints was created with the purpose of updating the religious greeting card to appeal to the modern world. It is our mission to spread the message of the Saints to encourage, inspire, comfort, and congratulate. Our name is in honor of the great Saint Padre Pio of Petricila, and our motto we take from his beautiful wisdom: "Pray, hope, and don't worry." St. Padre Pio
I do hope you'll join me in purchasing the beautiful cards offered by Pio Prints. I have already sent a few of these beautiful gifts to friends of mine and know you'll love them. We at CatholicMom.com thank Maria Garabis Davis for this thoughtful article and for her sponsorship of our work this month! Lisa M. Hendey
Rediscovering the Art of the Handwritten Note
My mom was busy. And by busy, I mean that she had nine kids busy. For as long as I could remember, she was always cleaning something, cooking something, or holding someone. Her days were full of constant activity and I rarely, if ever, saw her sit down. Except for Sundays.
[gss ids="103262,103263,103264,103265"]
On Sunday afternoon you could always find my mom sitting at the kitchen table, catching up with her "correspondence." Equipped with her address book, and surrounded by cards, she wrote messages of love, hope, and consolation to those who needed it. Recipients ranged from family members to acquaintances and everything in-between. She even wrote to the author of a compelling article she read in a magazine, expressing her appreciation for her sharing her story and empathizing with her pain.
As a child I just couldn't grasp the purpose of such a seemingly boring and old-school practice. But as I grew older, I began to understand. By sending a card, a small and simple gesture, my mom was sending a powerful message of affirmation and love to each person. She was acknowledging that the milestone they were grieving or celebrating was worth the joy or sorrow that they were feeling. She was saying, I am here and I stand with you. You are not alone. Right now, as I write this card, I am thinking and praying for you.
When my mom died, I was approached by a friend of my oldest brother. He told me how moved his wife was by a recent card that she had received from my mom. He said that of all the things given to her after the untimely passing of her father, the thing that was most comforting and most touching, was a card with a note that was sent to her by my mother. "They just don't make women like your mom anymore," he lamented. "So classy."
They don't make women like my mom anymore, and I want to be one.
In this age of the internet, we have forgotten the the power and impact that comes with a handwritten message. It's just so much easier to shoot out an email or post a two second response to Facebook. Although not without value, these messages are not equal. Even the most beautiful email will not contain the same warmth and personal touch as a written note.
In looking for a card to send a note to a friend who was faced with the probability of losing her father to cancer, I scoured the racks to find something that was fitting, touching, and contained a meaningful message. Instead, I was met with dated prints, cliché sayings, and sappy poems. I wanted more. I wanted to send her courage for all the pain and uncertainty that was pending. I remembered a quote from Pope Francis that I had recently written on a notecard and posted by my sink: "Ask Jesus what He wants from you and be BRAVE." I wanted to send her that.
Necessity truly is the mother of invention. With the help of my sister-in-law and her talented sisters, Pio Prints was created. (www.pioprints.com). The task was to update religious greeting cards to appeal to current generations. We are small, but we have a big mission: to spread the message of the Saints to encourage, inspire, comfort, and congratulate.
This year, participate in the Jubilee by sending mercy to those not within your local reach. As I learned from the best, all it takes is a little time and a stamp.
Maria Garabis Davis holds a Juris Doctor degree and a BA in theology. A former youth minister and now practicing attorney, she resides in Columbus, Ohio, with her husband and four children. Maria is the founder of www.PioPrints.com.
For more information:
About the Author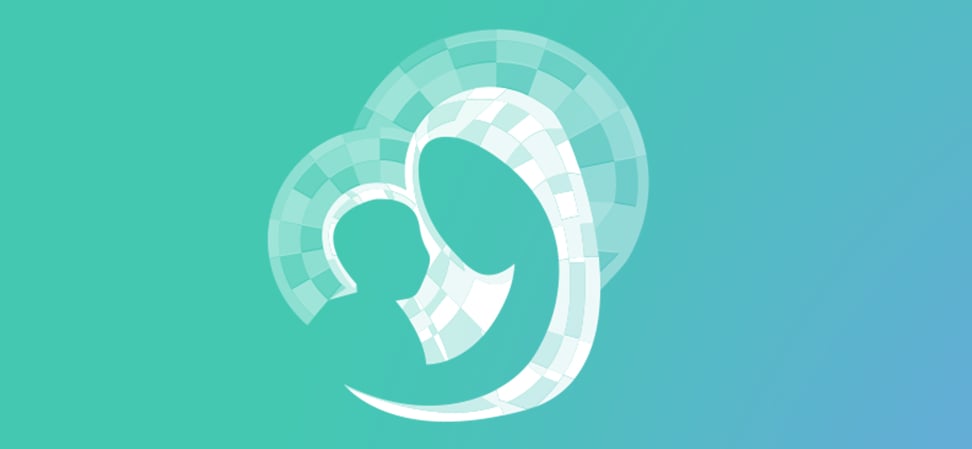 We welcome guest contributors who graciously volunteer their writing for our readers. Please support our guest writers by visiting their sites, purchasing their work, and leaving comments to thank them for sharing their gifts here on CatholicMom.com. To inquire about serving as a guest contributor, contact editor@CatholicMom.com.