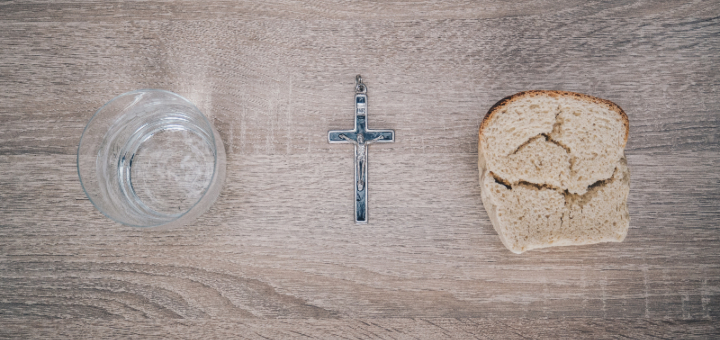 Image credit: By Kamil Szumotalski (2018), Unsplash.com, CC0/PD[/caption] From as early on as I can remember, I've always observed Lent in some pretty traditional ways. I've always given something up. I've always participated in the Rice Bowl. I've always tried to add in more daily prayer or follow along with a devotional. I've always done something, but never with any real intention. As I grew in my faith as an adult, I yearned to be more intentional about Lent. When I became a mother, I knew I needed to be more intentional about Lent. I wanted my kids to actively participate in the Lenten season. I wanted them to do more than just give something up. I wanted their hearts to expand for one another, for the world, and for Christ. I wanted them to understand and embrace sacrifice. I wanted them to grow in faith and knowledge and love. I set out to make our Lent the epitome of perfection. I scoured magazines, blogs, and books. I talked with other moms. I observed other families from afar. There were so many great ideas out there! I thought that doing all those things would make our Lent perfect. Really, though, we just got burnt out. I couldn't keep up with it all. Nearly all my best laid plans were abandoned less than halfway through. My children didn't get much out of it, and neither did I. I was discouraged and defeated. And I'll admit that a Lent or two slipped by without us doing anything at all. Over time, I've found simple ways to have a meaningful Lent without too much stress or frenzy. Some might find my family's Lenten practices too elementary. Others might find them too demanding. I've come to realize that every family is different just as every person is different. What works for one family or person may not work for others. I know that seasons change, and we must adapt as they do. What we do right now might not work down the road. But it works right now. For us. As I began preparing for the upcoming Lenten season, I wondered if there were other families who needed just one small idea or two to help them make the most of the days leading up to Easter. I thought I'd share what we do to observe Lent as a family in hopes of encouraging other families to grow together in faith during this special time of year. Out of curiosity, I asked my two bigger kids (ages 9 and 6) what they remember about Lent. My nine-year-old said, "The paper chain!" My six-year-old yelled, "The Rice Bowl!" Surprisingly, my four-year-old piped up and said, "The Sacrifice Beans!" This will be our fifth Lent where we do a paper chain, the rice bowl, and sacrifice beans. I was thrilled that they remembered and that they were actually eager for Lent to begin. These three small, simple practices are the very heart of Lent: prayer, fasting, and almsgiving. COUNTDOWN CHAIN The Countdown Chain is exactly what it sounds like. I use purple construction paper or card stock to make enough strips of paper for each day of Lent and staple them into a chain. When my kids were all preschool age and younger, we simply removed one link from the chain each day of Lent. It was a visual reminder for us all that Easter was coming. When my oldest started kindergarten, I wanted our chain to have something each day for us to do or ponder. I came up with some simple tasks for us and included one on each day of the chain. We either pray for someone, fast from something, or give to others in some way. The activities do not require much time or effort, but they give our Lenten journey purpose. My hope is that our hearts will change and grow by completing each small action. If you would like to do this with your family but don't want to come up with your own daily activities, you are welcome to use ours! I've created a PDF of our family's countdown chain. Click here to download: Life Happens When Lenten Countdown Chain SACRIFICE BEANS Sacrifice beans are another very simple way to bring Lent to life for our family. We use a bag of beans (I try to find ones that are dark red or purple, but any kind will do) and a clear jar (I just use an old mason jar). At the beginning of Lent, we talk about the word sacrifice and we come up with examples of sacrifice. Then, we talk about how Jesus made the ultimate sacrifice for us all because He loves each of us so much. To show Jesus how much we love Him and appreciate His sacrifice, we set out to make little sacrifices for one another (and ultimately for Jesus) during Lent. When I see someone do something kind, thoughtful, or generous for someone else in the family or I see the kids really getting along together well or someone is extremely well-behaved, I add a bean (or a couple) into the glass jar. Our goal is to fill up the jar all the way to the top by Lent. When Easter comes, the sacrifice beans are always mysteriously gone, and jelly beans have taken their place. We do the same thing for the Easter season except the person who has done the good deed gets to eat the jelly bean(s)! The kids are really motivated by the idea of filling up the jar. They work hard to make sacrifices for each other. They encourage one another and they work together. They even notice the sacrifices my husband and I make. Our house fills to the brim with goodness and love. It's a beautiful thing to witness. THE CRS RICE BOWL Every year, we collect our money in the Rice Bowl provided by our church. As a family we talk about how there are many people around the world who do not have food to eat, clean water to drink, clothes to wear, a house to live in, or a school to go to. The Rice Bowl is a perfect way to give to those in need. When we have change left over, we always put it in the bowl. We challenge the kids to dig deep into their piggy banks and give from their hearts. We pray for the families in need when we put money in. My family believes in this organization, but if your family knows of another reputable organization, that would be great, too. Jesus calls us to love our neighbors, serve our neighbors, and take care of our neighbors. This is a tangible way to do so and one that really teaches generosity of the heart. We've tried doing crafts. The opportunities for these are endless. We've tried making food that symbolizes this time in Jesus's life or that represents a certain feast day. There really are some amazing and creative things that can be made from food! We've tried praying the Rosary every day as a family. I truly applaud the families that do this successfully. We've tried coloring pages and daily devotionals. We've tried burying the Alleluia. We've tried Resurrection Eggs. We've tried 40 Bags in 40 Days and collected 40 non perishable items to give to a local charity. We've tried so many things, but our countdown chain, sacrifice beans, and the Rice Bowl are the only things we've ever truly followed through on. I've come to realize that it's enough. Lent is a time to strip away the excess in our lives and in our hearts. Simple may very well be the best practice during this time. If your family doesn't have any tried and true Lenten practices, I hope you'll try at least one thing this year. If your family is a bit more advanced than mine, I've included several links below that will give you many more amazing ideas! I'd love for you to comment and share what your family does during Lent! I hope you and your family grow closer to one another and to Christ this Lenten season.
---
Copyright 2019 Leanne Willen
About the Author

Leanne Willen is a Catholic mother of four young children, a wife, a writer and a preschool teacher. She writes about faith, family, and finding joy. Her blog, Life Happens When, encourages others (and herself) to embrace the moment and enjoy the journey of life.