"Everlasting Love." That sounds wonderful, right? But sometimes in the day-to-day drudgery of real life, those words can feel like an unattainable fairy tale, fodder for a sappy love song or a rom-com we might possibly catch on Netflix. Even after almost thirty years of experience as a married woman, I still pray daily for the grace to be a loving, committed and joyful partner to my husband Greg. And in the busyness of life, it sometimes feels most challenging to lovingly serve those who are the closest to us: our spouses.
In early 2013, I received some beautiful correspondence from a talented writer named Karee Santos. Even more compelling than Karee's gift for words was her tremendous passion for her subject matter: marriage. In the ensuing years since Karee joined us as a writer, her husband and writing partner Dr. Manuel Santos began to lend his gifts - the end result is the beautiful Marriage RX advice column we've been sharing here each month for over a year.
This month, we are thrilled to celebrate the launch of Dr. Manuel and Karee Santos' brand new book The Four Keys to Everlasting Love: How Your Catholic Marriage Can Bring You Joy for a Lifetime (reviewed here by our own Barb Szyszkiewicz). The wealth of real world knowledge, passion and wisdom that the Manuel and Karee have shared here on the blog is now available in beautiful book format. Today, I share my recent conversation with our marriage mentors and thank them for so freely sharing their gifts so that all of us may more joyfully live out and celebrate our vocation to marriage.
Q: Manuel and Karee, congratulations on the launch of your new book Four Keys to Everlasting Love: How Your Catholic Marriage Can Bring You Joy for a Lifetime! We've so enjoyed your Marriage RX column at CatholicMom.com and are thrilled to have this beautiful resource to share with our readers. Please introduce yourselves and your family to our community.
Our sixteenth wedding anniversary is right around the corner – April 29! We've been blessed with 6 kids – five girls and one boy. (Yes, we know that's a lot of girls.) Manny is a psychiatrist, and Karee is a blogger at Can We Cana.
Q: What prompted you to write this book at this time in your life? What will readers discover in the book?
We actually started writing the book more than 10 years ago, when we designed a pre-Cana curriculum based on the teachings of Pope John Paul II. We couldn't find a book that covered a broad enough sweep of topics so we decided to write it ourselves! Our book integrates practical tips and the rich spiritual wisdom of the Catholic Church to help couples become more united in every facet of their married lives – as parents, as workers, as prayer partners, as stewards of their financial resources, and even as lovers.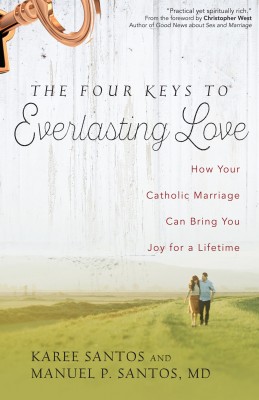 Q: How challenging was it to work on this book together as co-authors? How did that project impact upon your marriage?
We learned a lot about each other that we didn't know, not just about our working styles but our inner thoughts. Sometimes the writing exacted a heavy emotional toll, like reliving the times in our marriage when Manny had to undergo multiple brain surgeries. Karee kept crying when she read over the early drafts of our first chapter.
Q: You are very personal in your sharing in this book. What motivated you to so openly share from your own experiences to bless other engaged and married couples?
As Pope Paul VI said, people listen more to witnesses than to teachers. And the heart of witness is willingness to reveal parts of your life with vulnerability and humility. We're not perfect – and we know it! God can turn the imperfections of any marriage into grace and glory if we place everything in his hands. When we got nervous and started to hide behind big words and Church doctrine, our editor Heidi Hess Saxton stepped in and convinced us that sharing our lived experiences could lead a lot of people to joy, hope, and healing.
Q: If you could go back in time and give advice to yourselves as newlyweds, what would you say?
It will be the best of times and the worst of times. Hang on for the ride of your lives!
Q: Please speak from both of your perspectives on what key ingredients are at the heart of a happy marriage?
The four key ingredients are faithfulness, freedom, fruitfulness, and a total gift of self – the four keys to everlasting love! In other words, at the heart of a happy marriage you will find an unwavering commitment to the marriage, a willingness to make family-friendly choices about work, money, and free time, openness to the gift of new life, and an ardent desire to be totally one with God through each other.
Q: For those who are facing major hurdles in their vocation to marriage, what advice can you offer?
As Karee said in this recent interview, "Reconnecting can happen on a physical, emotional, and spiritual level. Physically, it can help to just touch each other in kindness every day – a hug, a kiss, or best of all making love. Rebuilding an emotional connection can happen through the three Ts: Time spent together, Techniques learned through programs like Retrouvaille, or Therapy with a practitioner who understands and supports the Catholic view of marriage. Spiritually, the answer is to pray, pray, pray!"
Q: What's next for you personally and professionally?
On a personal level, we're looking forward to our daughter's First Communion and Karee's concert in Carnegie Hall with the St. Agnes Cathedral Chorale at the end of April. On a professional level, we're excited that Catholic Update will be publishing our piece "A Biblical Roadmap to Marriage" in June. But there are no proposals for a second book in the works. We received strong inspiration in prayer that God wanted us to write this book – but we only promised him one!
Q: How can readers learn more about your work?
They can learn more about our book here, more about Karee's blog Can We Cana? here, and sign up for a regular newsletter here.
Order The Four Keys to Everlasting Love: How Your Catholic Marriage Can Bring You Joy for a Lifetime at support CatholicMom.com with your purchase
Copyright 2016 Lisa M. Hendey
About the Author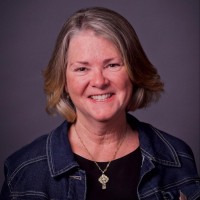 Lisa M. Hendey is the founder of CatholicMom.com, a bestselling author and an international speaker. A frequent radio and television guest, Hendey travels internationally giving workshops on faith, family, and communications. Visit Lisa at LisaHendey.com or on social media @LisaHendey for information on her speaking schedule or to invite her to visit your group, parish, school or organization. Visit Lisa's author page on Amazon.com.