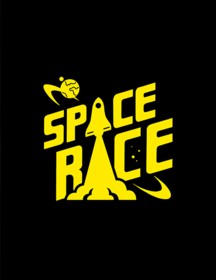 Today, I am reviewing another Kickstarter game called Space Race: The Card Game. The game was created by Jan Soukal and Marek Loskot. It is designed for 2-4 players, ages 13 and up. It takes roughly 40 minutes to play and costs approximately $33. The game takes place during the Cold War. You are the director of a new space agency with the goal of building the most successful space agency in the world. You will accomplish this by playing various Space Race Cards that score you victory points. The game itself takes place over seven turns (or decades), and the player with the most victory points on theirs cards at the end of the game is the winner.
Setup
1. Give each player a set of the same twelve Control Cards. This twelve cards consist of a 1, 3, and 6 value of the three following categories - Propaganda, Technology, Space Program, and Breakthrough.
2. Create the Universe by shuffling all the Space Race Cards and placing them in the central play area. Deal out 4, 5, or 6 Space Race Cards (depending on the number of players - 2, 3, and 4) and arrange them by the four categories above. Put two more cars from the deck face down next to the other cards.
3. Each player then draws Space Race Cards (Player 1 = 3 cards. Player 2 = 4 cards. Players 3 and 4 = 5 cards). This is the player's hand and represents resources obtained from the government or a sponsorship.
Game Play
1. Looking at the cards in the Universe and the player's hand, players simultaneously play one of their Control Cards face down. This is like placing a bid. Face down cards from the Universe are flipped over and players' bid Control Cards are also flipped over.
2. Action is then resolved in the order of Propaganda, Technology, Space Program, and Breakthrough. If two or more players, play the same type of Control Card, then the person with the highest bid (1, 3, or 6 plus any cards in your Space Agency) goes first. If it's a tie, then the first player goes first and turn proceeds in player order. Any Bureaucracy is then resolved in player order again.
3. You then prepare the next decade by moving player order, seeding the Universe (Each player gets to add cards from their hand face down into the Universe), and then flipping one of those cards over for a 2 player game (or 2 cards for a 3-4 player game).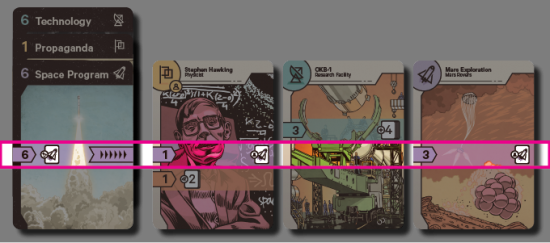 Review
The game is all about building combos and finding synergies. Since you only have seven turns and twelve Control Cards, you will have to pick certain routes to, i.e., focusing more on Propaganda instead of Technology, and adjust your strategy based on what cards come out and how well you can read your opponent and what you think they might be focusing on. If you make a great move, you can chain together several actions in one move. For example, you can put a card in your Agency from the Universe, which then lets you draw more cards, which then lets you take a card from your hand to place in your Agency. These game mechanics are very unique and not like any game I have ever played before.
I also like all the themed cards. Instead of going for generic people, shuttles, etc., we see a nice mixture of U.S. and Russian people and technology. There are both astronauts and cosmonauts. There is Hubble, and there is Lunokhod. We also see Area 51 and the hunt for UFOs. However, where this game really leaves you speechless is in the artwork. Artwork can really make or break a game. It either draws you in or turns you off. A game can be the best and most clever you have ever played, but if it is lacking in art appeal, you may not ever play it. This game has artwork that is out of this world! I have only played a print-and-play version of this game, but I can't wait for it to become a real game and get to play the game with all the finished artwork.
This game is already funded on Kickstarter, but your pledge can help make this game even better by adding more artwork and cards. You have less than a week though, so don't dawdle because a game like this doesn't come around often!
See all the Favorite Games for Family Game Nights reviews here.
Copyright 2016 Stuart Dunn
About the Author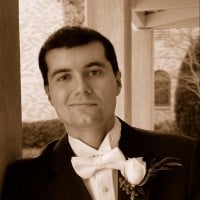 Stuart Dunn was born and raised in Mobile, AL and received a Bachelor of Arts in Psychology and a Master of Business Administration from the University of South Alabama. Stuart reviews all things Catholic including adult books, children's books, Bible Study series, Catholic Courses, CDs, and DVDs in addition to board games at his blog Stuart's Study at StuartsStudy.blogspot.com.