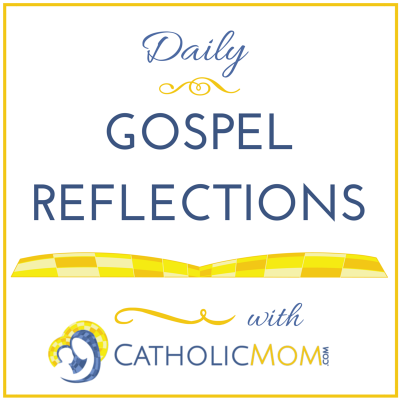 Today's Gospel: Mark 10, 13-16
There's a difference between childishness and childlikeness. The first implies a lack of maturity, an inability to interact rationally with the world. The second, however, implies a choice of this state of being, a decision to embrace the innocence and worldview of a child.
It's easy to be childish in our relationship with God. When a tragedy happens, we lash out at Him blindly, throwing a spiritual temper-tantrum. When we are blessed with a gift, we call a casual "Thanks!" to our Father before running off to play. Often, like a spoiled teenager, we even try to take control for ourselves rather than trusting in the direction of the Holy Spirit.
The call to be childlike is difficult to answer. There is a natural curiosity in a child to know everything; and at the same time, a willingness to believe. But as adults, we like to think we have the world figured out. Christ's promise of the "Kingdom of God" seem like a fairytale, too good to be true.
Try looking at a lovely sunset, and relaxing into the beauty and joy of creation. Look at your own children, and marvel at how they are "fearfully and wonderfully made". From that joy and wonder, turn to God with childlike faith, and learn to trust in Him as a Father and friend.
Ponder:
How can I accept the Kingdom of God like a child? What adult skepticism or selfishness do I need to get rid of?
Pray:
Jesus, help me learn to love You with the innocence and faith of a child. Let me also bring others, especially my children, to You, and help them to discover the Faith I hold dear.
Copyright 2016 Rebecca Willen
Rebecca is young professional who recently graduated from Christendom College. She is a book addict, Shakespeare fangirl, lover of tradition, amateur writer, proofreader, and yes, a nerd. Through love for the power and beauty of the written word, she hopes someday to work as an editor in Catholic publishing. She blogs at Our Hearts are Restless.
About the Author