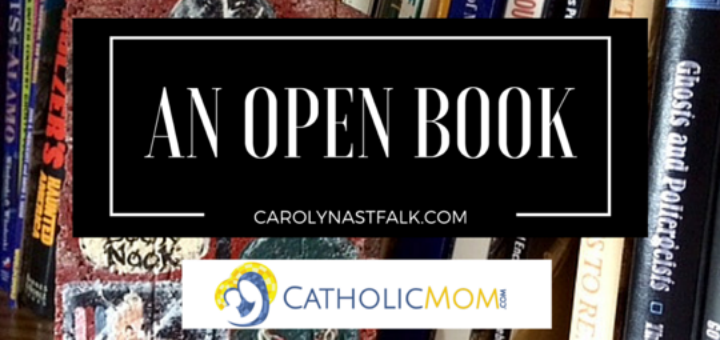 Welcome to the June 2016 edition of An Open Book, now hosted both at My Scribbler's Heart AND Catholicmom.com!
An Open Book is all about what my family is reading this month, from the adults down to the little kids. Share what you're reading by linking up your blog post below. Simply write about what you're reading. You can make it personal or, as I do, extend it to the whole family. Your post can be as simple as a few lines about the book or as in-depth as a 700-word review. That's entirely up to you. You can even forego writing all together and record a video or simply post cover photos.
[Tweet "Share what you're reading by linking up your blog post in our monthly #OpenBook linkup!"]
No blog? No problem. Please share what you're reading in the comments.
---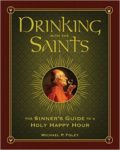 My kids and I gave Drinking with the Saints: the Sinner's Guide to Happy Hour by Michael P. Foley to my husband for Father's Day last year (along with The Catholic Drinkie's Guide to Home Brewed Evangelism, which I mentioned last month). This reference book is often open at our house, too. My husband and I were raised in suburban Pittsburgh in what could be called a shot-and-a-beer town. When our parents cleaned out their liquor cabinets, we inherited a few dusty bottles of vintage liquors that we didn't know how to mix. In other words, we were completely ignorant of cocktails, mixing, and anything more sophisticated than a can of Iron City. Organized according to the church calendar, this fascinating book matches the feasts of the saints with an appropriate drink. For instance, to commemorate St. Norbert on June 6, drink a White Spider, which is made with vodka, white crème de menthe and light crème de cacao. Why? Because "One of St. Norbert's symbols in Christian art is a spider. As the story has it, he was celebrating Mass when he noticed a venomous spider in the Precious Chalice but drank anyway rather than pour it out. He was miraculously preserved from harm." This beautiful hardcover book, complete with detailed recipes and illustrations of the saints, makes a beautiful and thoughtful gift. It has introduced us to some delicious beers and cocktails, as well as some extraordinary legends. My husband often shares the stories behind the saints and the drinks with the whole family even if he is the only one enjoying a drink.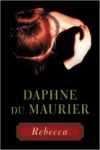 When I was a child, my parents took me to a weekly series of classic movies, some of which were directed by Alfred Hitchcock. Among them was the haunting Rebecca (1940), which I loved. When I saw the Daphne du Maurier novel Rebecca available as a prize at our library's summer reading program last year, I snagged it. I've just begun reading it, on the heels of a book hangover from Amy Harmon's The Song of David. (Amy Harmon's storytelling mesmerizes me.) Anyway, I'm looking forward to immersing myself in Rebecca, although my cover isn't as modern and attractive as the one shown here.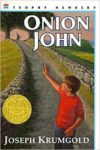 When I was scouring the library last month for historical fiction for my seventh grader, one of the librarians recommended Onion John, a Newbery Medal-winning novel by Joseph Krumgood. Frankly, the Amazon reviews are mixed. My son, however, is enjoying it although he said it got off to a slow start. The description reads: "The story of a friendship between a 12-year-old boy and an immigrant handyman, almost wrecked by the good intentions of the townspeople." A Newbery winner and no one could come up with a tad longer blurb? Not that it makes a difference, but my son is reading the 1959 hardcover copy with what now looks to be a hokey cover image. It's interesting how the same novels are repackaged to suit the times (see Rebecca above).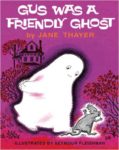 I've done more middle-of-the-night parenting with my second-grade daughter than with any of my other children. She suffers from fleeting belly aches and headaches that sometimes require the comfort of mom at two a.m. I often read aloud to help distract her from her discomfort. Our go-to books for healing, for some reason, are the Berenstain Bears. Not able to locate those books, I turned to Gus. Our hardcover version of Gus Was A Friendly Ghost by Jane Thayer belonged to my husband, but the second I first removed it from a box his parents had given us, I knew it. I had the same book, which my own mother read to me again and again. Each glimpse at the orange and purple illustrations in this book is so sentimental to me that I've lost all objectivity. Simply put, it's the story of a ghost who takes in a cranky mouse during the winter. Try it; you might like it!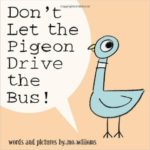 After storytime at the library, my three-year-old selected Don't Let the Pigeon Drive the Bus! by Mo Willems, a Caldecott Honor Book. (I prefer Mo Willems' Knuffle Bunny books.) My little boy and his four-year-old sister love these pigeon books, which have grown on me over time. With simple text and equally simple illustrations, these books and the interaction they encourage seem to appeal to preschoolers.
---
[inlinkz_linkup id=635503 mode=1]
---
Want more details on An Open Book? You can also sign up for An Open Book reminder email, which goes out one week before the link-up.
Check out the archives of An Open Book!
Copyright 2016 Carolyn Astfalk
About the Author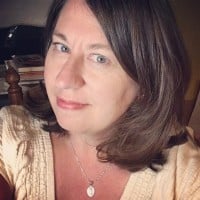 Carolyn Astfalk is a wife, mother of four young children, and a writer. Her contemporary Catholic romances are available at Amazon.com. She is a member of the Catholic Writers Guild, a Catholic Teen Books author, and blogs at My Scribbler's Heart. Visit CarolynAstfalk.com.