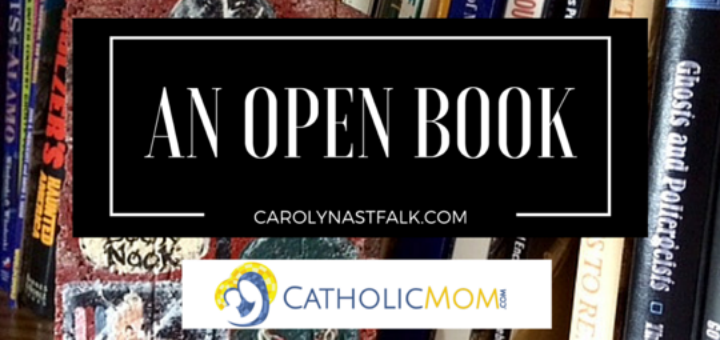 Welcome to the June 2017 edition of An Open Book, now hosted both at My Scribbler's Heart AND Catholicmom.com!
[Tweet "Join #OpenBook linkup + share your current reads! Hosted by @CMAstfalk + @CatholicMomWeb"]
An Open Book is all about what my family is reading this month, from the adults down to the little kids. Share what you're reading by linking up your blog post below. Simply write about what you're reading. You can make it personal or, as I do, extend it to the whole family. Your post can be as simple as a few lines about the book or as in-depth as a 700-word review. That's entirely up to you. You can even forego writing all together and record a video or simply post cover photos.
No blog? No problem. Please share what you're reading in the comments.
My family is in a bit of a reading slump. Blame it on the busyness of May: baseball, softball, Boy Scouts, field trips, graduations, and so on and so forth. You know what I'm talking about, don't you? When I asked my husband what he's been reading, his pathetic response was, "Reading is hopeless." As you can see, life is taking a toll on our reading time.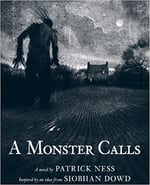 Despite the craziness and a long-lingering case of laryngitis, I've been plowing through my reading list. This week, I'm reading two selections for Erin McCole Cupp's Sabbath Rest Book Talk. Each month, Erin hosts me and Rebecca Willen as we talk about books pertaining to a pre-selected theme. June's theme is suffering, and, as always, we'll be discussing a children's book, a Young Adult selection, and an adult novel. I'm currently reading A Monster Calls by Patrick Ness, which was recently made into a major motion picture (which I have not seen). I'm barely into it, but I'm glad that I borrowed the hardcover from the library rather than reading it on a device so that I can enjoy the illustrations by Jim Kay. I also know this story of a child's grief is a tear-jerker, so I'm going in prepared, tissues at the ready.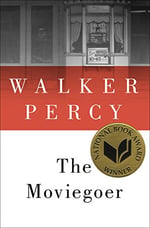 Once I finish A Monster Calls, it's on to The Moveigoer by Walker Percy (a National Book Award winner). I'm thrilled with this selection since Percy has long been on my to-be-read list yet I've never managed to read one his books. The description says, "Wry and wrenching, rich in irony and romance, The Moviegoer is a genuine American classic. " I can't wait to dig into this one, which I'm reading on a new-to-me app, Hoopla.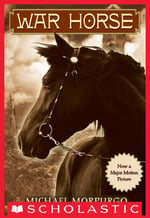 My son exceeded his eighth grade 30-Book Challenge by completing War Horse by Michael Morpurgo. When I think War Horse, I can only recall watching the movie in the hospital on an iPad mini with my husband while I was in labor with our youngest son. So, yeah, I don't really recall much about the story.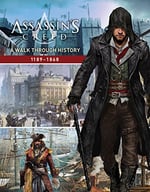 My newly-minted grade school graduate is also finally reading our Christmas gift to him, Assassin's Creed: A Walk Through History (1189-1868). He's not allowed to play the game, but he's watched his dad play through some scenes. I think the historic aspects of these games can be a great tool for teaching history. He confessed he's learned more about the Third Crusade from this book than he learned in class.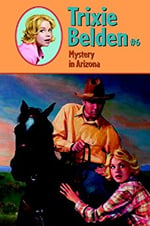 After completing the entire Little House on the Prairies series, my daughter returned to Trixie Belden. She's reading the sixth book in the series, Mystery in Arizona, by Julie Campbell. (She's slumping a bit in the reading department lately too.) I get regular updates on Trixie's friends, including the number of millionaire pals she has. Must be nice.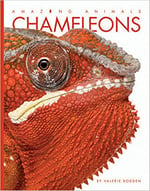 My youngest children are still enjoying books they selected at the library's story time. My son picked out one of the most beautiful animal books I've seen: Chameleons (Amazing Animals) by Valerie Bodden. Based on the stunning, detailed photographs and accompanying text in this book, I'm eager to see other books in the Amazing Animal Series.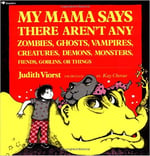 We're also reading My Mama Says There Aren't Any Zombies, Ghosts, Vampires, Creatures, Demons, Monsters, Fiends, Goblins, or Things by Judith Viorst. My goodness, that's a long title! It's a cute story of a very fallible momma's reassurances that there are no zombies, ghosts, vampires, etc. How can a kid trust a woman who makes so many mistakes, like bringing home the wrong ice cream flavor or telling a kid to wear his rain boots when it doesn't rain? Well, sometimes those mommas get things right too.
[inlinkz_linkup id=719001 mode=1]
Want more details on An Open Book? You can also sign up for An Open Book reminder email, which goes out one week before the link-up.
Check out the archives of An Open Book!
Copyright 2017 Carolyn Astfalk
About the Author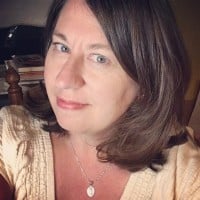 Carolyn Astfalk is a wife, mother of four young children, and a writer. Her contemporary Catholic romances are available at Amazon.com. She is a member of the Catholic Writers Guild, a Catholic Teen Books author, and blogs at My Scribbler's Heart. Visit CarolynAstfalk.com.