In an age of information overload and social saturation, I love discovering authentic new "gifts" for women on the web. Such is truly the case for a gorgeous new website "For Her!" from our friends at Aleteia. Today, I'm thrilled to share my recent conversation with For Her's Editor in Chief Cynthia Dermody. I hope you'll head over and discover all that is waiting for you at For Her! Lisa
Q: Cynthia, congratulations on the launch and impact of For Her! Please briefly introduce yourself and your family to our readers.
I'm a wife and mother of two (13-year-old boy and 11-year-old girl) living in the metro New York City area, in a small, old house that we've been working on for 15 years but never seems to be "done." It's probably because we are all busy playing ice hockey; I met my husband playing ice hockey, and now our two kids play as well. It's great to all love and play the same activity; it makes for so many more opportunities for quality and bonding time together.
Q: Please give us a bit of the behind-the-scenes perspective on what inspired For Her. What will readers discover when they venture over to the site?
The first thing they will probably think when they click on our site is: "glossy magazine." Our pages are designed stunningly, comparable to readers' favorite newsstand indulgence. This was part of the inspiration for For Her – to give our readers a magazine experience online, but through the spiritual/Christian lens that they don't get from other publications.
Q: While For Her! is an initiative in partnership with the wonderful site Aleteia, it is not overtly "religious". Is this intentional and how can this type of style inspire women in their faith journey?
Yes. Our faith influences and is present in every part of our life, big and small. We live out our faith not only behind the walls of a church, or in service on the streets, but in the way we decorate our homes, prepare meals, interact with our husbands and co-workers, raise our families, or decide which movie is worth seeing. Our faith is in the details, too, but these details make up the larger picture of us and our life, an expression of our authentic selves.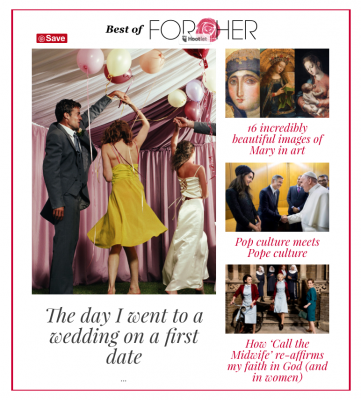 Q: The site is fantastic looking! It's almost as thought the glossy pages of a magazine have come to life on our screens! Why is this compelling visual presentation of the good, the true and the beautiful so critical in the New Evangelization?
When many people think of the Catholic Church, they often default to some of the negative, narrow perceptions highlighted by the media. In fact, the rest of the story is that there is so much that is good, joyful and beautiful about the Catholic life that is being lost or underrepresented. That's what our site is all about. Let's start with the beauty for a change! Beauty is universal and that doesn't divide among philosophical or religious lines. A beautiful, classic outfit. An inspiring speech. A lovely meal. A touching story about love and family. A tale of transformation and redemption. If we can go to the peripheries and attract people to the beauty first, hopefully they will take the next step and explore a little deeper.
[Tweet "There is so much that is good, joyful and beautiful about the Catholic life"]
Q: What role will social media and community building play in the future of For Her?
We hope a lot! Forming a community where women come to be inspired and supported in their values, beliefs and choices, through the content and the stories from other women, is an important part of our strategy. Christian women often feel disillusioned and out of place reading other sites and magazines that run counter to their values and sensibilities. We want For Her to become her daily destination for lifestyle content; a warm and welcoming place where she doesn't have to feel shocked by what she reads or sees – or need to quickly hide the screen from her 5 year old!
Q: How can our readers support your mission and learn more about For Her?
Well, I would be so appreciative if readers could visit the site at forher.aleteia.org and subscribe to our newsletter: as well as like our Facebook page.
Copyright 2016 Lisa M. Hendey
About the Author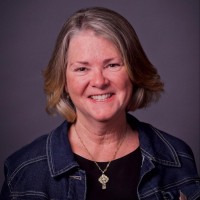 Lisa M. Hendey is the founder of CatholicMom.com, a bestselling author and an international speaker. A frequent radio and television guest, Hendey travels internationally giving workshops on faith, family, and communications. Visit Lisa at LisaHendey.com or on social media @LisaHendey for information on her speaking schedule or to invite her to visit your group, parish, school or organization. Visit Lisa's author page on Amazon.com.