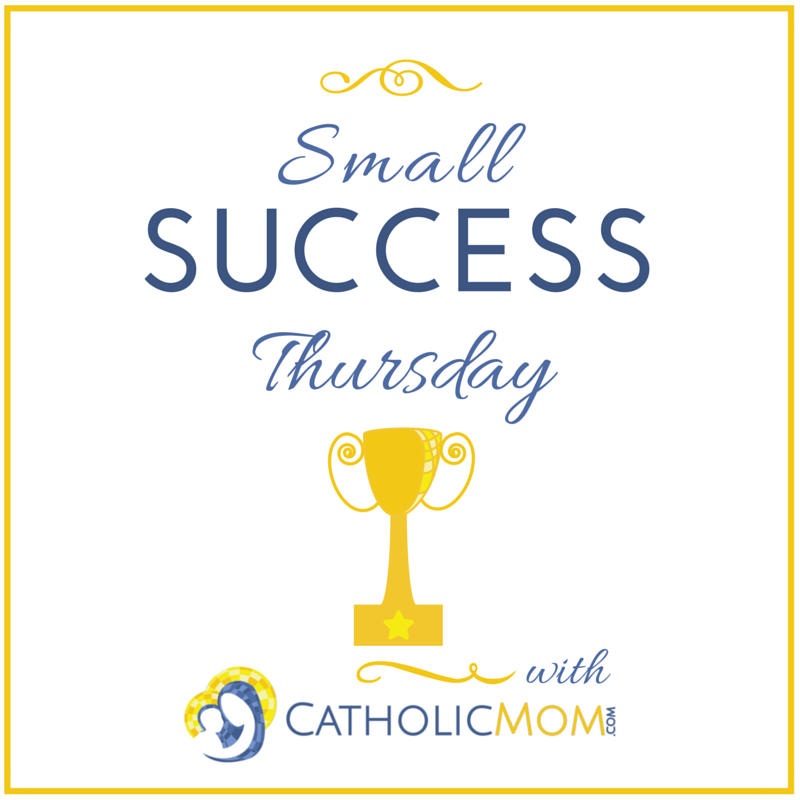 Hello and welcome to another week of Small Success Thursday!
Today, I thought I'd try something different. I know I count my blessings, but I want my kids to do so too. So I interviewed my kids and asked each, what were their small successes for the week. I told them they could say whatever they wanted, but limited video victories to one mention only.
Me:
1) Working on getting back on track in all the areas that went off.
2) Going to adoration more often.
3) Scheduled a lunch with a friend.
Bonn
1) Went to movies with sister and Dad
2) Is going to the circus with best friend
3) Delivered 2 week notice for work, but worked extra hours this week. Met target savings goal for summer.
Marta (age 18)
1) Sent in two week's notice for work
2) Got hair highlighted
3) Went to College Send Off
Peter (Age 17)
1) ran over 6 miles most days.
2) Got new running shoes
3) Reading Once and Future King, enjoying it.
Faith (Age 14)
1) Registered for High School
2) Babysat and earned some money.
3) Had fun with Dad playing Civilizations with him.
John (Age 12)
1) Got a Latios (a Pokemon). He called that an unqualified success.
2) Played legos with my little sisters.
3) Played against his big brother in a giant water gun fight and didn't lose.
Rita (Age 10)
1) Built Lego House
2) Stayed off screens most of the week.
3) Started running program with sisters.
Regina (Age 9)
1) Stayed off screens
2) Held crazy tea parties
3) Finished Book Report
4) Hugged Mom more than 20 times. (She kept count).
Paul (age 7)
1) Finished Summer School.
2) Has shown increased talking, unsolicited.
3) Continues to progress on potty training.
Anna (age 5)
1) Finished School Math Packet.
2) Working on memorizing address.
3) Learning how to set the table.
I won't post their SST's each week, but I'm going to start tracking them, to help them remember to set goals, to assess them, and always, count your blessings.
[Tweet "What #smallsuccess are you celebrating this week? Count your blessings with @sherryantonetti"]
Happy Small Success Thursday!
[inlinkz_linkup id=646584 mode=1]
Copyright 2016 Sherry Antonetti
About the Author

Sherry Antonetti is a mother of ten children, published author of The Book of Helen and a freelance writer of humor and family life columns. You can read additional pieces from her blog, http://sherryantonettiwrites.blogspot.com.