When I was a little girl, my grandparents kept a beautiful silver wall hanging to commemorate their 25th wedding anniversary. It had Mary and Joseph on it with a big number 25 between them. That hung on their wall for as long as I could remember.
When I was in high school they celebrated their 50th anniversary with gold party favors and decorations all around the church hall. Everything from the program at their special Mass to my grandpa's necktie was steeped in gold - the color of the day!
Maybe that's why I like the idea that there are certain special "gifts" or materials that go with each anniversary. My son and his wife recently had their first wedding anniversary - the "paper" anniversary. When I went to get them something I wanted to find something special to commemorate their first year of married life. I found a charming paper lantern to memorialize the occasion in the years to come, or for however long paper things last.
Once you get past 30 years of marriage (the pearl anniversary) the items that go with each subsequent anniversary are kind of unusual and rare until you make it to 40 (the ruby anniversary). A few years ago we had our coral anniversary and last year was bone china. With teens, tweens and a toddler around, it didn't seem wise to bring those types of items into the household.
My husband and I recently celebrated our 37th wedding anniversary. 37 is the alabaster anniversary. Alabaster - not exactly a household word, or an ordinary item.
I did some research. Alabaster is a stone known for its beautiful white color and also its translucency. Because it is not a hard stone, it has been used for centuries for sculpture and architectural decoration. But alabaster can also have color and will show streaks or veins of color, particularly after contact with iron.
In the bible, a strong box of alabaster is used to carry the very precious and expensive ointment used to anoint the head of Jesus.
[Tweet "Find out why alabaster is a good representation of 37 years of #marriage!"]
Perhaps that's why it is a good item to represent 37 years of marriage. After that length of time, the relationship between husband and wife is rock solid because the partners know each other so well, yet there is still enough give that each can continue to learn and grow. There is a translucency and familiarity between them, and yet their experiences together have given their marriage streaks of color that make their marriage relationship unique.
My husband and I have a rich history together. He knows me better than anyone else in the world, and our shared experiences of being together, earning a living, and the joys of sorrows that go with having a family have certainly made our marriage unique. So maybe if I had an alabaster stone to represent us, it would no longer be that lovely white color that alabaster is known for, but would show the streaks of color that go with sharing so much together for so long. But maybe the scriptures give us a true reason for the celebration of 37 years with alabaster - that even after that amount of time, marriage is still something precious to be treasured.
Copyright 2016 Elena LaVictoire
About the Author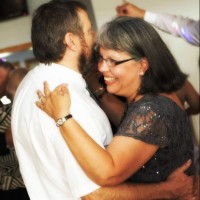 Elena LaVictoire is a graduate of Baker College and a retired medical transcriptionist. She is married and homeschooled six children. Elena is a public speaker on the topics of marriage, homeschooling, and confirmation preparation. She was also a contributing author to The Catholic Mom's Prayer Companion. Elena practices and performs with her flute and records with the Peace Together Choir. She blogs at MyDomesticChurch.com.