In my house, we've been looking forward to the Olympics all summer, and we're not the only ones: on my blog last week a conversation about the Olympics ensued on a post that had nothing to do with the Olympics when one commenter said, "I'm obsessed with the Olympics, especially the swimming" and went on to share that "Katie Ledecky's full name is Kathleen Genevieve, and I don't know if her family is Catholic but her name screams Catholic to me!" Another reader looked it up and confirmed that Katie is, indeed, Catholic, and later that same day I read Mary Rezac's Catholic News Agency article "These two game-changing Olympians are serious Catholics" about Katie and gymnast Simone Biles.
I just love that Katie was called out as Catholic based on her name alone, and Simone, too, is all "Simon Peter" to me, since I always have my Catholic-colored glasses on, and so I started looking through the roster of Olympians for names that struck me in the same way, with very mixed results!
Catholic in name only?
Take Kyrie Irving (basketball), for example. It's only through many self-reminders and clarifications from my husband and my dad that I know his name is said KY-ree and not KEE-ree-ay (as in the Kyrie Eleison we say at Mass), and despite the fact that his name is spelled the exact same way as that holy Kyrie (which is Greek for Lord), I haven't found any proof that he's Catholic (though he did graduate from a Catholic high school). Funny enough, as I was searching for whether or not Kyrie is Catholic, I came upon this tweet:
So glad I'm not the only one!
I love Spanish tennis player Rafael Nadal's name—yet another one that I would have said was a sure marker of a Catholic—though I discovered that he considers himself agnostic. (But he can't escape it totally—having parents named Sebastián and Ana María and a sister named María Isabel surely points to Catholic roots somewhere along the line.)
Nadal's feminine name-counterpart Rafaela Silva (judo, Brazil) was another whose name "screamed Catholic" to me, as well as Gemma Etheridge (rugby sevens, Australia), Óscar Figueroa (weightlifting, Colombia), and Mónica Puig (tennis, Puerto Rico), but their faith wasn't listed in any of their Wikipedia entries, and general Google searches for "is so-and-so Catholic" turned up empty. Still, I love that Our Lord, St. Raphael the Archangel, St. Gemma Galgani, Bl. Óscar Romero, and St. Monica are represented by name (even if not intentionally) at the Olympics.
Names don't tell the whole story
Though Katie Ledecky's full given name of Kathleen Genevieve does have a distinct Catholic feel to it, with Kathleen being an Irish form of Katherine (so many wonderful Sts. K/Catherine!) and Genevieve being the patron saint of Paris and a current darling in the world of Catholic baby names, Katie itself doesn't have that same obvious feel, as it's been used for a long time by lots of Catholics and non-Catholics alike. It's kind of cool to think of the faith "hiding in plain sight," and I was interested to see what other names are worn by the 2016 Catholic Olympians (or Olympians with connections to Catholicism). An internet search yielded (alphabetical by last name, American athletes only):
Nia Ali (track and field): Attended West Catholic High School, Philadelphia, PA
Nick Delpopolo (judo): Graduated from Bergen Catholic High School, Oradell, NJ
Katharine Holmes (fencing): Grew up attending the Shrine of the Most Blessed Sacrament in Washington, DC, and currently attends Annunciation Parish in Washington, DC. (Read more about Katharine's commitment to her faith)
Kyle Lowry (basketball): Graduated from Cardinal Dougherty High School, Philadelphia, PA
Joe Maloy (triathlon): Graduated from Wildwood Catholic High School, North Wildwood, NJ
Sydney McLaughlin (track and field): Attends Union Catholic High School, Scotch Plains, NJ
Katie Meili (swimming): Graduated from Nolan Catholic High School, Fort Worth, TX
Kelly Murphy (volleyball): Graduated from Joliet Catholic Academy, Joliet, IL
Glenn Ochal (rowing): Graduated from Roman Catholic High School, Philadelphia, PA
Michelle Vittese (field hockey): Graduated from Camden Catholic High School, Cherry Hill, NJ
[Tweet "It's cool to think of the #Catholic faith as hiding in plain sight in the names of many #Olympians."]
Certainly they're not all necessarily practicing Catholics, even if they were brought up Catholic and/or attended a Catholic high school, but it's pretty great that anyone wanting to know more about some of their favorite Olympians might see "Catholic" pop up over and over. And almost all of their names can be connected to saints: St. Antonia (for Nia), St. David, St. Nicholas, St. Katharine Drexel, any/all of the Sts. KCatherine, St. Kennocha (aka Kyle, for Kyle), St. Joseph, St. Dennis (for Sydney), St. Cellach (aka Kelly) and Bl. James Murphy (for Kelly Murphy), and St. Michael (for Michelle).
May all of our heavenly friends whose names are represented at the Olympics pray for all the athletes and for the whole world!
Naming children for personal heroes -- religious or not -- is a common practice. Would you ever give your child one of these names *because* of the Olympic athlete, taking solace in the fact that they're also saints' names?
Copyright 2016 Katherine Morna Towne
Illustration by Cristian Ferranato (2016) via Pixabay, CC0 Public Domain; Tweet screen shot used with permission of Tweet author.
About the Author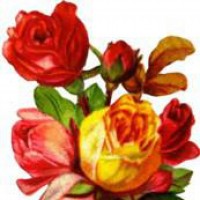 Kate is a writer, wife to a really good man, and mama to their seven boys ages 1 to 15. She shares her thoughts on Catholic baby naming at Sancta Nomina, and her first book, Catholic Baby Names for Girls and Boys: Over 250 Ways to Honor Our Lady (Marian Press, 2018) can be found at ShopMercy.org and Amazon.