Recently while driving to work I listened to a song about Our Lady of Gaudalupe, I felt a surge of emotion and recognized a feeling I had not experienced in a very long time – Mary's special touch of peace. I felt elated quickly followed by regret that I had been so negligent in my devotion to our Blessed Mother. It's so easy to rattle off a "Hail Mary" without a thought!
Yet even those hasty Hail Mary's get her attention. I have been praying a "Hail Mary" each day for a special intention and was granted a most unexpected and glorious answer. As it all unfolded, I immediately recognized Mary's role in that answer. She had granted me a special favor, even for saying that quick "Hail Mary" each morning.
Since receiving that favor, I have turned towards her in gratitude and love, spending more time asking for her intercession and reflecting upon her role in my life.
Two saints come to mind when I think of examples of devotion to Mary. The first is St. Bernadette Soubirous, whose experience of Mary through a series of apparitions at Lourdes established it as a place of miraculous healings. A lowly peasant girl with little education, St. Bernadette revealed to her priest that the Lady had called herself the Immaculate Conception. St. Bernadette was so in love with Our Lady that she could be totally absorbed in prayer, forgetting everything that was around her. Jostled by noisy, adoring crowds, she would remain focused on Mary undisturbed. She loved praying the rosary and even recommended the following: "At night when you retire to rest, take your beads and go to sleep while saying them; do the same as little children who fall asleep saying: 'Mamma, Mamma …'" I've exercised this practice to help with insomnia and night fears but never dreamed it could be considered prayer. To Mary, every little effort matters.
The second saint is the recently-canonized Mother Teresa of Calcutta, who cultivated an early love of Mary. The Blessed Mother would become a light in the midst of Mother Teresa's long "dark night" where she felt no consolation in her faith. Recognizing that Mary too experienced her "dark nights" with the birth of Jesus in poverty, the flight into Egypt and the Cross at Calvary, Mother Teresa clung to Mary, imitating Our Lady's service to God through her ministrations to the poor of Calcutta. Granted a vision of Mary as she came to realize her "call within a call," Mother Teresa saw the poor covered with darkness (a darkness she would experience for the rest of her life) with Our Lady in their midst, calling them her children (from Father Joseph Langford's book, "Mother Teresa: In the Shadow of Our Lady"). From that time on Mother Teresa cared for each individual with great fidelity, doing "small things with great love." Following the example of the Blessed Mother with the child Jesus, every hand she held, every face she kissed was the person of Jesus Christ.
Every small act matters, even when done in haste. The favor granted to me by Our Lady caused me to reexamine my own life and step up to do more. It's not enough to sit in my room and say my daily prayers. It is not enough to rattle off a "Hail Mary." She is asking me to step out of my comfort zone and use the gifts given to me by God to minister to others and make her name known. Keeping in mind my two saintly guides, I will strive to do that with all of my heart.
* * * * * * * * * * * * * * * * * * * * * * * * * * * * * * * * * * * * * * *
[Tweet "Every small act matters, even when done in haste. Reflection by @susanbailey"]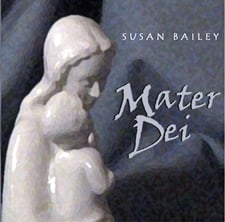 Susan has just released a CD of traditional and original Marian songs called "Mater Dei." The album contains Shubert's "Ave Maria," "Immaculate Mary," and "Hail Holy Queen" along with new music based upon the writings of Father Stefano Gobbi of The Marian Movement of Priests. You can listen to songs and order the CD at www.susanbailey.org/books-and-music.
For those of you in living in Massachusetts, Susan will be giving a concert of Marian music at St. Luke the Evangelist in Westborough. MA on Monday, October 17th from 8 to 9 pm with proceeds going to Haiti. Come and pray in song in honor of the Blessed Mother. Write to Susan for more information: susanwbailey@gmail.com.
Text and photos copyright 2016 Susan W. Bailey except where noted. Article originally published in The Catholic Free Press, September 9, 2016.
About the Author