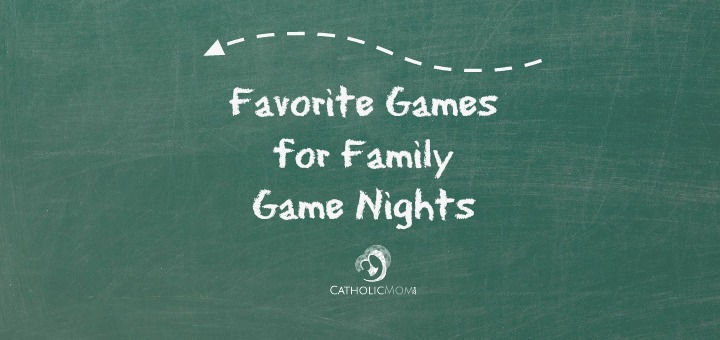 Winter is quickly approaching, so I thought now would be a good time to tell you about some snowy-themed games. Both games this week focus on the Abominable Snowman, also known as the Yeti.
[Tweet "2 snow-themed games featuring #Yeti for #familygamenight! Review by @StuartsStudy"]
The first game is called Avalanche at Yeti Mountain, and it was produced by Green Couch Games. It can play 1-5 players, ages 8+, and it retails for $20. In Avalanche at Yeti Mountain, you and your friends are engineering students who invented rocket-powered skis and want to test them out at Yeti Mountain.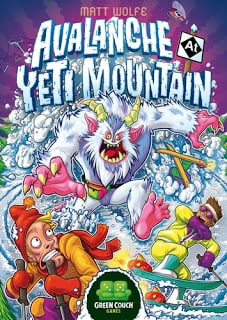 Like the other games in the Green Couch Games library, this game is tiny but packs a punch! For starters, the box fits in your pocket, so its portable. Next, the cards are multi-use, meaning they make up the mountain and are used to mover your skier. Lastly, the game just doesn't take up a big footprint on the table when playing it. The other thing you will notice about Green Couch Games is their attention to graphics and details. The graphics in this game are visually appealing and the tiny meeples that are shaped like skiers and a Yeti are a very nice touch. They could have easily used generic pawns or meeples, but they went the extra step to add more theme to the game.
Finally, and most importantly, the game is just fun. There is little downtime, as players are making actions simultaneously, and it plays quickly, so you have time to play it multiple times if you are unfortunate enough to lose. It's also great for kids, because it's easy to learn and it teaches them risk management (when to go high on speed and when not to) as well as cause and effect (if I rocket-jump, that avalanche is going to get quicker and might catch me). I highly recommend this game and play it often.
Learn more about how to set up and play the game.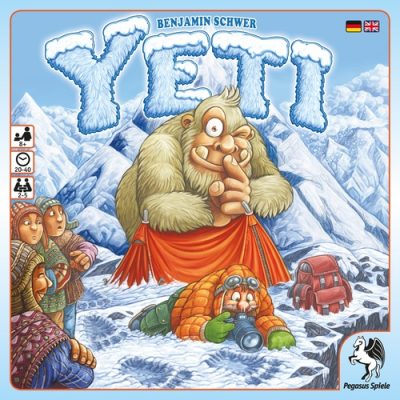 In the game of Yeti, you and your opponents are mountaineers in the Himalayas searching for the elusive Yeti. In order to find the Yeti, you must follow his footprints and take photos of it. However, you will need the right equipment, the help of a Sherpa or two, and the weather to be just right to achieve this. The game plays 2-5 players, ages 8+. It takes 20-40 minutes to play and retails for approximately $30.
Yeti is a simple "press your luck" game that is great for the family. The setup is super-easy and the rules/game play are even easier. What I like best about the game is that it involves dice, and that helps to engage people, especially kids and casual gamers. There is also a way to spice up the game with Weather Tiles that will appeal to more serious gamers. What I like least about the game is the bit of downtime involved, especially with more players. Each player is going to make a lot of dice rolls each turn and you can space out on this, because nothing is happening to you for 3-4 turns depending on how many other players there are. That being said, I feel that you need to play this game with more than two players, because it adds a bit more racing to this game and there are more opportunities for snow to hamper other players.
I also noticed that the dice show footprints on two of the six sides. I think it should have been snow instead, because it seemed in the few games that I played, the Yeti did not move nearly enough. With all that in mind, this is a fun family game that could have just been a set of seven dice. Instead they made a 3-D game board, with lots of wood and cardboard. This helps add to the theme of the game and makes it better than other similar games.
Learn more about how to set up and play the game.
Your purchase of these games through our Amazon link supports CatholicMom.com.
See all the Favorite Games for Family Game Nights reviews here.
Copyright 2016 Stuart Dunn
About the Author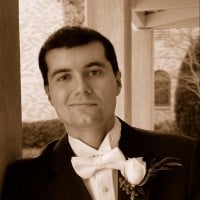 Stuart Dunn was born and raised in Mobile, AL and received a Bachelor of Arts in Psychology and a Master of Business Administration from the University of South Alabama. Stuart reviews all things Catholic including adult books, children's books, Bible Study series, Catholic Courses, CDs, and DVDs in addition to board games at his blog Stuart's Study at StuartsStudy.blogspot.com.