So many Christmas songs to hear this year. Not the ones made popular by our culture, but the ones evoking the true meaning of the season, Our Lord's birth. And, best of all, our traditional Christmas hymns are sung without a cheat sheet because the stanzas are like family. Right?
Seriously, who does not know all three verses of "Silent Night," or the verses of "Hark the Herald, Angels Sing"? Turns out, not many. Sitting in our church, St. Patricks of Wareham MA, this Christmas morning the congregation sang the first verse of Silent Night loud and clear, the second a little bit softer, and by the third verse people of many ages were reaching into pews for their song books and flipping to the song.
Thank you Mom and Dad! I am blessed to have been educated at Catholic schools, where we celebrated Christmas with songs about Christ's birth and God's Love. We sang all verses and performed most of them at one time or another in Christmas concerts. Today, even though my school days are long behind me, I still remember all the verses to most of the more familiar carols.
[Tweet "Learn the history behind your favorite #Christmascarols."]
And yet I never once considered the history behind any of the songs. One of my favorites, "I Heard the Bells on Christmas Day," is based on Henry Wadsworth Longfellow's poem titled "Christmas Bells." He wrote this poem on Christmas morning in 1863 at the height of the Civil War, while his eldest son recuperated from a serious war injury. Longfellow, a widower with six children, suffered from extreme depression, yet his poem evokes such hope amid a world gone dark. I still get chills whenever I sing :
Then pealed the bells more loud and deep:
God is not dead, nor doth He sleep;
The Wrong shall fail,
The Right prevail...
With peace on earth, goodwill to men.
And, a broken organ in the Church of St. Nicholas in Austria, led to the creation of "Silent Night." The assistant pastor, Josef Mohr, in a contemplative mood on December 23, 1818 took a long walk home late at night. He viewed his tiny village of Oberndorf in the quiet, still night and remembered his poem about shepherds keeping watch on the night Christ was born. The following day he asked his organist, Franz Gruber, to put this poem to music as a present to his congregation for Christmas Day. The broken organ meant the song was sung by Mohr and Gruber with only a guitar for accompaniment. As the history books state:
Weeks later, well-known organ builder Karl Mauracher arrived in Oberndorf to fix the organ in St. Nicholas church. When Mauracher finished, he stepped back to let Gruber test the instrument. When Gruber sat down, his fingers began playing the simple melody he had written for Mohr's Christmas poem. Deeply impressed, Mauracher took copies of the music and words of "Silent Night" back to his own Alpine village, Kapfing.
The rest is history. Mauracher took the musical score back to his village and soon it was being sung across Europe. In 1834 the King of Prussia heard "Silent Night" being performed by his cathedral choir for the first time and was so moved he decreed it be sung every Christmas Eve.
But every song we sing during Christmas was not written for the Christmas season. "Joy to the World" was not written about Our Lord's birth. Rather, it was written by Isaac Watts in 1719, based on Psalm 98, and foretells the second coming of Christ:
Let the sea roar, and the fulness thereof; the world, and they that dwell therein. Let the floods clap their hands: let the hills be joyful together. Before the LORD; for he cometh to judge the earth: with righteousness shall he judge the world, and the people with equity.
In 1839 Lowell Mason adapted and arranged Watt's song into today's melody, which many attributed, unsubstantiated, to Handel. Why this song became associated with Christmas no one really knows. Without question, Christ's birth is joyous, but "Joy to the World" contains no mention of shepherds, stars, wise men, stables. Instead, the song admonishes us to prepare Him a room in our hearts in preparation for the Second Coming, when heavens and nations will ring and sing of His Glory.
We sing carols to joyously proclaim His birth. As His disciples on Earth it is our responsibility to share these carols with our children. Luckily I was able to learn them as a student and share them with my family, classmates, and teachers. Many students in our public schools do not have that luxury, and if we are honest, most families do not sing the Christmas carols of our faith at home. Bring the carols into your home next year and sing them loud and clear with your children, your grandchildren.
Throwing in a bit of the history would not hurt either.
Copyright 2017 Carol S. Bannon
About the Author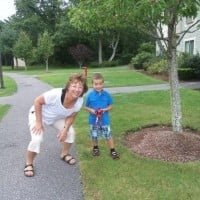 Carol Bannon currently lives in Massachusetts with her husband. She is a wife, mother, grandmother to seven, substitute teacher, and an active supporter of the Down Syndrome Society of Rhode Island (DSSRI). Carol is the author of Handshake from Heaven and Our Family's Christmas Elf. She and her husband love to spend time boating on Cape Cod and traveling to new harbors.