I am a person who treasures the four seasons. I enjoy certain things about each of the four, and I try to appreciate those things as much as possible during the season in question. Although there are also aspects of each season that I do not relish, I try not to dwell on those as much as possible. Life is short, yes? We should treasure every moment. Right now in the northern hemisphere, we are experiencing winter. For many, this is the least favorite season of all. Although winter has its challenges, I love the quiet beauty and coziness that it brings.
With that strategy in mind, each month I try and hone in on one of our friends, the saints, who celebrate a feast day during that timespan. It ties that wonderful sense of community that I treasure about the communion of saints into our current season. For January, one of my favorites is St. Francis deSales, whose feast day is the 24th (his novena begins January 15th, for all of you fellow novena nerds out there!). Indeed, St. Francis deSales is the patron saint of writers, and his patronage in this regard has always appealed to me.
[Tweet "Writing patron St. Francis deSales inspires @CatholicTiffany. Who's your patron saint for the year?"]
I am a blogger, so having a writing patron is an obvious fit, but I think that it applies to many endeavors that all of us engage in, even non-bloggers: personal journaling, contributions to newsletters or bulletins, email responses to friends or colleagues, even posts on Facebook updating family about what is going on in your life. St. Francis de Sales is our go-to guy for inspiration and empathy when crafting our words.
St. Francis, though a priest and eventually a bishop, is known both for the strength of his writings, and the fact that he directed them to laypeople. That is, people like you and I with secular roles out in the world, whether that be in a married or single state. He firmly believed that we are all called to be saints, and wrote about this extensively in his well-known Introduction to the Devout Life:
"It is an error, or rather a heresy, to say devotion is incompatible with the life of a soldier, a tradesman, a prince, or a married woman."
Whatever our days call for us to do (sit at a desk working on your computer, ring up sales, change diapers, drive the carpool), these tasks can make us holy. We can become saints by doing them with great love. Anytime these tasks call for us to write something, we can ask for the intercession of our friend in the communion of saints, St. Francis deSales.
Winter is certainly a good time to be nestled up at home writing, a warm cup of tea by our side. It is also a perfect time to start a brand new writing project to occupy us during the cold, dark evenings, as we prepare for Lent.
What writing projects are you working on this month, or have coming up? I would love to hear about them in the comments!
Copyright 2017 Tiffany Walsh. All rights reserved.
About the Author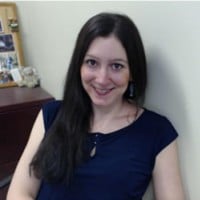 Tiffany Walsh is a wife and mother, a native western New Yorker, and a college librarian. She is a cradle Catholic who rekindled her childhood faith as a graduate student via her love of books, and is the author of Exploring the Catholic Classics, part of the Stay Connected Journals for Catholic Women series. She enjoys writing about faith, crafting, dance, fitness and wellness. Visit her blog at Life of a Catholic Librarian.