A Faith Sharing Reflection featuring the music of Catholic singer songwriter: Tori Harris
Because I'm ignorant, I'm dim and I'm prideful
Oh I'm stubborn and I'm selfish and I'm weak
But I give it all to You ~ Tori Harris
The Blessing of Being Less
In October of 2013, I was blessed to win two tickets to an exclusive 'home' concert with Matt Maher and Ike Ndolo (yes, this concert was literally in someone's living room!) This came just months after experiencing Matt perform live during Adoration (with Pope Francis) at World Youth Day in Rio de Janeiro!
Sadly, pride is one of those vices in constant need of squelching within me. On that day in 2013, the Lord choice a marvelous way of quelling it. As I sat in a little sun-room (adjacent to the living room stage) belting out worship tunes along with the 'opening act' – the sounds of an angel welled up behind me.
Suddenly, my desire to sing was replaced with a need for silence so I could hear this exquisite voice better. The voice belonged to Catholic singer/songwriter Tori Harris. After introducing myself, I learned not only did beauty come out from her in the form of her music but also lived deeply within her in the form of a profound faith. In being less of me and shutting up, (let's be honest: I was singing loud and proud as an audition to join Matt Maher's back-up singers,) the Lord made clear His plans for me. It was not to be a gift of Catholic music but someone who introduces others to it. Never outdone in his generosity, God also blessed this humbling of myself, with discovering a new artist with whom I could now sing His praises with!
Music That Moves
Please take a moment to listen to Tori Harris' beautiful voice and inspiring song that expresses the desire, presented to all of us, to be less so Christ can be more.
[Tweet "Be less so Christ can be more. @reconciledtoyou introduces #music by @torifharris"]
How many times over my vast years have I been so busy trying to be more that I missed the blessings God had for me, especially in growing closer to Him. In a very small way, I see God's will for me to be the 'pointer' and not the 'pointed-at,' to mirror St. John the Baptist's amazing example of being a disciples of Jesus. How our lessening helps us lead others to the greater (in this case GREATEST) One.
As a writer and inspirational speaker, I am always trying to think of clever and engaging ways to share God's great love for us, often using the scriptures to formulate mine. How ironic, since perhaps the best way to share this message is to lead others to discover His Word for themselves.
Scripture Seeking:
"Less of Me" inspired a deeper look at the following Scriptures. I encourage you to click through the links; read the scripture and record how they inspire you to see Jesus at work in your everyday ordinary life. Please consider sharing your thoughts in the comment section below.
PLEASE NOTE: I am giving you the links instead of the Scriptures in case your heart is moved by the spirit to delve deeper into the text around any of these verses.
Decrease for an Increase:
His Grace is Enough:
By Whose Strength:
Ponder and Share:
How do I currently view 'my will' with relation to God's will for me?
What holds me back from surrendering myself (even a little) to God?
Which of the 3 Scriptures spoke most deeply to my heart?
Copyright 2017 Allison Gingras
About the Author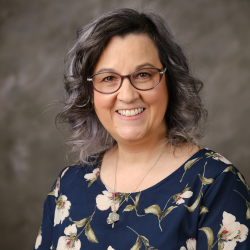 Allison Gingras works for Family Rosary, Catholic Mom and the Diocese of Fall River as a social media and digital specialist. She is the author of Encountering Signs of Faith (Fall 2022, Ave Maria Press). Allison developed the Stay Connected Journals for Catholic Women series including her volumes—The Gift of Invitation and Seeking Peace (OSV). Podcast host of A Seeking Heart with Allison Gingras and a co-host of Catholic Momcast.