I met Ellen on two different occasions. Both times I left my books and media exhibit to peruse her display of thoughtful cards and gifts. She told me about her vocation--to be present to those who are grieving and lonely. This desire to be present with people in the sad moments of their lives is the gift of an unexpected loss in her own life. Today Ellen's apostolate gives us new ways to show those experiencing grief that someone cares. Here is her story.
[Tweet "@kerrygma interviews creator of gifts for the grieving--a ministry of presence."]
"My husband and I were welcoming our third daughter when we found out that she would not live very long. Grace lived with us for three days until she left us for her eternal home. My husband gave me a baby-ring-necklace made in memory of Grace. This inspired me to create something for mothers who lost babies. Eighteen months later our son was born. When he was six years old he painted a picture of an angel which we call Sweet Little Soul. His painting reminds me we are created for this life and for eternal life in heaven with God. His beautiful watercolor reminded me of Grace."
"In 2014 I began Sweet Little Soul to provide heartfelt cards and baby-rings to bring compassion and hope to loved ones during life's difficult moments. Over the years I met people who suffered chronic illnesses and those who were lonely. My limitations did not allow me to be present to show them love and compassion. Realizing others may feel the same way I expanded the Compassionate Gifts line with cards painted by my daughter, inspirational jewelry and plaques. One of my favorite cards in the Tears of Love Collection is the image of a teardrop. The tear is a universal image that says "I care about you." I continue this mission with prayer and trust in God not knowing the direction it will grow but knowing Who gives it growth."
Ellen Cocks
Founder of Sweet Little Soul
www.sweetlittlesoul.com
Copyright 2017 Sr. Margaret Kerry, fsp
About the Author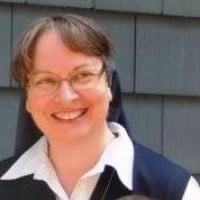 A Daughter of St. Paul for 40 years Sr. Margaret continues to pursue new ways to proclaim the Gospel: sharing the Pauline Charism with the laity, writing books (St. Anthony of Padua: Fire & Light; Strength in Darkness: John of the Cross; Prayers for the New Evangelization), & through direct evangelization. She is available for workshops on the Vocation & Mission of the Laity, Media Literacy, and The New Evangelization. mkerry@paulinemedia.com