"If any one comes to me without hating his father and mother, wife and children, brothers and sisters, and even his own life, he cannot be my disciple. Whoever does not carry his own cross and come after me cannot be my disciple." (Luke 14:26-7)
The journey to my husband's ordination as a permanent deacon, Patrick and I traveled hand in hand. It was like being on a honeymoon only I had already birthed all eight of our children. We grew spiritually in oneness in a way we never had grown before. This was the path God chose for us. Hidden within the journey was the road to surrender.
Pat's formation took place in the Savannah Diocese in a small town, Dublin, Georgia. The diaconate program included the option of receiving a masters degree from St. Leo University, located north of Tampa, Florida. The program required coming together one weekend a month for study with the other candidates and their wives. To me it was just what the doctor ordered for parents of such a large family: alone time as a couple. My husband, a family medicine physician, could not have given us a better prescription if he had written it himself.
We both looked forward to the three-hour car ride which we used to have quality conversation. The teachings during the weekend gave us the opportunity to grow in the same direction spiritually in our Catholic faith. The other couples on the road to ordination became a positive support. We all enjoyed the healthy discussion around the material provided. The "just the two of us" time together was a bonus, like a second honeymoon.
When Pat and I walked down the aisle on our wedding day to say our "I do's" to each other, our lives changed forever. This new journey was taking us to another "I do" as a couple, to each other and to God in a different, more mature way. This was a call like the early disciples were given to give up all and follow Jesus. It was a call we both heard, a call to surrender.
[tweet "Hidden in the call to surrender is a call to freedom in Christ. By @MonganEllen"]
On May 31, 2008 the journey was complete. Patrick was ordained a Permanent Deacon in the Catholic Church. The journey with Deacon Pat had begun, and just like on our wedding day we did not know where it would take us. As we ventured out into unknown territory, I was overjoyed. We had both surrendered our lives to God and His Church. What I did not know was that the road to surrender was watered with tears. After the ordination I remember saying to one of Pat's teachers, Paul Thigpen, "I pray that Pat will tithe 10% of his time to the family and to me." I did not think it would be a problem because Pat always put us ahead of his medical career. I was mistaken.
Pat's first assignment was at our home church, The Church of the Most Holy Trinity. We had been at this church for over twenty years, and all of our children had received their sacraments at Most Holy Trinity; indeed home for us. Patrick began to feel called into fulltime ministry. We waited a year until our last child graduated high school and then Pat retired from medicine. Soon, we were on our way to Macon, Georgia where Pat accepted a position as a full-time pastoral assistant. We said our goodbyes to lifelong friends, and family members. It was bitter sweet since we had called Augusta, Georgia home since 1980. The above scripture became a reality in our lives as we left all, home, mother, brother to follow Jesus.
This journey and our "YES" to Jesus in unison was the "I Do" of this deacon's wife. However, the "don't" hidden in my heart soon became evident! I, the adventurer, could not wait to make new friends, start new ministries and build St. Joseph's Catholic Church. God's grace was sufficient and all that happened quickly and without a glitch. What I was not ready for was the words God spoke to my heart, "Your time is not your own." God's still small voice was so quiet that I failed to hear Him add, "Your husband is not your own. I have called him by name and he is mine. I have a work for him to do."
Even though I did not hear God speak those words, they came to pass because they were true. While at St. Joseph's Church, Pat embraced the people and the calling to ministry. Most of all Patrick embraced God with his whole heart. His "Yes" to Jesus was both an answer to prayer and my heart's desire. I rejoiced in God's faithfulness.
I was shocked that Pat embraced full-time ministry with such ease and commitment. It was I, the cradle Catholic, the daily communicant, the one who was zealous for the faith who held back. God says, "I make all things new," and I was clinging to the old. Not only was I clinging to the old life, but to my beloved Pat. I became resentful about not having time with him or our adult children and grandchildren, who lived all around the country. Most of all, I was quite lonely and very homesick. After much prayer and many tears, Pat and I compromised. I said, "If this is really what you want, let's move near one of the children. Then if you are busy with Church commitments I will not be left all alone." It was the perfect solution!
The road back to normal life for this deacon and his wife has had its twists and turns, detours and desert experiences. Finally we have moved back home to Georgia. Although, we embarking on new territory in the ministry yet again. Deacon Pat is assigned to St. Mary's Help of Christian Church in Aiken, South Carolina, but we live in the Augusta area. We are once again the strangers in a foreign land in Aiken. We do not know a soul. However we are thankful that St. Mary's is my mom's parish. I must admit it is nice to live in Evans, Georgia where we have reconnected with family and friends. I guess you could say we have the best of both worlds. Everyone knows that "there is no place like home!"
Many years ago, as a new deacon's wife, I went to a priest, about my dilemma. He was able to give me wise counsel. He said, "One of the crosses you bear as a deacon's wife is sharing your husband with the whole Church."
I said, "Now I know firsthand why priests are not married." I have learned through my years in ministry, that clinging to the old ways left no room for God to make all things new. God was serious when He said in Luke's Gospel,
"If any one comes to me without hating his father and mother, wife and children, brothers and sisters, and even his own life, he cannot be my disciple. Whoever does not carry his own cross and come after me cannot be my disciple."
I have learned to pray for Patrick daily and not to ask a lot of questions. I have spent more time building family on my own. I have taken on full-time ministries by myself. I have let "go" and let "God!" My husband and I have learned a lot during this journey. The most important lesson has been how to communicate. I was the wife that used to say, "Oh that's all right, dear!'' Now I state my needs clearly and firmly. We do a weekly calendar and faithfully schedule time together. We make agreements and aim to keep them. Finally, I bring all my complaints before the throne of God in prayer. I fervently pray that we will have balance in our lives. I also pray that one day we will be used to do ministries together again. Until that day comes, I wait on God. Most of all I have learned in a deacon's life, don't be the clingy wife!
The road to surrender can come in many forms; the death of a loved one, a terminal illness, loss of a job or a midlife crisis. It is a journey you must take with God alone. If Jesus calls you to be His disciple, He will give you the grace each day to follow. It is always a journey into the unknown. Do not be surprised if the road is watered with tears. Never be afraid to take Jesus' nail-scarred hand each day. For He who calls you by name and will never leave you alone. Hidden in the call to surrender is a call to freedom in Christ. Remember, "when the Son sets you free, you will be free indeed!" Let your heart's cry be, "I surrender all!"
Copyright 2017 Ellen Mongan
About the Author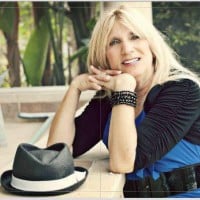 Ellen Mongan is a Catholic writer, speaker, and host of WOW MOM podcasts. Her book, WOW MOM: A Walk with God, is on Amazon. She contributes to Catholic Mom, Women of Grace, and Augusta Chronicle. Her most important roles as wife to Deacon Patrick and mother of eight led her to ministry. Learn more and contact her to speak at EllenMongan.com.