Today is the feast of St. Matilda (also spelled Mathilda), a saint who was also a wife and mother. At first glance, Matilda doesn't have a lot in common with your average modern wife and mom: she was born into nobility and wealth in the 10th century, became the Queen of Germany, her son Otto I became Holy Roman Emperor, her daughters both married kings, and her youngest, Bruno, was canonized a saint.
But if you look closely at her life there is a lot that modern moms can learn from Matilda's example.
[tweet "What modern mothers can learn from a 10th-century queen and #saint."]
She was a woman of virtue.
Even though she was beautiful, wealthy and powerful, Matilda was most known for her goodness. Whatever her responsibilities were at a given time, she devoted herself to them. Rather than getting caught up in the trappings of her wealth and power, Matilda used what she had to serve others. She fed the hungry, visited the sick, tried to convert sinners, and founded convents and monasteries. As soon as she died, people venerated her as a saint because of her faith and virtue. This is one of the things I find most impressive; she was revered not for being Queen, but for being a saint.
She was devoted to her vocation.
Not much is said about her marriage, except that she and Henry were of the same mind when it came to her works of generosity and piety, but even that little bit of information offers us a good example! Matilda shows us that a woman's goodness inspires goodness in others. As she sought to grow in virtue and generosity, her husband did too.
One thing we learn from Matilda is that you never cease being a mother, even after your children are all grown. She used her influence to encourage her children to rule wisely and to intercede for the sake of peace. She even forgave her two grown sons who, tired of her extravagant generosity, accused her of stealing from the treasury. This caused her to renounce her wealth and, for all intents and purposes, be exiled to the country. It wasn't long before her stubborn children needed her again and so they called for her return and begged her forgiveness. (This should be a source of consolation for any mothers who are at odds with their adult children.)
She was rooted in prayer.
Matilda was, undoubtedly, a busy woman, her days filled with caring for her husband and children and also seeing to the needs of the poor, but she didn't allow those things to keep her from prayer. One of my favorite stories from Matilda's life is that she was known to sneak out late at night and go to the church to pray before the Blessed Sacrament. If there's anything all moms can relate to, it's getting up in the wee hours of the morning! Matilda inspires us to use that time – whether its nursing babies or soothing sick kids – in prayer for those we love.
Don't you just love the gift of saints?! Here we are, more than a thousand years later, and the goodness and holiness of one woman offers witness and encouragement to modern wives and mothers. Our circumstances may be different, but our mission is the same. St. Matilda, pray for us!
(Side note: The Melkite Greek Catholic Church in Aleppo, Syria, took St. Matilda as their patroness. On this, their patronal feast, please join me in praying for Catholics in Syria.)
Copyright 2017 Megan Swaim
About the Author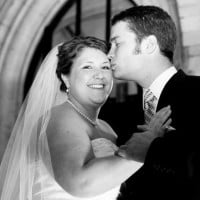 Megan Swaim is an Indiana girl on an east coast adventure. A former high school youth minister, she now gets to minister full-time to her three young daughters and her husband Josh. Megan spends her days homeschooling at the kitchen table, drinking iced coffee, and exploring coastal Virginia.