If any of my kids is ever lost out there in the world, far from the Church, I am going to hope someone like Father Lawrence Carney comes along. The young priest, dressed in a cassock and carrying a crucifix, spends his days walking the city streets, praying the rosary, hoping to find someone to talk to. It's not hard. People need Jesus. And that's who Fr. Carney brings to them -- with a warm smile and a listening ear. By simply asking to hear their stories, their heartbreaks, their sufferings, their hopes and disappointments and by answering their questions, giving them blessings, praying with them and handing out rosaries and holy medals, Fr. Carney's priesthood has the power to reach those whose faith has been forgotten or abandoned. What he does is quite simple. But it works, largely because he makes himself available. That's why, with permission from his Bishop, the 41-year-old priest left his post as a pastor of a Wichita parish several years ago. It was, for all intents and purposes, oftentimes a desk job. Fr. Carney felt called to reach people outside the church walls, people who would never set foot in a church. And that requires getting out on the streets.
[tweet "Walking priest reaches those whose faith has been abandoned. By @lily_trilogy"]
"From what I have seen, people are very shy about calling a priest because they say that priests are 'too busy,'" says Fr. Carney. "That is why I walk. . . . It is easy for a person to have a conversation with a priest when he is traveling the sidewalk. I am not 'too busy.' I am available."
Although he is based in St. Joseph, Missouri, the Wichita native will walk and evangelize in any city where he is granted permission from the local bishop.
"As our society becomes more secularized and hostile to Jesus and His Church, street evangelization takes on a new missionary relevance," said the Most Rev. Thomas J. Olmsted, Bishop of Phoenix, who approved Fr. Carney for seminary while he was bishop of Wichita, Kansas, and recently gave him permission to evangelize in Phoenix. "Fr. Carney witnesses to Christ among those who walk our streets and at times make their homes there. May this apostolic witness bear good fruit and inspire the rest of us to be missionary disciples."
While Father Carney hasn't racked up a huge list of converts yet, he knows it takes time for street ministry to show results. In fact, he may never see the fruit of the seeds he plants. People come and go out of his life, except for the nuns for whom he serves as chaplain near the parish where he resides, St. Patrick's in St. Joseph. The Benedictines of Mary, Queen of Apostles, a contemplative order whose sacred music CD's have topped the classical music charts, are committed to praying for Fr. Carney, his mission and the people he meets.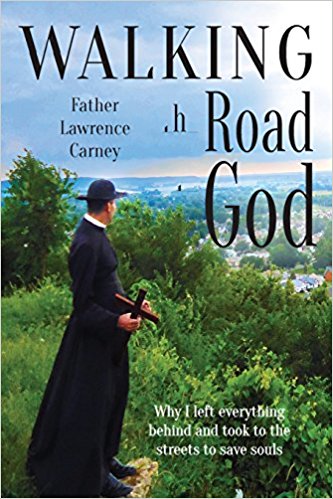 I am delighted to be able to publish this amazing priest's book, Walking the Road to God (Caritas Press, May 2017). Its release date is May 26, the ten-year anniversary of his ordination.
Buy this book through our Amazon affiliate link and support CatholicMom.com with your purchase!
Copyright 2017 Sherry Boas
About the Author

Sherry Boas is author of the Lily Series, which has grown into a beloved collection of novels whose characters' lives are unpredictably transformed by a woman with Down syndrome. The former newspaper reporter and special needs adoptive mother of four is also author of A Mother's Bouquet: Rosary Meditations for Moms, Billowtail, Victoria's Sparrows, Little Maximus Myers, Archangela's Horse, and Wing Tip. She runs Caritas Press from her home office in stolen moments between over-cooking the pasta and forgetting to dust the chandelier. Find her work at CaritasPress.org.