There's an article with the title "11 things to do in your 20's to become a millionaire by 30."
The article is shared and praised by many as a great rulebook for life.
Now, I am not one that hates money. I am a slave to it in many aspects. I dream of the lavish vacations to Europe. I think it would be so fun to order that super expensive bottle of wine on a date night with my husband.
Shoot, I'd like to simply know I will be able to send all five kids off to college loan-free!
Money is not a bad thing. When your life's arrangements revolve around money, your social status and everyone else's worth is based on how many dollar signs follow them around…that's a whole other story.
As I was reading the article, I thought about how each suggestion would play out in an article titled, "11 things to do in your 20's to become a saint by 30."
Let's take a look at these "11 things" …
Focus on earning
Focus on the end goal, holiness. Train yourself to focus on the heart of God throughout the day.
Develop multiple streams of income
Develop multiple ways of feeding yourself spiritually. Don't just go to Mass. Attend Bible studies, pray the Rosary, schedule a Holy Hour of Adoration.
Save to invest, don't save to save
Grow spiritually not only for yourself, but also for others. Become a Christian that is active in their faith. Be the missionary you were meant to be- whatever that may look like. Make your faith one that grows much fruit.
Be decisive
Learn discernment. Learn how to hear God's voice when He speaks to you through scripture, other people, in the stillness.
Don't show off — show up
Don't show off how great of a Christian you are- live it! Be God's love- don't just talk about it. Live what you preach. Let your faith be visible in your works and attitude.
Change your mindset about money
Change your mindset about money. Have a holy outlook on money. Don't let it be your driving force.
Invest in yourself
Take care of yourself spiritually. Exercise your faith. Make time for God and His Word.
Ditch the steady paycheck
Don't settle for the relationship you have with God right now. Your relationship with Him can always improve. Always be working on getting to know Him better.
Set goals and visualize achieving them
Set realistic goals for your faith life. Read the Bible more, pray more - always reach for an improved spiritual life. Make it a goal, work towards that goal.
Start hanging out with people you admire
Have a solid group of Christian friends as your backbone. Surround yourself with people that will lift you up, hold you accountable and support your beliefs and values. But at the same time, be open to relationships with all types of people. Do not pick and choose who you hang out with based on their social status. Remember, Jesus hung out with all.
Shoot for $10 million, not $1 million
Shoot for sainthood, don't sell yourself short! Remember the universal call to holiness. You were made for heavenly greatness; don't settle for just being a good person. Become best friends with God and let Him shape you into the best version of yourself.
[tweet "Shoot for sainthood! Don't sell yourself short."]
Copyright 2017 Stephanie Stovall
About the Author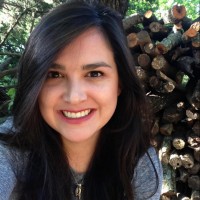 Stephanie Stovall loves Oklahoma State University and hanging out with her husband. She keeps Holy Mary busy praying for patience with her five little boys. Stephanie loves God, Catholicism and evangelizing with all her heart! You can find more of her messy thoughts over on TheBlessedFruit.com