But seek first the kingdom of God and his righteousness, and all these things will be added to you. Matthew 6:33
When was the last time you heard someone scream in an excited voice, "Yeah, I'm third! Whoo hoo for me!" Uh . . . probably never; that's just nuts.
Or is it?
We live in a world that promotes being first, best, biggest and fastest. Being third is nothing to aspire to by most standards, or so I thought. I was reading an article recently and in small print at the bottom of one of the pages was a quote from the author who said she constantly strives to be third; God first, others second and herself third.
[tweet "Strive to be third by putting God first, others second."]
I chewed on that thought for the better part of two days and, quite frankly, I am amazed by it. My first reaction was, oh yeah, good idea, I do that too. Then reality whapped me upside the head and I was flooded with examples of times I truly was not content with third place. God is so good at honestly putting me in my place. Then I moved on to this thought: well, surely it doesn't mean third all the time. For instance, it's my obligation to be the best mother and wife I can be so I have to try to be the best or first in that role. Then I thought about my teaching; surely God and a whole batch of parents each year want me to be the best teacher for their children. Imagine the gasps at Open House if I proudly announced I was the third best teacher. I then proceeded to go into the pattern I usually go into when I hear something from God I don't really want to agree with; I decided the quote was flawed or goofy.
It's usually at that point I have to give up and ask God why He really lead me to the words and begin to open my mind and heart to the truth He's speaking through the words. He didn't fail me! After some pouting, praying and processing I got the truth.
The truth is, it isn't about me at all! God has to come first or my life is nothing but one long chain of goofed-up stuff. God always has to be in the front seat because I'm a lousy navigator and take way too many wrong turns and dead end paths . . . He never loses the way. If I believe He will lead me perfectly in anything I do in His name, then it's easier to let Him claim first place.
If I can agree to that, I have to remember the greatest commandment is to love others. It's the most basic thing He asks of me and honoring His request to love Him by loving others means putting others in spot two. It just seems like the least I can do for the God who has done everything for me.
That leaves third place, and instead of selfishly looking at it as a consolation prize I had to stop a minute and realize those first two places were for Him and service to Him, so third place is as close to Him as I could possibly be. After thinking it over, I really like third place. If I'm doing everything I do to serve Him and the people He created then how can I want anything more? If I let Him be first and offer everything I do to Him, it will all be just as He wishes and that will always be right!
Thinking of third place in a new way is very freeing! The pressure is off; I just have to follow along behind first and second with a heart full of love and I will win every time! I'll just stay locked in third and glide along on His tailwind! The journey to heaven is a great one, and the prize for coming in third is magnificent!
Bronze just became my new favorite color!
A Seed To Plant: Spend some serious time this week pondering which spot you're in. How can you work harder to come in third?
Blessings on your day!
Copyright 2017 Sheri Wohlfert
About the Author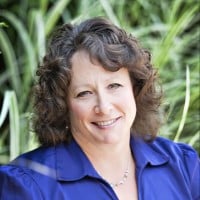 Sheri is a Catholic wife, mom, speaker and teacher. She uses her great sense of humor and her deep faith to help others discover the joy of being a child of God. Her roots are in Kansas but her home is in Michigan. The mission of her ministry is to encourage others to look at the simple ways we can all find God doing amazing things smack dab in the middle of the laundry, ball games, farm chores and the hundred other things we manage to cram into a day. Sheri also writes at JoyfulWords.org.