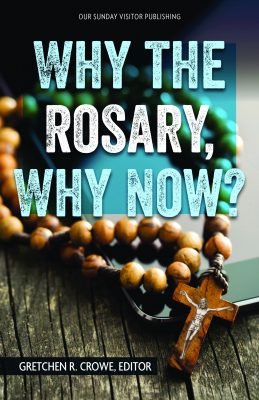 I want to admit up front to having a precarious relationship with the Rosary. While I'd consider it one of my favorite prayers, I'd also be lying if I didn't admit that sometimes I struggle to faithfully pray my Rosary. Too often, my mind wanders as I beg for Our Lady's intercession or this timeless gem of a prayer becomes another item on my spiritual "to do" list rather than a living, breathing contemplation of sacred scripture and the life of our Savior.
That's why I was delighted to learn of the new book Why the Rosary, Why Now? from Our Sunday Visitor's talented Gretchen Crowe. I've long known of the excellence of Gretchen's writing in her role as editor-in-chief of OSV Newsweekly, but this new way of enjoying Gretchen's work has been a true delight. Today, I'm happy to share my recent conversation with Gretchen Crowe. I urge you to discover for yourself Why the Rosary, Why Now?
Q: Gretchen, congratulations on the publication of Why the Rosary, Why Now? and welcome to CatholicMom.com. Please briefly introduce yourself and your family to our readers.
Thank you, Lisa! I'm so happy to be able to talk about this important book with the folks at CatholicMom.com, particularly because I am a new mom myself.
"Why the Rosary, Why Now?" has a special place in my heart. Not only is it the first book I have ever written and edited, on a subject that is very special to me, but I wrote it while pregnant with my first child. Joseph Gerard was born May 11, the same day the book was published.
I have worked in the Catholic press since 2004 – first for the Arlington Catholic Herald in Diocese of Arlington, Virginia, and now at Our Sunday Visitor, where I serve as Editor-in-Chief of OSV Newsweekly. In this capacity, I oversee the editorial content for the only weekly Catholic newspaper in the country, as well as our two other periodicals: The Catholic Answer magazine and The Priest magazine.
My husband, Michael, and I will celebrate our first wedding anniversary on June 11.
Q: Why this book, and why now? (Sorry - I couldn't resist!) Please tell us a bit about what the book contains and why this special compilation of writings on the Rosary is so critical for this time in our history.
"Why the Rosary, Why Now" is an essential book for 21st-century Catholics. The Church right now is celebrating 100 years since Our Lady appeared to three shepherd children at Fátima and implored them to pray the Rosary every day for peace. It's a message that, a century later, is just as important as it was then. In 1917, the world was enmeshed in World War I. Currently, we are involved in what Pope Francis has called a "piecemeal" world war. We need to recommit ourselves to praying the Rosary in order to be beacons of light and peace to the world, and to bring people closer to Christ.
In addition to peace in the world, a devotion to the Rosary often has so many other benefits, too, and that's what the texts included in the book — whose authors range from Archbishop Fulton Sheen to Pope St. John Paul II to St. Therese of Lisieux — illustrate so beautifully.
Q: How did you choose the materials you included in the book? Where there any that were new to you?
Deciding the texts to include in the book was definitely a process of discernment, as I had to narrow down the final texts from a much longer list. The process involved much reflection and prayer to ensure that I was including just the right pieces.
I wanted to include compelling content that was both by notable figures in the Church, but also that might not be well-known to readers. I wanted them to be well-written and interesting. Most of all, I wanted the texts in the book to "make the case" for why Catholics should recommit to praying the Rosary.
Every chapter answers the question that the title presents: Why the Rosary, and why now? We need to pray the Rosary to fight secularism and evil in the world, to break through the noise of today's ever-pervasive technology, to promote family life, to grow in holiness, and to grow in devotion to the Church and in Christian discipleship. Each chapter explains why and how a devotion to the Rosary can help in each area. They offer undeniable witness to the power of this extraordinary Catholic prayer.
The text that took me the most by surprise was "The Rosary of Hiroshima" by Father Hubert F. Schiffer, SJ, who described how he and three other priests survived the atomic bomb dropped on Hiroshima despite having been eight blocks from the epicenter. Not only did the priests survive, they went on to have no negative effects from the bomb's radiation. Father Schiffer credited the Blessed Virgin Mary for their safety, explaining, "We were living the message of Fátima, and we prayed the Rosary every day."
Q: Which of these chapters most speaks to you at this point in your own spiritual life?
All of the texts have great meaning, but the one that probably is most relatable to me right now is Chapter 3: "To Strengthen Families," which contains an excerpt from Father Patrick Peyton's autobiography "All for Her." In it, Father Peyton relates how praying the Rosary as a family from a young age provided a foundation for his spirituality that resulted in his praying intensely for – and receiving – a miraculous healing later in life. Father Peyton then went on to found the Family Rosary Crusade, which promoted family prayer to millions of people.
As a new mother, I am very inspired by Father Peyton's commitment to the family Rosary. My husband and I prayed the Rosary together often while I was pregnant, and our son was born just as we finished a decade of the Rosary. We have tried to continue the tradition of praying the Rosary together as much as possible in these hazy first few weeks since our son's birth. One of my favorite things to do now is to pray the Rosary during late-night feedings. Father Peyton's story teaches us that families can never start praying the Rosary together at too young an age, and that its repetition can make a profound impact on one's life.
Another text that has particular meaning to me is the one by Cardinal Albino Luciani (Pope John Paul I) in Chapter 1 "To Break Through the Noise." With smartphones, social media and texting, we are surrounded by distractions and constant "noise" in our modern-day lives. The text is a reminder that prayer, particularly the Rosary, can help quiet that noise and lead us past the distractions and closer to God.
[Tweet "Per @GretchenOSV #Rosary quiets life's noise and draws us closer to God"]
Q: For busy moms who may struggle to make the Rosary a regular part of their devotional lives, what support and wisdom can you offer?
Praying the Rosary definitely takes time and commitment. But because of its rote nature and familiar prayers, it's also one of the best devotions for busy moms and their families. The Rosary can be prayed on the go, perhaps even using a digital version of it in the car to involve the kids. It can be prayed while pushing the stroller on a walk or, as I mentioned, under one's breath during a quiet whisper during a late-night feeding. The tactile beads make it easy for young children to follow along, and the repetitious prayers are ideal for older children to lead. Reading a short reflection on each mystery is also a great way to involve little ones.
Praying the Rosary takes commitment and prioritization, and both of those things take time. Busy moms should be patient with themselves. Start with a decade of the Rosary and work up from there. The Blessed Mother certainly understands the challenges and demands of motherhood!
Q: What are your hopes for this book?
It has been such a privilege to write this book on the holy Rosary. I hope that "Why the Rosary, Why Now?" inspires individuals and families reflect on the importance of praying the Rosary and reconsider how to make it a part of their regular prayer routines. The Rosary is such a powerful devotion, as the excerpts in the book portray — one that Catholics too often tend to take for granted. I hope that by reading this book, Catholics come to better understand how the Rosary — especially when prayed daily — can impact our lives, our culture and our world for the better. It's something everyone can do, and the return is enormous.
In addition to the excerpts by holy men and women included in the book, I offer some of my own reflections in the form of short introductions to every chapter. My hope is to put the texts into context and to help make them more relatable and accessible.
Q: Please share any additional resources that may help readers understand more deeply the power of the Rosary.
Readers can use "Why the Rosary, Why Now?" as a springboard for deeper reading and reflection on the devotion of the Rosary. Many of the texts included are excerpts from larger documents or are written by authors with other material on the Rosary. For example, Pope Leo XIII wrote an astounding 11 documents total on the Rosary, only one of which is included in my book. Another item of interest might be St. Louis de Montfort's "True Devotion to Mary," or his "The Secret of the Rosary."
Q: Are there any additional thoughts or comments you would like to share with our readers?
"Why the Rosary, Why Now?" is a great book for individual reading, but it also is perfect for group study in parish small faith groups or book clubs. Groups could reflect on a chapter per meeting and also take the opportunity to pray the Rosary together as well. It might even be useful for someone during a private retreat.
For more information:
Order Why the Rosary, Why Now? through our affiliate links and support CatholicMom.com with your purchase
Copyright 2017 Lisa M. Hendey
Rosary image copyright Gretchen Crowe, used with permission
About the Author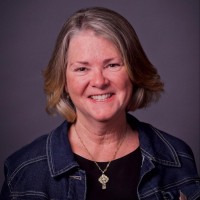 Lisa M. Hendey is the founder of CatholicMom.com, a bestselling author and an international speaker. A frequent radio and television guest, Hendey travels internationally giving workshops on faith, family, and communications. Visit Lisa at LisaHendey.com or on social media @LisaHendey for information on her speaking schedule or to invite her to visit your group, parish, school or organization. Visit Lisa's author page on Amazon.com.