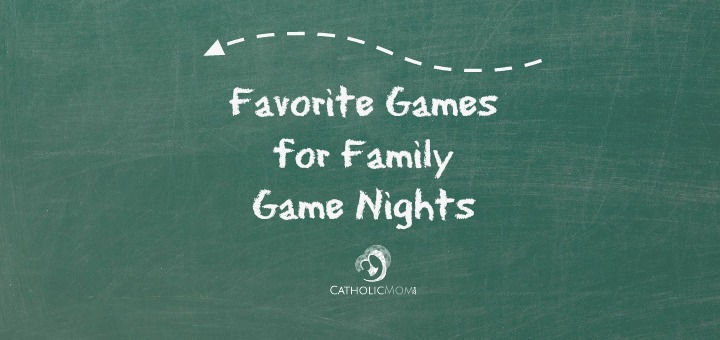 There are a lot of companies out there making board games. Some of them feel like Goliaths of the industry, and some are Davids (smaller companies in terms of their catalog, but still producing quality games). I love almost all games, but I have a special place in my heart for the little companies. Yes, they want to make a profit as well, but their games are true labors of love, and you can see it in each game they make. One such company I have in mind with regards to this description is Kids Table Board Gaming, and today I would like to tell you about the first two games they have created!
[tweet "Two new games from @kidstablebg, reviewed by @StuartsStudy"]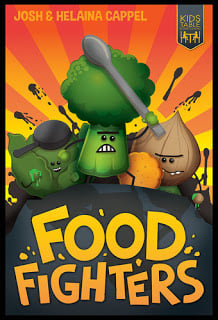 If your mother was anything like my mother, then I'm sure you were always told not to play with your food. Perhaps it was because she didn't want us to be wasteful, or perhaps she just didn't want to clean up the potential mess. Today, I would like to introduce you to a game that does encourage you to play with your food - Foodfighters! A game for 2 players, ages 8+, Foodfighters takes approximately 20 minutes to play and retails for approximately $21.
I'm usually not a fan of two-player only games, because there's three people in my household. Now, granted my son is fairly young, so for the time being a game that plays two players is okay. However, he does love games and he can pick them up fairly quickly, so when he saw this game laid out with the dice and all the amazing wooden components, he instantly wanted to play this game! This may be Kids Table Board Gaming's first game, but Josh Cappel and his wife Helaina are no strangers to the board gaming industry. He has co-designed many successful games and his beautiful and distinct art style can be found in a personal favorite game of mine - Scoville! His art made this theme a very tasty prospect, and I think I would buy this game for my son for the art alone. However, there is a little bit of meat in the mechanics too! You have to decide when to go for the attack and when to accumulate some currency for offense, defense, and special abilities on the cards. There is also a key moment where switching your fighters will pay dividends and make your opponent reevaluate their strategy.
The game sets up and plays very quickly too, which is something you need in a kids' game. Children don't want to sit around and wait for 30 minutes while you set up a game, nor do they want to have to sit through another 30 minutes worth of rules, and an hour of game play. They will get bored and leave if you submit them to that. Instead, Foodfighters is a quick skirmish with just enough strategy and luck of the dice that your children (and you) will want to immediately play again. Where the game shines for me is in the variability of the play. The base game comes with two factions (Meat and Veggies), to play with. You and your opponent can take turns playing each faction or draft Fighters from each faction to have a mixed faction army. (There are reusable stickers in the game that allow you to alter the thought bubbles for this game play.) There are also four expansion sections which you can add to the game for even more variability - Grains, S'mores, PB&;J, and Problem Picnic (the last of which is inspired by their second game with the same name). The Cappels have produced a winner with this game, and I look forward to see what they have coming out next!
Learn more about how to set up and play the game.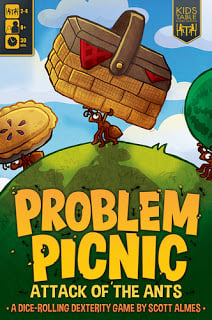 Everyone loves a good picnic. There's something about eating outdoors on a blanket and not bolt upright at a table or vegged out on the couch. The food just tastes better and you can have fun and play outdoors while or after eating, without having to worry about making a mess. Unfortunately, we all know the one thing that ruins a picnic . . . ANTS! Kids Table Board Gaming has recently published a game with just this theme called Problem Picnic: Attack of the Ants. The game plays 2 to 4 people, ages 8+. It takes approximately 30 minutes to play and retails for $26.
A dexterity game that involves rolling dice . . . it's like everything I'm horrible at in games bundled into a cute package. With that being said, I would highly recommend this game! For starters, you have Scott Almes who designed this game. Anyone who is a fan of modern board games knows that Scott Almes is a genius who keeps producing hit after hit! Pair the awesome game design with the beautiful art of Josh Cappel and you get a game that you want, no need to have in your collection. These two men are the gold standard of the board gaming industry, and I would buy almost anything with either/both of their names on the box.
However, the game is more than just names on a box. There is solid game play that is easy enough for a child to learn but hard for even an adult to master, so the playing field is always level (or in my case skewed towards my son, because like I said earlier, I'm horrible at this game). There is also high replay value in the game. There are six round cards with only five being used in the game, so you will never know which one is not going to show up in your game or in what order. There are also sixteen scoring cards, meaning you'll have three to five per game creating great variability by themselves, but even more so with the reward tokens.
Owning both the games from Kids Table Board Gaming, one thing I have noticed is their attention to detail. There are a lot of great games out there that I enjoy, but their components leave a lot to be desired. Problem Picnic shows game publishers how little things can go a long way. The dice could have been beautifully colored and that would have been enough, but instead they went the extra mile and made the pips ant-shaped. The cardboard punch-out for the shoe could have been the same image front and back, but they actually had the top of a shoe on one side and the sole on the other side. It's nice touches like this that make the game stand out for all the right reasons. If you have kids in your household or grandkids, then you should really pick up their games, so they can continue to make more great games that are fun for the whole family.
About the Author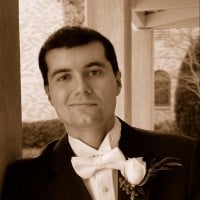 Stuart Dunn was born and raised in Mobile, AL and received a Bachelor of Arts in Psychology and a Master of Business Administration from the University of South Alabama. Stuart reviews all things Catholic including adult books, children's books, Bible Study series, Catholic Courses, CDs, and DVDs in addition to board games at his blog Stuart's Study at StuartsStudy.blogspot.com.