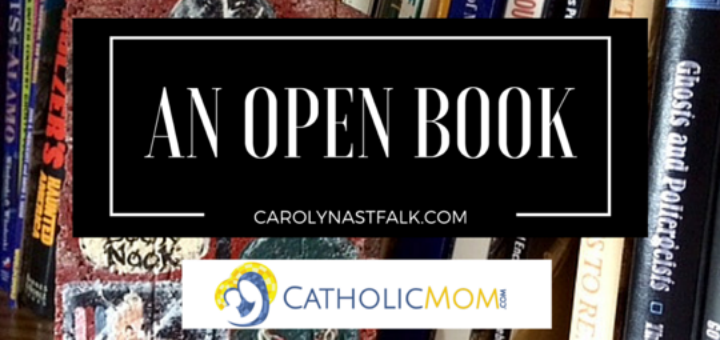 Welcome to the July 2017 edition of An Open Book, now hosted both at My Scribbler's Heart AND Catholicmom.com!
[Tweet "Join #OpenBook linkup + share your current reads! Hosted by @CMAstfalk + @CatholicMomWeb"]
An Open Book is all about what my family is reading this month, from the adults down to the little kids. Share what you're reading by linking up your blog post below. Simply write about what you're reading. You can make it personal or, as I do, extend it to the whole family. Your post can be as simple as a few lines about the book or as in-depth as a 700-word review. That's entirely up to you. You can even forego writing all together and record a video or simply post cover photos.
No blog? No problem. Please share what you're reading in the comments.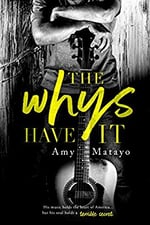 I had long been looking forward to reading a trio of contemporary Christian romances for which I received ARCs. (Those are Advance Review Copies, for the uninitiated.) First up was The Whys Have It by Amy Matayo. Her writing gets better with every book (and I know she wrote this one years ago, but the rewrite benefited from the skills she's acquired over the years). I'm just going to admit it: Maybe it's leftover teenage fangirling over Duran Duran et al, but I'm still a sucker for a rock star romance. This one isn't all crushes, butterflies in the stomach, and glamour. This one is grief, regret, and making peace with the hands life deals you. I loved it.
The second ARC was by another of my favorite contemporary romance authors, Tammy L. Gray. My Unexpected Hope is technically not the second in a series, but it builds on her previous novel, My Hope Next Door. Back-to-back with The Whys Have It, it was another heavy-hearted romance, if there is such a thing. The main characters are grieving their divorce and trying their best to move past messed-up childhoods, a dysfunctional relationship, and addiction to make a new start. I especially loved the unexpected twist the ending took.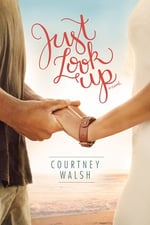 Last up was Just Look Up by Courtney Walsh, the first novel by her that I've read. After The Whys Have It and My Unexpected Hope, the lighter mood of Just Look Up was welcome. And while it's a lighter romance, it's filled with good, important stuff about worrying less about what we do and concentrating more on who we are. If you're driven to distraction or just plain driven, this book is for you.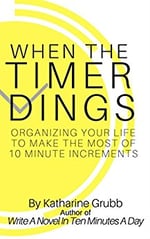 I topped the romances with a short, nonfiction, self-help book by 10 Minute Novelists foundress Katharine Grubb. When the Timer Dings: Organizing Your Life to Make The Most of 10 Minute Increments is a quick read, but you'd benefit by taking some time to answer the thought-provoking questions at the end of each chapter, which will help you see where and how you may improve your approach to organizing your time. I don't do chapter-end questions, but I still got something out of the book. On, to tackle our clutter!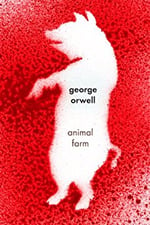 My son has completed one of the three books that are part of his summer reading assignment. He selected Animal Farm by George Orwell from one of the lists provided. After hearing him talk about it, I'm eager to read this classic that I somehow missed along the way, especially since he left me with this remark: "I've never been so moved reading a book."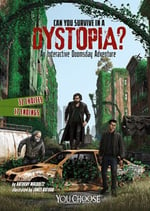 This morning, while waiting for his sister to finish up with lunchtime book club at the library (Chewsy Readers), he grabbed a pick-your-own ending book from the shelf. We hadn't made it home from the library before he'd reached a dead-end in Can You Survive in a Dystopia? by Anthony Wacholtz. As I type, however, I spy him going back in and reading through to other possible endings.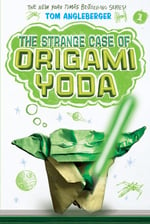 Meanwhile, his sister was discussing the book she'd been reading over her peanut butter and jelly sandwich. Late one night last week, she couldn't fall asleep and, horror of horrors, there was no new Trixie Belden book on hand. I suggested she take a book from her brother's shelf, and now she's hooked on the series beginning with The Strange Case of Origami Yoda by Tom Angleberger. I'm sure I'll be finding a slew of paper puppets around the house again, including Han Foldo.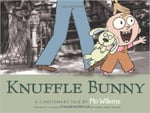 My little kids have a bad habit of asking "Can I have a book?" at the library and then grabbing random books from the shelf that may or may not be of interest to them. This week, I selected Knuffle Bunny: A Cautionary Tale by Mo Willems, sure that they'd love it, and they did. I love the illustrated expression on the father as he drags his boneless toddler home in mid-tantrum. Ah, so familiar.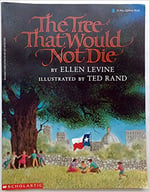 I rolled my eyes after first skimming The Tree That Would Not Die by Ellen Levine. Really? Who would poison an old tree? But then, sure enough, a note in the back of the book explained how a nearly 500-year-old tree, the "Treaty Oak" of Austin, Texas was poisoned in 1989. The picture book broadly traces 400+ years of Austin history in this tale. (By the way, the Treaty Oak still stands.)
[inlinkz_linkup id=723940 mode=1]
Want more details on An Open Book? You can also sign up for An Open Book reminder email, which goes out one week before the link-up.
Check out the archives of An Open Book!
Copyright 2017 Carolyn Astfalk
About the Author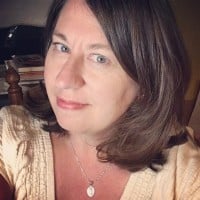 Carolyn Astfalk is a wife, mother of four young children, and a writer. Her contemporary Catholic romances are available at Amazon.com. She is a member of the Catholic Writers Guild, a Catholic Teen Books author, and blogs at My Scribbler's Heart. Visit CarolynAstfalk.com.