I was running errands over the weekend, and on one of my stops, a sales clerk asked me about the T-shirt I was wearing. Behind a tall counter, he was too far away to read the whole message.
"Pray, hope and don't worry," I told him. "It's Padre Pio."
He complimented the quote on the shirt, then backed up. "Oh no--I shouldn't have said anything."
He explained that earlier that day, he'd asked someone else about the message on her shirt. Even though he had also been complimentary in that instance, the customer had reported him to the manager.
"I don't get it," I replied. "If you're going to wear a shirt with a message, you should be ready to talk about it."
I got that T-shirt from the Catholic T-Shirt Club.
This subscription-box service offers an exclusive monthly T-shirt design in a variety of combinations with sacramentals, prayer cards and children's books, depending on the subscription you choose. Boxes range in price from $16/month for the children's "Little Saint" box to $49 for the "Cardinal" box with two of everything: T-shirts plus several sacramentals. Shipping is $3 except for the larger "Cardinal" boxes, which ship for $5.
The box shown above is the "Bishop" box; it included the soft, brown Padre Pio-themed T-shirt, a vial of holy oil with information about its use, a prayer card containing a third-class relic of Saint Pio, and a Saint Pio medal. The sacramentals are not blessed, so those will need to be taken to a priest or deacon before use.
The card in the top of the box features a prayer written by Padre Pio on the front (shown in the images here) and a reflection about that prayer on the reverse side.
Part of the fun of a monthly subscription box is the element of surprise. As a subscriber, you'll receive your box around the 20th of each month. There is no long-term commitment; you can cancel at any time by accessing your account online. Learn more at the Catholic T-Shirt Club FAQ.
Are you a member of a Catholic group or affiliated with a Catholic school? Check out their fundraising option!
[tweet "Wearing a message tee? Be ready to talk about it. @franciscanmom reviews @CatholicTeeClub box"]
Wear it like you mean it.
I received a sample box from the Catholic T-Shirt Club for the purpose of this review. No compensation was received. Opinions expressed here are mine alone.
Copyright 2017 Barb Szyszkiewicz, OFS
About the Author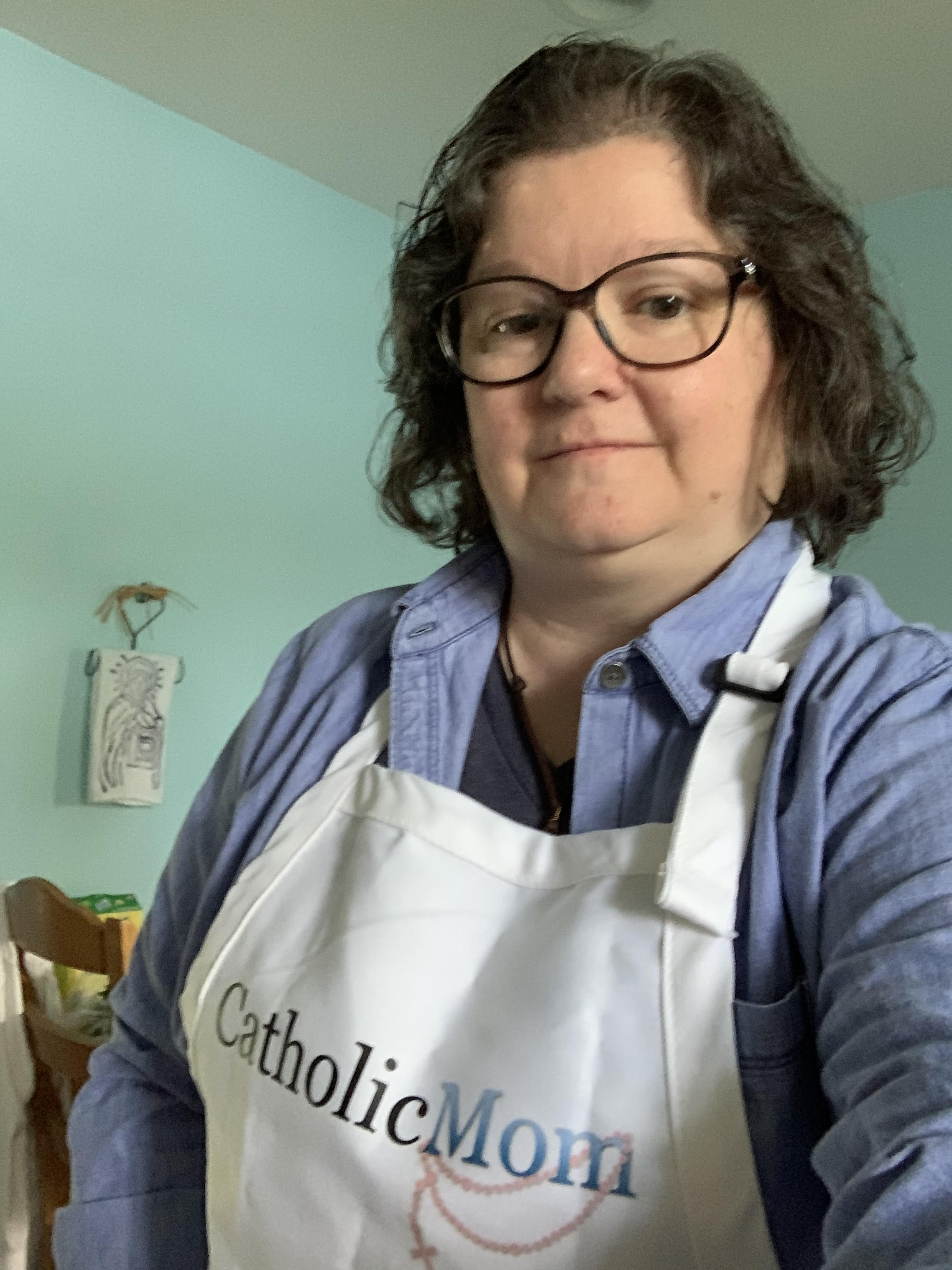 Barb Szyszkiewicz is a wife, mom of 3 young adults, and a Secular Franciscan. She is editor at CatholicMom.com. Barb enjoys writing, cooking, and reading, and is a music minister at her parish and an avid Notre Dame football and basketball fan. Find her blog at FranciscanMom and her family's favorite recipes with nutrition information for diabetics at Cook and Count. Her booklet, The Handy Little Guide to Prayer, is available now from Our Sunday Visitor.