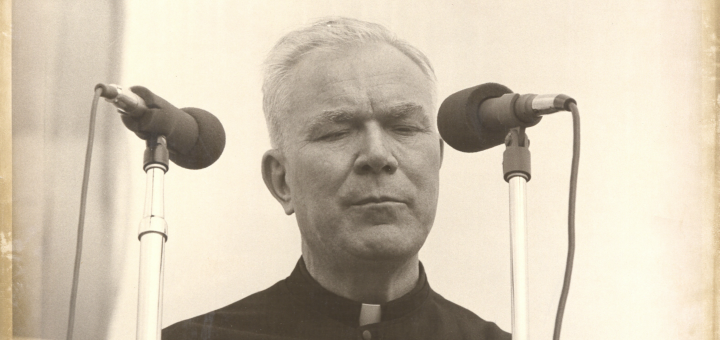 Father Patrick Peyton C.S.C. at rally. Courtesy of Holy Cross Family Ministries. Used with permission. All rights reserved.[/caption] The 1976 Eucharistic Congress in Philadelphia was an exciting event for new Novice. It was one of the largest religious gatherings in U.S. history. The congress coincided with the 200th anniversary of the Declaration of Independence of the United States from Great Britain. The Mass held at Municipal Stadium was attended by U.S. president Gerald R. Ford. Our community arrived in busloads to pray and celebrate with notable individuals. In fact so many saints were present who were not well-known at the time, including Cardinal Karol Wojtyla (who would be Pope John Paul II just two years later) and Mother Teresa. Dorothy Day, Princess Grace of Monaco and Cardinal Leo Suenens were more commonly known. The week of events included lectures, workshops, exhibitions, and Eucharistic liturgies. The theme was The Bread of Life. Omer Westendorf's "Gift of Finest Wheat" was written for the Congress and sung here for the first time. Among the many wonderful events and speakers two things stood out for me. The first was the witness of our Sister Disciples of the Divine Master. We share the same priest-founder, Blessed James Alberione. Their mission centers around the Eucharist, priesthood and liturgy interlaced with each other in a mission of praise, love and charity. The Sister Disciples brought and cared for vestments and Sacred vessels for this congress. They remained in perpetual adoration of the Eucharist during the entire Congress. The second event that I clearly recall was meeting Fr. Patrick Peyton. My co-novices and I heard that he was at a booth in the Congress hall. We knew of Father Patrick Peyton, C.S.C., who believed himself cured of tuberculosis through the intercession of the Blessed Mother. We were inspired by his life of devotion to Mary and promotion of the family Rosary. We began to search the aisles. Then we saw him, recognizing him from television spots and billboards promoting family prayer. Holy Cross Family Ministries recounts that Father Peyton "began the Family Rosary in 1942 by writing to every bishop in the United States, asking them to promote the family Rosary in their dioceses. He coordinated Rosary events in more than 40 countries, gathering more than 28 million people worldwide in Rosary prayer and has influenced generations for decades." As we walked toward his booth we noted that Fr. Peyton stood quietly waiting for people to approach. There was no boisterous, captivating event to draw us. What drew us was his devotion to Mary and his perseverance in spreading the gospel message as a media evangelizer. We did not expect to be awed in the way we may have been if we were meeting a great celebrity. His was the captivating presence of a man in love with God, a Priest who knew Mary as a loving mother to humanity. Each of my co-novices recalls this meeting slightly differently. Sr. Susan remembers him saying, "The family that prays together stays together." I remember as we approached Fr. Peyton had a quote for each person who greeted him. "Even if the sun and the moon go out, never doubt," is what I heard him say. Since this was a rhyme and because of who said it I often recall the moment, especially when I am encountering a dilemma. Another co-novice, Sr. Denise, remembers Fr. Peyton saying, "The Church is alive and God continues to call." Each of us was equally impressed with his kind face and humility. Sr. Christine told me, "What I remember of Fr. Peyton was a presence of dignity and humility. He struck me as a quiet, prayerful man."
This quiet, prayerful man lived his life deeply in love with Mary. Even his autobiography is entitled All For Her. His advocacy of family prayer has influenced generations. Our family prayed the Rosary together every night. It was indeed a family time. All six of us children knelt with mom and dad in front of a lit candle and a simple home altar. Nothing disturbed this time. Visiting friends were invited to join us.
Fr Peyton speaking at a rally in New Orleans in 1952. Courtesy of Holy Cross Family Ministries. Used with permission. All rights reserved.[/caption] My mother would remind us, "The family that prays together stays together." She took us to a Fr. Peyton-inspired Rosary Rally in New Orleans when I was about seven years old. The stadium filled up with families coming together to pray for peace. Even my dating life was Rosary-influenced. If I had any relationship questions, my mom's advice was to entrust them to Mary through the Rosary. As I prepared to join the Daughters of St Paul I realized that I had learned meditative prayer through the beads of the rosary. Later as a professed Sister I would show Father Peyton's Rosary films to groups in parishes. These can still be watched via YouTube along with many other films about and influenced by Fr. Peyton. https://www.youtube.com/watch?v=SQRBZLtkmzA Fr. Patrick Peyton's influence is worldwide. Much us this was due to his extensive use of the media. He is in tandem with our founder, Blessed James Alberione, in his understanding that the media are gifts of God that can multiply the good news. What he gave to the media though, this was an even greater influence. His humility as a lover of God must have been impossible to refuse. Hollywood stars and other famous people realized that his were no ordinary requests. He was a spokesperson for the Mother of God, whose heart he knew personally. Pope Francis' recently declared Fr. Peyton Venerable, the second step toward canonization. As I remember my brief meeting with him I am also reminded that though the world has changed drastically since 1976 holiness is timeless. As JJ Weller observed, no matter how the world changes, what the world is truly looking for, and what the church needs, is not a flashier presentation of the gospel, but a simple demonstration of true holiness.
---
Copyright 2018 Sr. Margaret Kerry, fsp
About the Author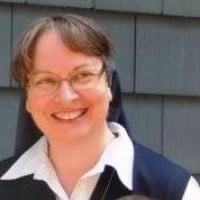 A Daughter of St. Paul for 40 years Sr. Margaret continues to pursue new ways to proclaim the Gospel: sharing the Pauline Charism with the laity, writing books (St. Anthony of Padua: Fire & Light; Strength in Darkness: John of the Cross; Prayers for the New Evangelization), & through direct evangelization. She is available for workshops on the Vocation & Mission of the Laity, Media Literacy, and The New Evangelization. mkerry@paulinemedia.com