Pixabay (2006), CC0 Public Domain[/caption]

My Sunday goes something like this:

Church at 8:30AM. Coffee and donuts. Let the kids run circles (see previous event). Go home and remove heels. Make the menu & grocery list for the week. Head to the store. Realize I didn't check the pantry or fridge drawers for at least 3 items on my list.

Inevitably, when we get home and unload our groceries I think, "We have so much food! Why did I just buy more?"

So I issued my husband and myself a challenge. I suggested that for one week of the month, we don't go to the store. We use just what we have in the freezer, fridge(s) and pantry to eat all three meals and pack the kids' lunch, all week long. I envisioned a couple decent fixes, but I'm pretty sure we'd have to resort to PB&Js at least once.

He shot my idea down and suggested instead that we try to do it one day per week, instead of for one solid week at a time. I'm sure a lot of you already try to do this with a leftover night or a shop-in-the-pantry night. For some reason I just really liked the idea of not shopping at all one week. I know we'd save money if we did pantry shopping on just one day, but what if every month we could make it by only prep shopping for three out of four weeks?

As we tiptoe closer to the Lenten season, what do you think about trying this out in your home?

We have so much to gain:

Less food waste -

no more thrown out moldy green beans, or is that just me?

Lower grocery bills -

and yes, especially during Lent you can turn that savings into giving!

More organized food storage -

that old can of cream-of-something soup will finally get used!

More resourceful recipes -

you'll be like the Pioneer Woman, but … different

Take back your weekend - you'd be able to dedicate that shopping time to something better: a nap perhaps?

An excuse to eat PB&Js or a block of cheese for dinner - as

if you really need an excuse

And it's a great way to get the family involved. The kids can creatively scrounge for their lunch food and help make dinner recipes. Not every meal during your sacrifice week or day will be delicious, and that's ok. And look at it this way, if you're down to chicken broth, radishes and a can of tuna, maybe you'll discover the fruits of fasting!
---
Copyright 2018 Abby Brundage Watts
About the Author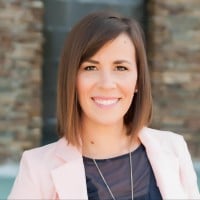 Abby Brundage Watts is a mother of two little boys. Since January of 2008 she has hosted The Big, Big House Morning Show on Spirit FM 90.5, the radio ministry of the Catholic Diocese of St. Petersburg in Florida. The show mixes inspiration, humor and family fun (and great music of course)! You can hear Abby every weekday 6-10am, EST and online at www.myspiritfm.com. She also is the co-creator of the podcast, Perhaps This Is the Moment. You can find it on all the podcast platforms.