The daily devotional Jesus Calling is one of the popular Christian titles in our Pauline Books & Media Centers. Sarah Young said the presence of the Lord in her life inspired her to write what Jesus might say. I have often wondered what a specifically Catholic version of Jesus Calling might look like. So did Heidi Hess Saxton, who proposed that prolific author Sr. Kathleen Glavich write a similar book in the Blessed Mother's voice. The result: Heart to Heart with Mary: A Yearly Devotional. Heart to Heart assures us of Mary's guidance, compassion and tenderness as she brings us closer to the heart of her son Jesus. As we begin this liturgical season, Mary is the perfect companion. This Lent is also a perfect time to deepen our love, knowledge and veneration of the Mother of God. She is the model disciple who entrusted herself without reserve to God.
"On this [Lenten} journey, we want to invoke with special trust the protection and help of the Virgin Mary: May she, who was the first to believe in Christ, accompany us in our days of intense prayer and penance, so that we might come to celebrate, purified and renewed in spirit, the great paschal mystery of her Son." Pope Francis, Ash Wednesday, March 5, 2014
If you already have a devotion to our Blessed Mother, Heart to Heart with Mary will deepen your devotion. If you struggle to understand Mary's role in your spiritual life these daily thoughts, followed by questions and prayer prompts, will change that relationship. Mary human and holy, our saintly mother given to us by Jesus, is a true mother who listens to every story and request without getting tired. As a mother she personally takes prayers and concerns to her son as often as necessary.
February 14th "Let's not forget one undeniable sign of God's love for you: God appointed me as your spiritual mother. His love flows from me to you. You enjoy the peace of comfort of my presence as I watch over you today and all the days of my life. I relish this intimate role of mine and consider it an honor. Why? Because I too love you with all my heart—more than you can ever imagine." Heart to Heart with Mary
My one undisciplined Lenten activity will be to open the book at random or flip through the chapter titles for instant inspiration. Mary is sitting next to me as I share my worries, destructive moping, letting go, sadness in the face of criticism, good thoughts, loved ones, discipleship, joy, grace, and all such chapter titles that inspire holy conversation.
February 16th "My child, each morning when you awake, a whole new day stretches before you. Thank God for the gift. I thank God too, for it is another opportunity for me to act as your loving mother. You never know what surprises the next hours will hold. I always hope that as you journey through the day, wonderful things await you ... and most of all, I want you to stay close to God and to me." Heart to Heart with Mary
Added bonus: Walking with Mary, a program and schedule complete with resources for a group retreat, is found in the back of the book. Kathleen Glavich, SND, has written extensively. Several of her books received awards from the Catholic Press Association and Multimedia International. Pauline Books & Media published her book Totally Catholic, a runaway best seller, and three of her books for children in the Encounter the Saints Series.
---
Copyright 2018 Sr. Margaret Kerry, fsp
About the Author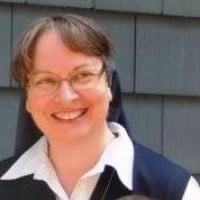 A Daughter of St. Paul for 40 years Sr. Margaret continues to pursue new ways to proclaim the Gospel: sharing the Pauline Charism with the laity, writing books (St. Anthony of Padua: Fire & Light; Strength in Darkness: John of the Cross; Prayers for the New Evangelization), & through direct evangelization. She is available for workshops on the Vocation & Mission of the Laity, Media Literacy, and The New Evangelization. mkerry@paulinemedia.com