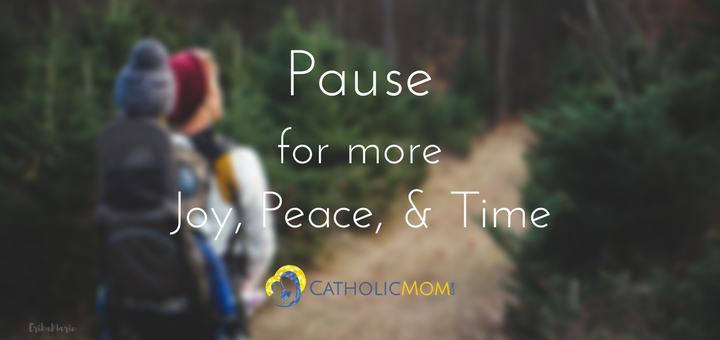 Photo by Josh Willink (2017) via Pexels, CC0 Public Domain[/caption] The season of Lent calls us to dive deeper; deeper into our relationship with Jesus by focusing on his great and merciful love for us. But how? How do we find time to slow down when life keeps zooming on? Pause. How do we find peace in our day when we're constantly refereeing squabbles and mediating injustices? Pause. How do we find joy in our day when we feel emotionally depleted and chronically sleep-deprived? Pause. The great "secret" to finding more joy, peace, and time is in the Pausing. Pause throughout the day, even for a smidge of a second, and surrender. Submit your weary spirit to the Holy Spirit's. At a stoplight, the pick-up line, in between activities and tasks – Pause. During a feeding time with your baby, rocking them to sleep in the middle of the night, watching your children play nicely together – Pause. Pause and soak in all the beauty and joy of those simple moments like a plant bathing in the fresh sunlight. What about the hard moments? The "What-am-I-doing-here?" moments; the "I'll-never-be-able-to-do this," moments; the "Why-God, How-God, Help-God!" moments. Pause. When all we want to do is either scream and yell or run away and sob into a towel (or both!), that's when taking that tiny little Pause - a breath in and out – matters most. Then, let that pause lead you to prayer. Reach out, with your soul, to the One who hears you and knows you: Jesus ... Jesus ... Jesus ... thank you ... thank you ... thank you. That simple prayer pause in your day -- in the moments of joy and in those "fight or flight" survival moments -- can give you just that little extra to get through that moment ... and on to the next. Need more ideas for how to "Pause" this Lent? Check out Tami Kiser's practical ways you and your family can "Pause for Lent.".
---
Copyright 2018 Erika Marie
About the Author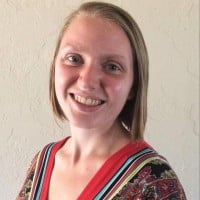 Erika Marie is a simple Catholic, Wife, and Mama. She relishes snuggles and free time with her family and enjoys reading, writing, blogging, and has a slightly obsessive addiction to creating Canva graphics. Enjoy more reflections by Erika at her personal simplemama blog.