I'm not a techie person, really. I am not interested in the latest and greatest gadgets. I usually wait until a few generations have been out before I dive in and give some piece of tech a try. When I was pregnant with my first child in 2010, I bought a used, and very simple, noise-only baby monitor. It served us well for six years and through three children. When we moved to a different house that had three floors, we discovered the baby monitor would not work from the top floor down to the basement, two levels below. This happened to be at the same time that Amazon was having their large Prime sale in July, where I noticed a video baby monitor, the YI home camera. This particular monitor worked with an app on your phone so you see and hear the baby from anywhere. I considered this to be a huge bonus because my mom, my husband, and I could all see the room from our own phones!
When we got it, I still considered the video to be overkill since we got along just fine with only audio for the first kids, but I quickly became enamored of the video function! Not only was it great to be able to see exactly how the baby was sleeping, it was also adorable to watch the baby cooing and playing. We quickly came to realize that we enjoyed this gadget so much that we got one for the girls' room where our 6-, 4-, and 2-year-olds slept. Not only could we see them when they were sleeping, but this camera has a neat walkie-talkie function so we could talk to them through the camera. It often sounded like, "Girls, stop playing. Get back in your beds. It's time for sleep!" And while we would use our serious parenting voice, it was often followed by chuckles from me and my husband. We really enjoy watching the girls whisper and tell each other stories! When my husband and I are out on a date, I can quickly check that the kids went to sleep okay. It really has been a handy tool and one that I wish I had had for the previous kids. So I wanted to take the time and let parents know that if they haven't considered it before, it's not a huge investment, $44 for the YI Home Camera, and it really is a wonderful tool for communicating and keeping track of your kids! Read more of our Tech Talk columns.
---
Copyright 2018 Sterling Jaquith This article contains Amazon affiliate links; your purchases through these links benefit the author.
About the Author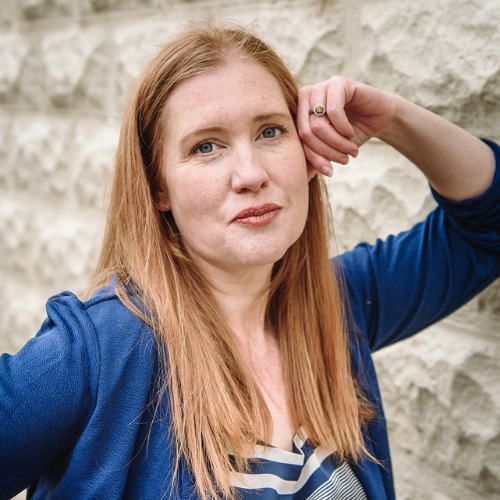 Sterling Jay is a Catholic life coach. She is a wife and unschooling mom of 6 young children and lives in Boise, Idaho. She is a co-host of the Made For Greatness podcast. As an adult convert, she loves sharing her passion for the faith. She believes Catholic moms can change the world! Learn more at MadeForGreatness.co. See her books on Amazon!