Editor's note: Follow Lisa on Facebook and Instagram to see the many photos and stories she's posting from her Unbound Adventure. Don't forget to "like," comment, and share -- that's the best way to spread the word about Unbound.
Today's journal entry will be short, as our visit to remote Tharaka County had us on the bus and walking dirt roads for many hours. I'm tired, very tired … but it's a joyous kind of tired. Tharaka-Nithi County is one of the 47 counties of Kenya located in Kenya's former Eastern Province. The county has an area of 2609 km² and had a population of 365,330 as of the 2009 census. Undergoing a severe, protracted drought, Tharaka reminds me of the drive between Los Angeles and Las Vegas – it is arid, scorched and barren, but beautiful. Some indicators of the drought in this livestock-dependent region include these indicators:
The condition of pasture and browse ranged from fair to poor and the situation was deteriorating. Livestock body condition for both cattle and goats varied from fair to poor and the situation was also deteriorating.
Food Stock at households' level are low ranging between 50-60% of their normal level due to poor harvest in most areas.
Despite these dire conditions, the families of Tharaka did not hesitate to welcome us into their homes, feed us a beautiful lunch, and of course to serenade us with song and dance. With temperatures hovering in the high 90's, we Sponsors recognized the challenging health conditions these families face on a daily basis. Repeated trips to the river to fetch water and to water the livestock are a fact of life. A long, dusty walk to school is part of the day. The elders I visited must rely on the goodness of neighbors to collect water, help supplement their food and assist them with the two goats they own. Chicken eggs help supplement the diet of the husband, who has access to a national health insurance card to help treat his high blood pressure thanks to his Unbound sponsorship. Life in Tharaka seems so challenging. And yet these are men, women, and children who offer us ready smiles, warm hugs, and open arms. One of my favorite moments of the day occurred when a group of beautiful children sat petting my hair, fascinated by something that seemed so completely foreign to them. When language differences create a block to communication, pure love and new friendship overcome the awkward silence. So if allowing my hair to be petted brings a smile to a child who must walk miles to go to school, spend her day collecting water, and go hungry at night, I'm up for being petted.
Making friends in Tharaka County - my hair is very interesting here! Copyright 2018 Lisa Hendey. All rights reserved.[/caption] Thankfully, we can see firsthand on these home visits the difference that Unbound sponsorship makes in these homes. I hope that these posts are encouraging some of you to consider Unbound in your Lenten almsgiving. Even if you are unable to sponsor a child monthly, even a small gift to Unbound can go a long way in changing lives. If you are already a sponsor, I hope you will consider writing a letter to your sponsored friend this month. A consistent question we receive on home visits is, "Can you ask my sponsor to write me a letter?" I hope that if you are already a sponsor, you recognize the great blessing that you are in the life of a real family!
For More Information:
---
Copyright 2018 Lisa M. Hendey
About the Author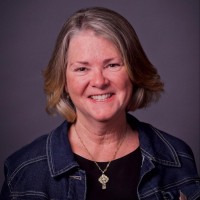 Lisa M. Hendey is the founder of CatholicMom.com, a bestselling author and an international speaker. A frequent radio and television guest, Hendey travels internationally giving workshops on faith, family, and communications. Visit Lisa at LisaHendey.com or on social media @LisaHendey for information on her speaking schedule or to invite her to visit your group, parish, school or organization. Visit Lisa's author page on Amazon.com.