Copyright 2017 Erin McCole Cupp. All rights reserved.[/caption] It's March. Lent is well underway, with or without the extras. In fact, we're heading for one of my favorite Lenten breaks, that bright white spot on the liturgical calendar in a sea of violet, the Solemnity of St. Joseph, Spouse of the Blessed Virgin Mary! This feast seems like a perfect time to bring up a bit of an awkward topic: getting our husbands to take spiritual leadership in this area of family prayer. We hear it all the time, that men are supposed to be the spiritual leaders of the family. On the other hand, we hear it all the time that women more often than not step into that role because, more often than not, men simply don't. Whether they won't or just don't know how or think that they already are leading lies beyond the scope of this article. Inviting them into this kind of leadership? That I can address. Back in January, when our two teenagers came back from the March for Life, they talked about praying the Rosary on the bus with their fellow parishioners. This led my husband to talk about his first experience of the Rosary, which was on his first March for Life, well over twenty years ago. This was in the days when he, the agnostic physicist, tagged along with his Catholic girlfriend (that would be Yours Truly), mostly to make sure she didn't meet some other, more devout guy while gallivanting around Washington, D.C. Anyway. My husband's first Rosary. During this recent conversation with the kids, he admitted that his first thoughts were, "So they just repeat the same words over and over and over again?" We've come a long way since then. It hasn't been an easy road, but it has become a very sweet one. While his conversion to Catholicism is a whole other story in itself, I can tell you the steps we as a family took to get to a point where it is now my husband, not I, who initiates the Family Rosary each day.
Step 1: Pray
Yeah, it's obvious, but don't we so often overlook the obvious? God has asked our husbands to be our families' spiritual leaders, but our culture most certainly has told our guys over and over again to ignore that request (more on that in the next paragraph). If you want your husband to grow in this area, pray for him. A novena to St. Joseph would be a good tool for this intention. After all, it took Mary's courage to lead Joseph into taking on the task of being head of the Holy Family.
Step 2: Ask
Before I could ask my husband to take the lead on our Family Rosary time, it took much prayer — and, frankly, asking God, "But do I have to step back and let him take the lead? He doesn't like leading! And, I mean, I'm, like, so good at leading!" (Cue heavenly laughter here.) At last, though, I got up the courage to ask my husband if he could be the one to bring up that it was time for Rosary. This got us to talking about what it means for a husband to lead. In this conversation, my husband revealed to me that the reason he's shied away from leading is because he didn't want to be some kind of male chauvinist. So what looked to me, in my lack of charity, like he was being wishy-washy, was actually my husband expressing his love and respect for me. Once I'd actually communicated to him (communication — what a concept) that his leadership in spiritual matters made me feel like I wasn't dragging my family kicking and screaming into heaven, he was able to understand that what he says and does matters deeply to me and the children. If I hadn't asked, he would not have been able to see his deep value to us. Our men get so much negative noise from our culture, just for being men. They deserve to have our respect for them communicated clearly. So just ask, ladies. And be prepared for a conversation to follow.
Step 3: Let Go
(in other words, repeat Steps 1 & 2)
So, yeah, I asked my husband to lead our Family Rosary, and he agreed … but he didn't always follow through. At first, as the day passed and the kids' bedtimes encroached, I would get huffy and bitter and, with a pointed glare at my husband, announce, "Okay, well, I guess it's time for Rosary, right?" Not my finest moments in the art of wife-ing. Yes, God wants our families to share the Rosary with each other. I can be pretty confident, however, that He does not want us criticizing our husbands, especially not in front of our children. At some point, I made up my mind to let go. I decided that, if my husband forgot again, I'd pray the Rosary by myself that night for him, for his spiritual growth, and for the love between us to grow. Then I would ask him again to take the lead, working very hard to keep any disappointment out of my voice. I didn't always succeed, but if I expected mercy on my failings, I'd better extend that same mercy to my husband's forgetfulness. After all, he was developing a new habit. New habits are no easy things to form. The habit grew — not overnight, mind you. It took years, but now it is my husband and not me who asks, "Shall we pray the Rosary?" Now it is my husband who is setting an example of what my daughters should look for in their own husbands one day. And if, by chance, they end up with their own agnostic physicists, I pray that the graces of their years of Family Rosary, and that the example of their own father's growth in faith, will lead them to invite their own men into roles of confidence, respect, and, above all, Christ-like love. Our Lady of the Rosary, pray for us. Oh, and St. Joseph, Spouse of the Blessed Virgin Mary, pray for us.
---
Copyright 2018 Erin McCole Cupp
About the Author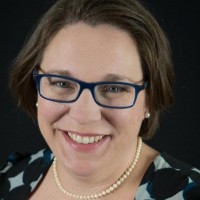 Erin McCole Cupp is a wife, mother, and lay Dominican who lives with her family of vertebrates somewhere out in the middle of Nowhere, Pennsylvania. She's working with Our Sunday Visitor on a book about parenting spirituality for survivors of family abuse and dysfunction. Find out more about her novels and other projects at ErinMcColeCupp.com.