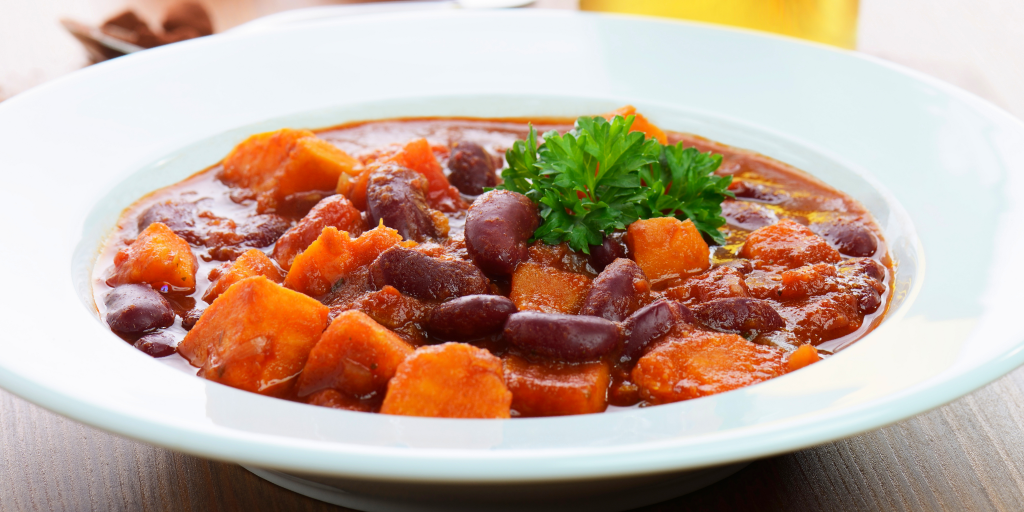 Jasmine Kuzner shares her husband's favorite meatless chili recipe that's great for a crowd.
---
This sweet potato chili recipe is great for large parties. One batch makes enough to feed 8 to 10 people. Serve with salsa and guacamole and chips or use it as the main filling in crunchy corn taco shells. We like to serve it with a squeeze of fresh lime juice, cheese, and sour cream. Enjoy!
Sweet Potato Chili
Ingredients:
3 lbs sweet potatoes, peeled and cubed
2 chipotle peppers in adobo sauce, finely chopped
1 tsp kosher salt
3 tbs olive oil
1 large onion, diced
6 cloves garlic, minced
2 large red bell peppers, diced
1 jalapeño pepper, diced
2 ½ tbs ancho chili powder
1 tbs cumin
28 oz can petite diced tomatoes
1 ½ cup vegetable stock
1 tbs cornmeal
2 tsp kosher salt
1 tsp honey
2 15-oz cans black beans
⅛ tsp cayenne pepper
Directions:
Preheat oven to 400° F. Line a baking sheet with parchment paper or a silicone baking mat.
Combine sweet potatoes, chipotle peppers, 1 teaspoon kosher salt, and 2 tablespoon olive oil in a large bowl and toss. Spread on baking sheet in a single layer.
Roast sweet potatoes for 20 to 25 minutes. Allow to cool.
Sauté 1 tablespoon olive oil, onion, garlic, red bell pepper, jalapeño, ancho chili powder, and cumin, in a large pot over medium heat until onion is softened, about 5-7 minutes.
Pour tomatoes and stock into the onion mixture and bring to a simmer. Add cornmeal, 2 teaspoon salt and honey. Bring to a simmer, stirring constantly, reduce heat to low and simmer for 30 minutes.
Stir black beans, cayenne and cooled sweet potatoes into the onion-tomato mixture. Add more stock if the mixture is too thick. Simmer until heated through, about 20 minutes. Season to taste.
Click to tweet:
A versatile vegetarian chili recipe that's great for large parties. #catholicmom #meatlessfriday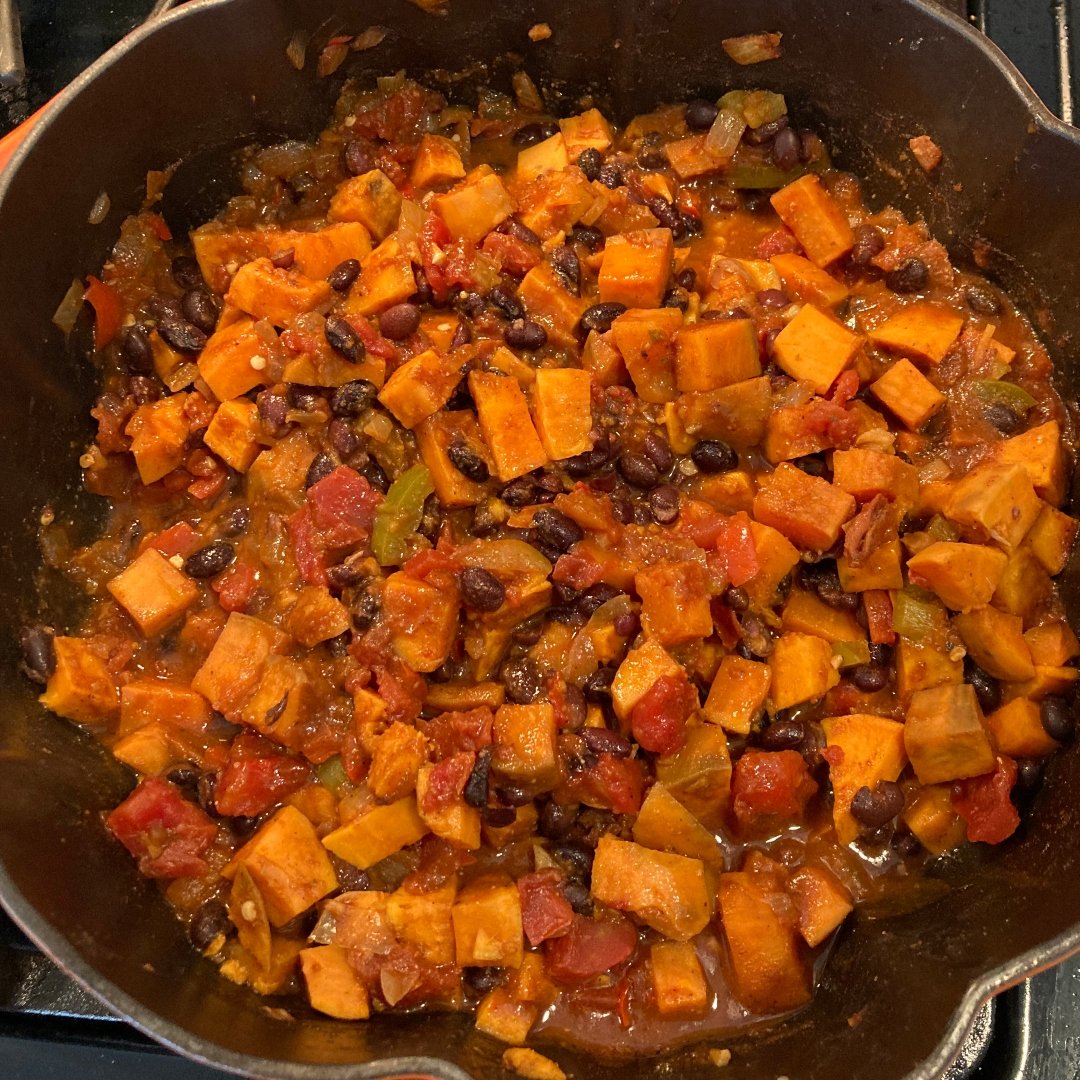 ---
Copyright 2022 Jasmine Kuzner
Images: (top) Canva; (bottom) copyright 2022 Jasmine Kuzner, all rights reserved.
About the Author
Jasmine Kuzner is a wife and mother to two beautiful, quick-witted children, and is the Director of Religious Education at Saint Bernadette Church in Silver Spring, MD. She is also a consultant for the Saint John Paul II National Shrine. She holds an M.F.A. from the University of Maryland, College Park, and has been published in Humanum Review, Busted Halo, and Catholic Mom.