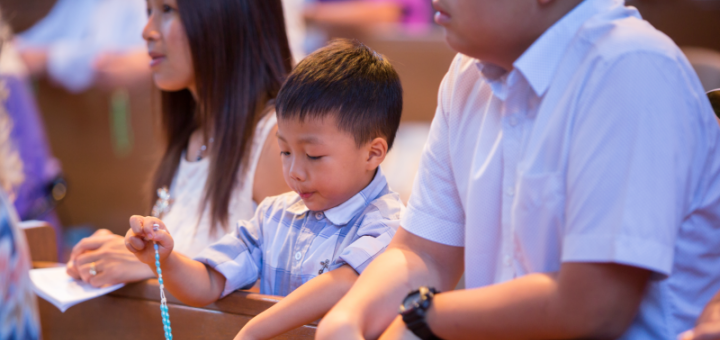 Copyright 2017 Holy Cross Family Ministries. All rights reserved. Used with permission.[/caption] Flávia Ghelardi writes from Brazil in English and Portuguese. Jump to the English version of this post. Deus não precisa de suas orações, nem de suas penitências, nem de seus jejuns. Ele não precisa que você vá à missa, nem receba nenhum dos outros sacramentos. Deus é onipontente, onipresente e onisciente. Ele não precisa de nada! Mas então porque a Palavra de Deus e a santa Tradição da Igreja pedem que você faça tudo isso? Seria tudo invenção humana para te "oprimir"? A razão é simples: o plano do Pai para a sua vida é que um dia, você possa gozar das alegrias do Céu, junto dele. Só que para isso, você precisa vencer a si mesmo, ao seu egoísmo. E isso é uma tarefa dificílima. Como nosso Pai é rico em misericórdia e compaixão, Ele quer te ajudar. Na verdade, a sua graça pode fazer praticamente tudo sozinha. Só é necessário que você abra seu coração e aceite que Ele te molde e cuide de você. O Pai só precisa de uma brechinha em seu coração para realizar grandes milagres de transformação interior. Depois que a graça entra em você, é preciso um mínimo esforço para colaborar com ela, para deixar que ela aja e aumente a cada dia a sua capacidade de amar. É o amor que vai te levar para o Céu. Os santos, nossos irmãos que cumpriram com maestria sua missão aqui na terra, foram mestres na arte de amar. O contrário do amor não é o ódio, mas o egoísmo. Assim, quanto você ama, menos egoístas é e mais aberto está para realizar o que o Pai previu para a sua vida aqui na terra. Como aprender a amar? Como conseguir dar essa brecha para a graça de Deus penetrar em nossos corações? Como ser perseverantes na colaboração com essa graça? É aqui que entra a necessidade da oração, dos sacrifícios, dos jejuns e da frequência aos sacramentos. Deus não precisa das suas orações, mas você precisa rezar. É através da oração, desse contato com o Pai, desse momento de intimidade com Jesus, nosso Salvador, que seu coração se abre para receber a graça. Quanto mais você reza, quanto mais você pede (você pode pedir o que quiser, mas sempre lembrando de como Jesus nos ensinou a orar: "seja feita a vossa vontade, assim na terra como no Céu), mais seu coração se abre e se transforma. Deus não precisa que você vá à missa, mas você precisa receber a Eucaristia. Na Eucaristia, Jesus se dá totalmente a você, em corpo, sangue, alma e divindade. Ele se torna uma só carne com você, para te fortalecer na luta para aprender a amar mais e amar melhor. Deus não precisa que você se confesse, mas você precisa confessar para pedir perdão pelas vezes que falhou em amá-Lo e amar ao próximo, e assim se reconciliar com Ele para que Ele possa continuar agindo em seu coração, através do Espírito Santo. Deus não precisa de seus jejuns e sacrifícios, mas você precisa jejuar e fazer penitência para conseguir se livrar do apego desordenado às coisas desse mundo e assim ficar mais livre para conseguir enxergar as necessidades do outro e ajuda-lo. Deus não precisa que você faça nada disso, mas deseja ardentemente que você aceite esses meios que Ele mesmo providencia para a sua salvação, para que você cumpra a missão para a qual foi criado e seja também um mestre na arte de amar.
---
God doesn't need your prayers!
God doesn't need your prayers, nor your penances, nor your fasts. He doesn't need your attendance at Mass, nor even that you receive any of the other sacraments. God is omnipotent, omnipresent and omniscient. He doesn't need anything! So why do the Word of God and the Holy Tradition of the Church ask that you do all that? Is it all a human invention to "oppress" you? The reason is simple: the plan of the Father for your life is that one day, you can enjoy happiness in Heaven, beside Him. To do that, you need to conquer yourself, your selfishness. And this is a really hard job. As our Father is rich in mercy and compassion, He wants to help you. Actually, His grace can do almost everything alone. It is only necessary that you open your heart and accept that He molds you and takes care of you. The Father only needs a small rift in your heart to make great miracles of inner transformation. After grace enters into you, it only needs a minimum effort to cooperate with it, to let it act and enhance every day your capability to love. It is love that will take you to Heaven. The saints, our brothers and sisters who mastered their mission here on earth, were masters of the art of love. The opposite of love is not hate, but selfishness. So, the more you love the less selfish you are -- and the more open you are to accomplish what the Father predicted for your life here on earth. How can we learn to love? How can we manage to open this rift for the grace of God to enter in our hearts? How we can persevere in collaboration with this grace? This is where the need for prayer, for sacrifice, for fasting, and for attendance at the sacraments are. God does not need your prayers, but you need to pray. It is through prayer, this contact with the Father, that moment of intimacy with Jesus, our Savior, that your heart opens to receive grace. The more you pray, the more you ask (you can ask for whatever you want, but always remember how Jesus taught us to pray: "Your will be done, on earth as it is in Heaven"), the more your heart opens and transforms itself. God does not need you to go to Mass, but you must receive the Eucharist. In the Eucharist, Jesus gives Himself totally to you, in body, blood, soul, and divinity. He becomes one flesh with you, to strengthen you in the struggle to learn to love more and to love better. God does not need you to go to confession, but you need to confess to ask forgiveness for the times you have failed to love Him and love your neighbor, and so be reconciled with Him so that He can continue to act in your heart through the Holy Spirit. God does not need your fasting and sacrifices, but you need to fast and do penance to get rid of the attachment to the things of this world and thus be freer to see the needs of the other and help them. God does not need you to do any of this, but He ardently desires that you accept these means that He Himself provides for your salvation, that you fulfill the mission for which you were created and also be a master in the art of loving.
---
Copyright 2018 Flávia Ghelardi
About the Author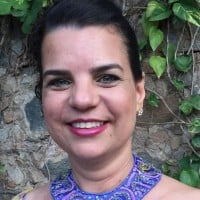 Flávia Ghelardi is the mom of four, a former lawyer already "promoted" to full time mom. Flávia published her first book FORTALECENDO SUA FAMÍLIA and is a member of Schoenstatt´s Apostolic Movement. Flávia loves to speak about motherhood and the important role of women, as desired by God, for our society. She blogs at www.fortalecendosuafamilia.blogspot.com.