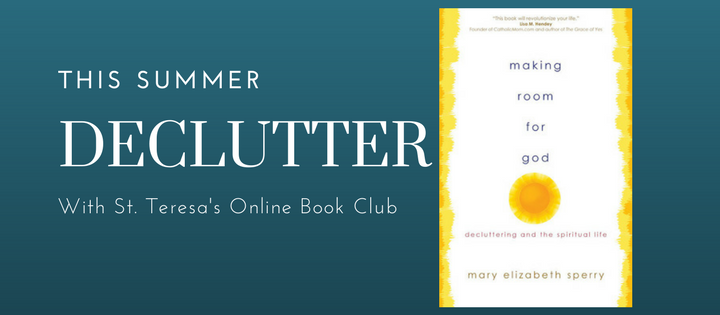 Copyright 2018 Michele Faehnle. All rights reserved.[/caption] If you are looking for a great faith-based book study, I would love to invite you to St. Teresa's Online Book Club. This faith-sharing group is a great way to read awesome Catholic books with friends from everywhere! This summer, we are excited to share that we will be helping you declutter and grown in your prayer life with the new book, Making Room for God: Decluttering and the Spiritual Life by Mary Elizabeth Sperry. The discussions began in early June, and we would love for you to join us! This book is a spiritual challenge that will lead you to holier, healthier habits for relating to your possessions, to an interior conversion, and to a deeper relationship with God. It's blessedly short; an easy read and gives practical ways to declutter your home and your soul, making more room for God.
About the book: Making Room for God is the first book on organization from a Catholic perspective. Self-proclaimed packrat Mary Elizabeth Sperry will help you make decluttering a prayerful, peace-filled, and soul-expanding experience. Popular Catholic speaker and Bible expert Mary Elizabeth Sperry explores the relationship between our stuff and Catholic beliefs about grace, sin, repentance, prayer, and the common good. She boldly affirms the goodness of our stuff and of God's abiding presence in the worldly goods all around us. She also reminds us of how sin can distort our relationships, including the ones we have with our possessions. Through spiritual disciplines — especially prayer, fasting, and almsgiving — we can protect this relationship so that we own our possessions but they don't own us. Making Room for God offers an enticing and entertaining approach to decluttering, discipleship, and the spiritual life that makes tidying up seem almost fun. Writing from an unabashedly Catholic perspective and with convincing practicality, Sperry looks at the role of material goods in the life of a follower of Jesus. Each chapter includes humorous and often self-deprecating details of the author's own journey through decluttering to help us believe that we, too, can simplify. Alongside these adventures are Sperry's rich spiritual insights gleaned from extensive knowledge of the Church's tradition and helpful exercises for freeing ourselves from clutter and the temptation to sin it so often harbors. Sperry draws liberally from the Bible, liturgy, Fathers of the Church, lives of the saints, and Church teaching — especially that of Pope Francis — as she explores the relationship between our stuff and our spiritual lives. Practical elements offer a step-by-step approach to decluttering living spaces, getting rid of unused and excess items, and limiting future accumulation. Weekly Discussions and Details: How do I participate? It's simple!
Request to join our facebook group here.
If you haven't already, purchase Making Room for God; Decluttering and the Spiritual Life by Mary Elizabeth Sparrow and invite your friends to join us! Consider giving the book as a gift and inviting them to join our online book club.
Once you sign up for this study on Facebook, you will receive comments and posts from the group and even the author about each chapter. We even invite you to share your reactions and decluttering progress!
We'll aim at reading one chapter per week. Every Saturday, the group administrators will moderate discussions based on the chapter of the week. On our start date will be the beginning of June and we will discuss Chapter One. We begin each book with an informal discussion about the introduction. Important: This Facebook group is "closed," which means that members of the group are the only ones who can see the comments you write. So no worries about too-personal musings showing up in the newsfeeds of friends and relatives! We look forward to connecting with you at St. Teresa's Book Club.
---
Copyright 2018 Michele Faehnle
About the Author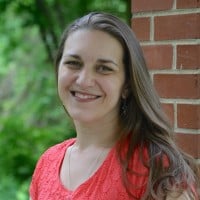 Michele Faehnle is a wife, mother of 4 and a school nurse. In her free time she enjoys volunteering for the church and is the co-chair of the Columbus Catholic Women's Conference. She is also the co-author of The Friendship Project, Divine Mercy For Moms, Our Friend Faustina and Pray Fully; Simple Steps to Becoming a Woman of Prayer. Read more of her work at InspireTheFaith.com.