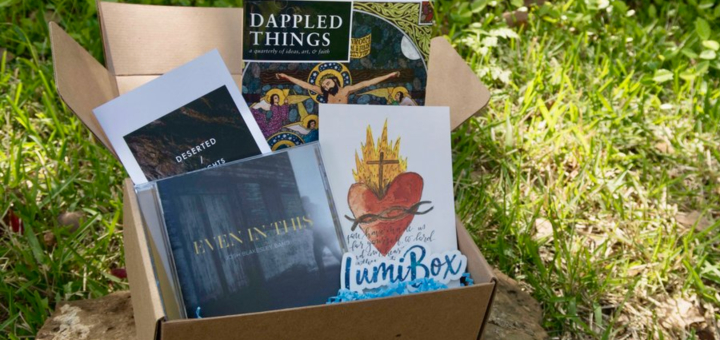 Courtesy of LumiBox. All rights reserved. Used with permission.[/caption] Do you like surprises? Do you like supporting the fine work of a wide variety of Catholic artisans and makers? Danielle and Edmund Mitchell have found a way to combine the two: they've created LumiBox, a monthly subscription box filled with carefully-curated items by Catholic creatives. These subscription boxes support the work of Catholic artists and artisans (and introduce this work to a new audience); the Mitchells are a homeschooling family with five children, and Edmund is a youth minister in their home town in Texas. While there are plenty of goodies in each box (more on that in a bit) one of the most impressive features of LumiBox is the daily devotional that's included. These mini-magazines are high-quality publications, bound and printed in full color. Each day's page contains a quote from Scripture, the Catechism of the Catholic Church, or a saint. The magazines also devote a few pages to brief introductions of the work of each artisan who contributes to what's in the box.
Courtesy of LumiBox. All rights reserved. Used with permission.[/caption] I received two sample boxes to check out, and there was a good variety of items in each one. They're not tiny little samples, either, but full-size products. These included:
Tea sampler from Mystic Monk Coffee (20 tea bags in a wide array of flavors)
Hand-printed tea towel (Veronica's Veil pattern) from Elizabeth Bloofield of Salem Studio
Pomegranate jelly from the Trappist monks of St. John's Abbey (a 12-oz jar -- that's a lot of yumminess)
Wooden spoon with Chi-Rho woodburned design from Hummingbird Crafts (almost too pretty to stir dinner with, but I'm definitely finding a special place for it in my kitchen)
Ricky Vasquez EP album
Art print by Tom Yao, suitable for framing or sending as a greeting card
St. Anthony's (gluten free) Hermit Bars from the kitchen of Little Portion Monastery (the label says they're made with pecans, raisins, molasses, ginger, cinnamon, and prayer)
What's in the current box? June's box has a "dads with beards" theme and can be ordered through June 17! Our friends at LumiBox are offering a special coupon code for CatholicMom.com readers: enter CATHOLICMOM at checkout to receive 10% off your first box. LumiBox also offers select products in its online store. You'll find journals, a pocket Catechism, art prints, and more available there, plus mini-notebooks labeled "Support Catholic Art."
---
Copyright 2018 Barb Szyszkiewicz, OFS
About the Author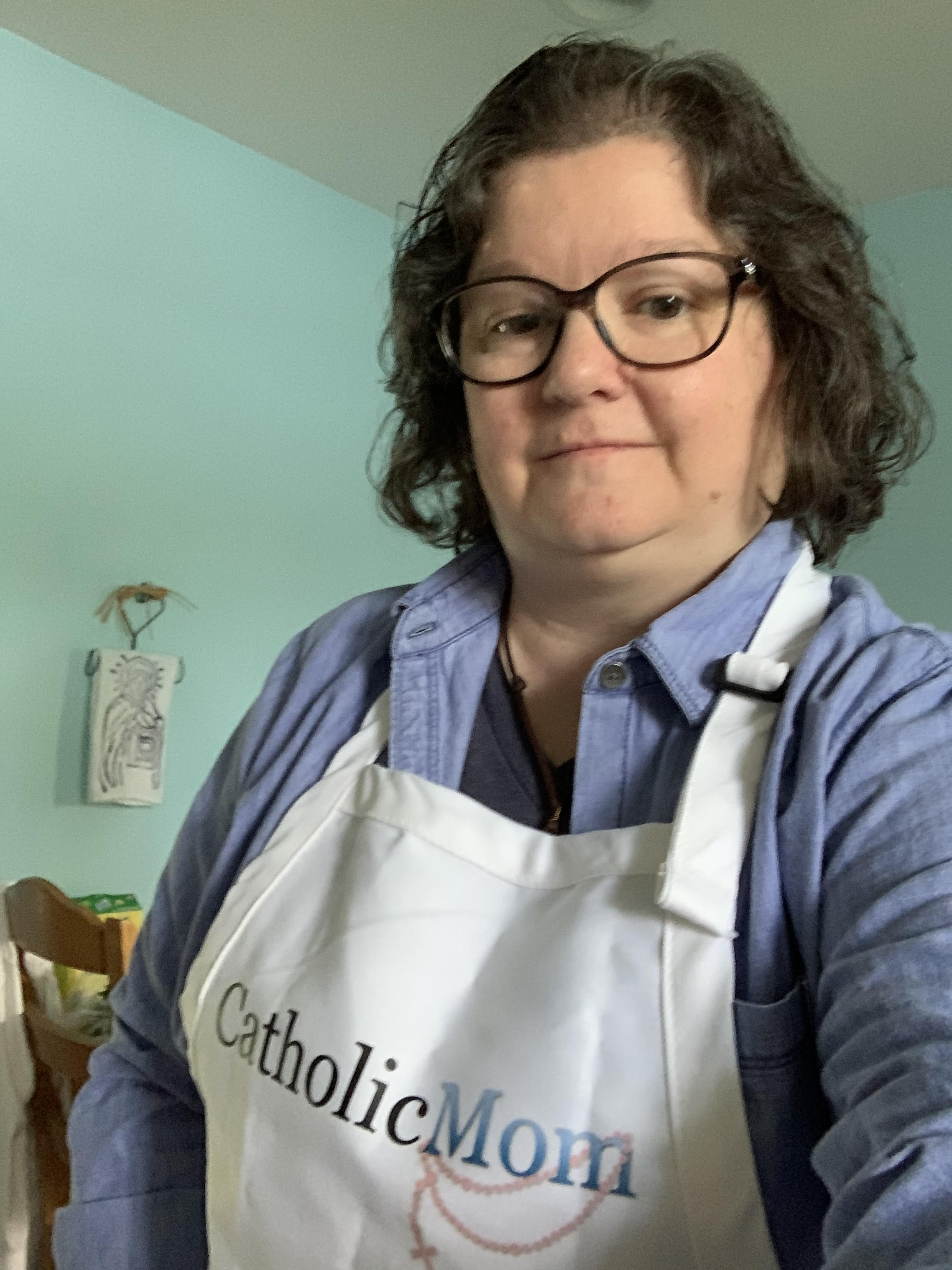 Barb Szyszkiewicz is a wife, mom of 3 young adults, and a Secular Franciscan. She is editor at CatholicMom.com. Barb enjoys writing, cooking, and reading, and is a music minister at her parish and an avid Notre Dame football and basketball fan. Find her blog at FranciscanMom and her family's favorite recipes with nutrition information for diabetics at Cook and Count.