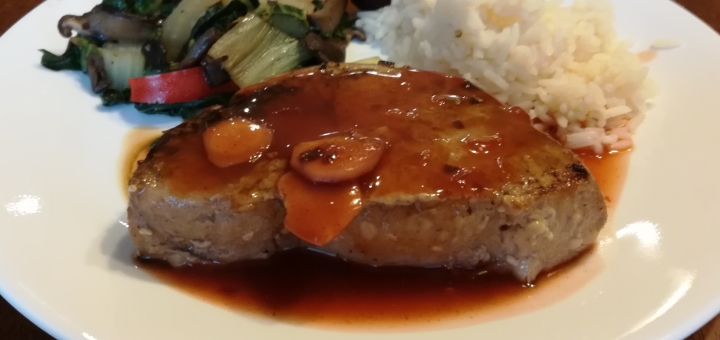 Thresher shark isn't exactly my usual Friday meal. But it was on special at my local grocery store (I spent less than $5 for two 6-oz. steaks), and it turns out, it's really delicious. It's very meaty, with a flavor that's a little beefier than swordfish, but with a more tender flesh. I highly recommend it if you can find it, but if not, this recipe will work with swordfish, tuna, or just about any large ocean fish that is cut into steaks rather than fillets. This outdoor grill recipe with fresh fruit sauce is perfect for summer, no matter which fish you use. Please note that shark and other large predator fish are high in mercury and not recommended for pregnant or nursing women.
Copyright 2018 Karen Ullo. All rights reserved.[/caption]
Shark with Sesame and Blood Orange Sauce
For the shark (or other fish): 2 portion steaks thresher shark or similar large ocean fish Juice of 1 blood orange 1 tbs. olive oil or avocado oil 1/8 tsp. pepper 1/8 tsp. salt Sesame seeds Combine orange juice, oil, salt, and pepper. Marinate the fish in the mixture for at least 10-15 minutes. Then place the fish on a plate and sprinkle both sides with sesame seeds. Oil a broiler pan and place it on an outdoor grill. Mine is propane, but you can use charcoal if you prefer. Preheat the grill with the pan to 400 degrees. Place the fish on the broiler pan. Turn it every 5-10 minutes and baste with the remaining marinade. Continue until both sides are seared and the interior is medium well, about 25 minutes. For the sauce: Juice of 4 blood oranges ½ cup vegetable stock 2 tbs. rice vinegar about 4-5 tbs. honey 1 tsp. sesame oil 1 tbs. soy sauce ¼ tsp. red pepper flakes ½ tsp. chili powder 1 tbs. corn starch about ½ inch fresh ginger, thinly sliced (You can grate it if you prefer, but I like to get a nice bite of ginger now and then.) Whisk together all ingredients and pour into a sauce pan. Bring to a slow boil, then reduce heat. Keep it low enough not to bubble, and allow to warm while the fish is cooking. Don't forget to taste it and adjust the amount of honey or orange juice to suit your preferred balance of sweet and sour. Spoon over the fish. Serve immediately. This recipe will give you enough sauce to toss with whatever side dishes you choose to have, too. It's pictured with sautéed bok choy, red bell peppers, and mushrooms, white rice, and fresh fruit. Enjoy!
---
Copyright 2018 Karen Ullo
About the Author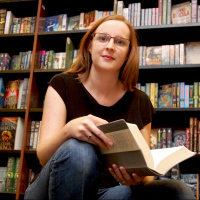 Karen Ullo is the author of two award-winning novels, Jennifer the Damned and Cinder Allia. She is one of the founding editors of Chrism Press, which is dedicated to publishing Catholic and Orthodox fiction, and the former managing editor of the Catholic literary journal Dappled Things. She's also a wife and mother of two. Find out more at KarenUllo.com.