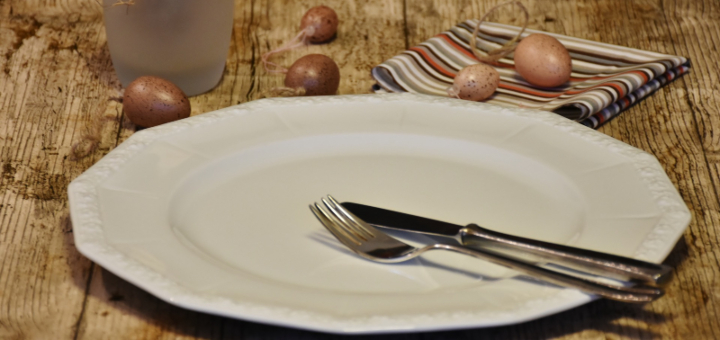 Photo via Pixabay (2016), CC0 Public Domain[/caption] A reader, referring back to a post from a couple of months ago, asked me if I had actually done anything to implement a weekday fast so that Sunday could be a feast day without being gluttonous. And, wonder of wonders, I have! So often the noble percolates in my head, and it takes months (maybe even years!) to materialize in my everyday life. But this time, thanks to several different threads coming together and by God's grace, I have actually implemented a weekday fasting schedule. Most days I fast from dinner until dinner. This is called intermittent fasting. (If you want to read more about intermittent or extended fasting from a medical, physiological perspective, read The Complete Guide to Fasting by Dr. Jason Fung.) Several years ago, my trim chiropractor mentioned that this is how he eats, and I thought he was completely nuts. In truth, it is really not so radical (humans have been fasting and feasting since time immemorial) or so difficult (I found that the anticipation of how hard it will be is way worse than the reality). I have been fasting now for well over a month. I don't fast on Sundays or on feast days. The feast of the Assumption was the first big feast day since I began this practice, and it really felt like a feast! After breakfast, I took the kids to a local bakery and relished a pecan sticky bun. For lunch, I put sugar in my coffee. And for dinner I ate take-out pizza. It was awesome, and it was awesome without being gluttonous. It felt like true feasting. It felt like a celebration. So how do I feel while fasting? Mostly I feel great. The hunger comes occasionally, but as I had read, it comes in waves. If you make it through the wave of hunger, the feeling goes away and stays away for a couple of hours. So for me it's about an hour of feeling hunger around lunchtime, and then I am fine until dinner, and even then, I don't feel that hungry. I have done one 44-hour fast, and that was only marginally more difficult than my usual routine. I have felt far less lethargic than I have in a long time and have more energy than usual. I even tackled cleaning our basement (a cellar-style storage space), which is a project I have ignored for over a decade. What's more, after I was finished with the day's work, I didn't reward myself with food. I have lost about 14 pounds in one month eating this way, and the dinners I ate, while home-cooked, weren't especially low-carb -- and I ate plenty. If we have dessert available, I have eaten some. For me, one of the biggest indicators of the success of fasting is the fact that when I made chocolate chip cookies for my children, I didn't feel an interior struggle not to overeat. I ate two and was satisfied. This is radically different from my usual experience. Overall, I have simply enjoyed food more than ever. The daily meal tastes so good and is such a delight; I feel like I have re-discovered the joy of food. It feels like the way God probably designed food to be consumed: I feel hungry when I eat, and I'm not just shoving it into my body because I want it, because it's there, or because I am feeling a negative emotion. I should also mention that there have been surprising practical benefits. I find I have about an extra four hours per week (the time that would have been spent preparing and eating my own breakfasts and lunches throughout the week). I am spending less money. While I wouldn't say these would personally be reasons enough to motivate me to fast, they have been pleasant advantages. There is a spiritual side of fasting too. One of the main reasons why I fast is because I felt that food had power over me in a way that it shouldn't. I was cranky when I didn't eat. I thought about how to reward myself with food. I turned to food when sad or stressed. I ate too much of certain foods just because I wanted to. Intuitively, I knew that that part of my life was not properly ordered. If you are in a similar situation, you might enjoy taking a little food attachment quiz I created when I was deep in exploring my own disordered attachment to food. Jesus presumed we would be fasting. "When you fast ..." He said (see Matthew 6:16). I know so little about the power of fasting, as I am so new to it. But I can say that it has already induced some sense of detachment from the things of the world. Like all Christian spiritual practices, such as prayer and alms-giving, fasting molds the soul into the way of holiness. Fasting also has always been a way of showing remorse for our own sins and a way to make reparation for the sins of others. I am tempted to think that because I am doing it for my physical and spiritual health, it cannot also be "applied" as a prayer. Nonsense! Think of the Holy Mass, when we pray "May the Lord accept the sacrifice at your hands, for the praise and glory of His name, for our good, and the good of the whole world." If the Mass itself can be said for God's glory as well as for ourselves as well as for the whole world, well, then so can our small acts of fasting. Offer your sacrifice of fasting to God for His glory, your own good, and the good of the whole world. If you feel out of control regarding food, want to re-discover a spiritual practice that has been around for thousands of years, and/or desire to create a rhythm in your family life that accords with the liturgical year, I encourage you to try fasting! It is changing my life.
---
Copyright 2018 Amanda Woodiel
About the Author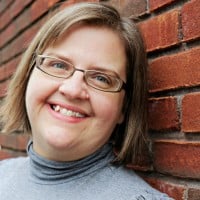 Amanda Woodiel is a Catholic convert, a mother to five children ages 11 to 3, a slipshod housekeeper, an enamored wife, and a "good enough" homeschooler who believes that the circumstances of her life -- both good and bad -- are pregnant with grace. She leads a moms' group at her parish that focuses on simple and meaningful ways to live the liturgical year at home. Amanda blogs at In a Place of Grace.