Editor's Note: This is one of a series of 5 reflections on the Catholic Conference 4 Moms, an annual online conference hosted by CatholicMom contributor Tami Kiser. This year, the conference theme is "Pass It On: Equipping kids for the journey of faith," and CatholicMom.com is proud to be a conference sponsor. Visit CatholicMosaic.com to sign up for the FREE 5-day conference and enter the door-prize drawing. - Barb
Copyright 2018 Tami Kiser. All rights reserved.[/caption] It's that time of year again -- and thank goodness! The back-to-school rush is over, but the holidays are already looming before us. Holiday time seems to creep up earlier and earlier each year, filling me with a mixed bag of emotions. The Catholic Conference 4 Moms is so well placed! It pulls me back, making sure that I'm keeping my focus heavenward, instead of Halloween-costume-, pumpkin-pie-, Christmas-cookie-decorating-ward. I have been blessed these past few days by my sneak peak at Danielle Bean's "Learning in the Home" presentation from the conference. Danielle walks through some key elements of family life which are opportunities for parents to help form their children in our great faith. Parenthood is overwhelming, and each family has its own distinct flavor and way of doing things. What was so great about Danielle's presentation is that she has thoughtfully distilled 5 practices that all families, no matter location, situation, or make-up, can do to enliven their own domestic church.
Service
Danielle's first practice resonated deeply with me. She points out how in many ways, our culture highlights service to others, but in an incomplete way in families. In many cases, parents feel that their role is to be in service, or of service, to their children. We drive them to and fro, cook their food, wash their clothes, manage their schedules, and so on. As they grow up, often they are able to start doing these things for themselves, which is good. However, nowhere in this picture did our children learn how they themselves are called to serve others too. In a world so focused on the individual, it is easy to see how a child who has always had a parent serving them might expect similar treatment as an adult, or at the very least find it awkward or challenging to serve another person. Just a few weeks ago at Mass, Jesus said, "Whoever among you wishes to be first, he shall be the last and the servant of all" (Mk 9:35) One of the things that we try to do in our family is to be very aware of the vocabulary we are passing on to our children. If I want one of my kids to help pass out plates for lunch, I ask them to serve one another. When I notice that my older daughter has helped her sister change the sheets on her bed, I try to say "Thank you for serving your sister by helping her with that job." My son (who is the oldest) struggles so much with a desire to always be first, to be the best, the fastest, and so on. We are focusing on helping him find other words to use instead of competitive language. I want him, and all my children, to recognize the value of the other person first, rather than to compare their performance against their own. I hope that you join us at this conference -- did I mention that it's totally and completely FREE and all online. I'll be honest, I listened to Danielle's presentation while making and cleaning up breakfast. Later I revisited it when I had time to sit peacefully with all the good things she had to say. These presenters have done such good work and each have something uplifting to share. I would love to know how you teach and model service in your home. Do you have any ideas for helping your kids serve one another, and your family, with a cheerful spirit? Do you also have a competitive soul in your home, and how do you help channel that energy along a more life-giving route?
Copyright 2018 Tami Kiser for Catholic Conference 4 Moms. All rights reserved.[/caption]
---
Copyright 2018 Kate Taliaferro
About the Author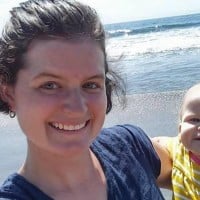 Kate Taliaferro is an Air Force wife and mom of 6. She has a Masters in Religious Education and tries to find God's presence in all parts of her day, be it cooking, cleaning or just the everyday ordinary. She enjoys homeschooling, stitching crafts and finding cheerios between the couch cushions. She blogs at Daily Graces.