Recently, I had the opportunity to receive and review two beautiful books for children about the Mass and finding God in silence.
Fiona Basile, inspired to write this after a 30-day retreat at a Jesuit community, wanted a way to bring the beautiful practice of silent prayer to children. With elegant illustrations and few words that build on the gentle repetitious message, "God is in the Silence," Basile's book invites the minds of children (and adults) to slow down, listen, and find God in the silent moments of our days. I read the book with a class of kindergartners for their first time in Eucharistic Adoration as a class. The simple "Shh ..." at the beginning of each page helped draw their silent attention into the pictures and inspired a quiet conversation about how they can talk with God in the silent times of their days. They all loved it and I'd highly recommend this book for anyone with young children or even just for themselves!
In this charming book, children are prompted to think about what they notice when they go to Mass. I had the pleasure of reading this book with a class of kindergartners after they came back from Mass and, after reading the book, gave them a chance to share what they saw at Mass that morning. The book takes readers on a delightful tour through a Catholic church from the perspective of a little boy in awe of everything to see. The simple monochromatic use of color in the illustrations guides children's eyes to focus on the details they may otherwise miss. Though specific terms and names for the objects seen at Mass are not included in the book, this could be used as a wonderful teaching tool along with instruction about the different parts of the Mass as well as the names for the special items and vessels used at Mass. I'm thankful to Loyola Press and Tan books for the opportunity to review these books and share them with my children and the group of kindergartners at my son's school. Thanks to Katie Warner, Meg Whalen, and Fiona Basile for creating these delightful books that encourage young (and old!) souls to look and listen for God in the silence and small details around us.
---
Copyright 2018 Erika Marie This article contains Amazon affiliate links; your purchases through these links benefit the author.
About the Author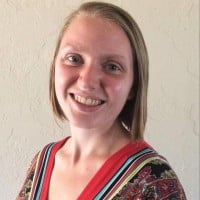 Erika Marie is a simple Catholic, Wife, and Mama. She relishes snuggles and free time with her family and enjoys reading, writing, blogging, and has a slightly obsessive addiction to creating Canva graphics. Enjoy more reflections by Erika at her personal simplemama blog.