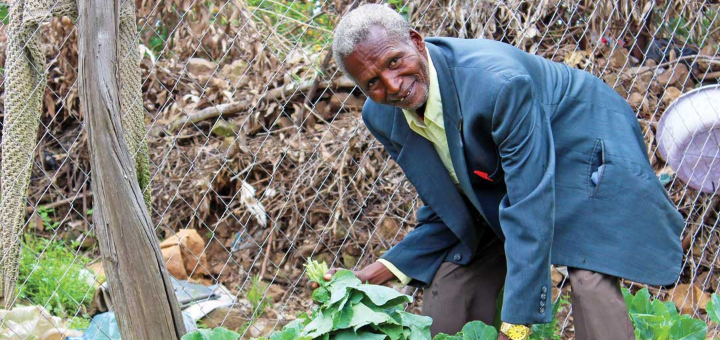 Unbound works with some 31,000 elders age 60 and older in Latin America, Asia, and Africa. Since programs are personalized, elders choose benefits that address their particular needs. Food, medical care, and housing are most commonly selected. Elders also benefit from relationships formed with local staff, with peers and with their sponsors in the U.S., through correspondence. Following is the story of one sponsored elder, Erastus in Kenya, who survived hardships and found happiness again.
One of the many joys Erastus experiences is the time he spends in his home, reading letters from his sponsors Doug and Susie in Oklahoma. Copyright 2018 Unbound.org. All rights reserved.[/caption] He lost everything in the post-election violence in Kenya more than a decade ago. Yet 72-year-old Erastus keeps moving forward. In his community outside Nairobi, Erastus works casual jobs and farms a small piece of land where he grows fruits and vegetables and raises chickens. With his winsome smile and refrain of "I'm flexible," a personal motto of sorts, it's hard to conceive of all he's been through. Erastus' wife was killed in ethnic violence that erupted after the disputed December 2007 presidential election. She'd gone out to collect charcoal and didn't make it back. More than 1,100 people were killed in the violence with another 650,000 displaced, Human Rights Watch reported. When the violence started, Erastus and others sought refuge at a police station. He later fled the area with a friend who hired a car to get them to safety. With his wife gone and his adult children scattered, Erastus was alone, with only a thousand Kenyan shillings (less than $10 in today's money) in his pocket.
Erastus hangs a shirt out to dry. Copyright 2018 Unbound.org. All rights reserved.[/caption] "I was left with nothing," he said. "They burned everything in my farm, even my goats. I lost everything. My three children abandoned me. They say that no one wants to be around a poor person. Only God sticks with you, the God that has made you [the Unbound community] love me." The local Unbound office serving Erastus works with approximately 640 children and their families and 60 elders. Families participate in the program through 20 mothers groups, each with about 30 members. Elders take part through two groups. The small groups give members a central voice in shaping the program and making benefit decisions. The groups meet monthly to discuss program business and oversee activities such as correspondence with sponsors. One of the offshoots of the small groups is the sense of community that forms. That's critical for elders like Erastus who don't have family around.
Erastus picks vegetables from his garden. Copyright 2018 Unbound.org. All rights reserved.[/caption] Sponsorship funds for most of the elders where Erastus lives are deposited in individual bank accounts. For those who aren't able to do their own banking, benefits are distributed through the office. Elders create budgets for sponsorship funds and most, including Erastus, prioritize food and housing needs. "There is nothing as bad as hunger," Erastus said. "I would get so hungry. I would look at people pay for a meal of 100 (Kenyan shillings, about $1) and wonder how they would afford that. I would see meat and wonder who would eat that." According to a 2015 U.N. report entitled "World Population Aging," two-thirds of the world's older people live in developing regions, and their numbers are growing more rapidly than in other areas. The U.N. projected that by 2050, 80 percent of the world's senior population — an estimated 1.7 billion people ages 60 and older — will live in less developed regions of the world. While elders represent about 10 percent of Unbound's 310,000 sponsored members worldwide, they are key participants in the program, bringing much more than their need. They offer their example of courage and resiliency in overcoming a lifetime of trials, they share their wisdom born of vast experience and they are witnesses to history. Erastus grew up during the "fight for freedom" when the British colonial government ruled Kenya. He started school in 1955. "When I went to school it was during the Mau Mau (grassroots resistance) struggle," he said. "On the Aberdare Mountains, airplanes would come to fight the Mau Mau. It was not an easy time, many people died. The rule was strict and tough. We had guards who would steal things from people. They would burn homes and steal cattle from the people. Women would bring food in calabashes (gourds) to the Mau Mau fighters in the forest." Kenya eventually gained independence from Britain in 1963, and it was around that time that Erastus left his school days behind. Despite a love for education, he was only able to study to the seventh grade because his family lacked money. In 1966, he joined the National Youth Service where he worked in road construction. He was a farmer throughout his life.
Erastus holds vegetables from the small piece of land he farms near Nairobi, Kenya. Erastus' mother would tell him, "When you are hardworking, you will always get something to do and make a living." Copyright 2018 Unbound.org. All rights reserved.[/caption] Erastus has been sponsored by Doug and Susie in Oklahoma since 2015. He recalled the day he learned someone had chosen to sponsor him. "I asked if I could go to the office immediately," he said. "I was scared that this opportunity might get withdrawn. The staff told me to go the following day. I did not sleep a wink waiting for morning to come." Erastus delights in the letters his receives from his sponsors and proudly shows them to visitors. He likes being able to write to them, too. Being a sponsored elder, he said, has brought him joy. "I am so happy, I feel like it's not really me living this life," he said. "I now have food. When you are hungry and wear a suit … only your bones show. When you are full you have flexibility because you are full from the inside."
---
Copyright 2018 Unbound.org
About the Author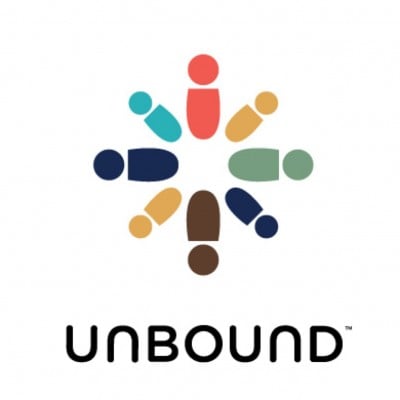 Unbound is an international nonprofit founded by lay Catholics grounded in the Gospel call to put the needs of the marginalized and vulnerable first. We build relationships of mutual respect and support that bridge cultural, religious and economic divides. We bring people together to challenge poverty in 18 countries. We invite you to join us. Find us on Facebook or Twitter.