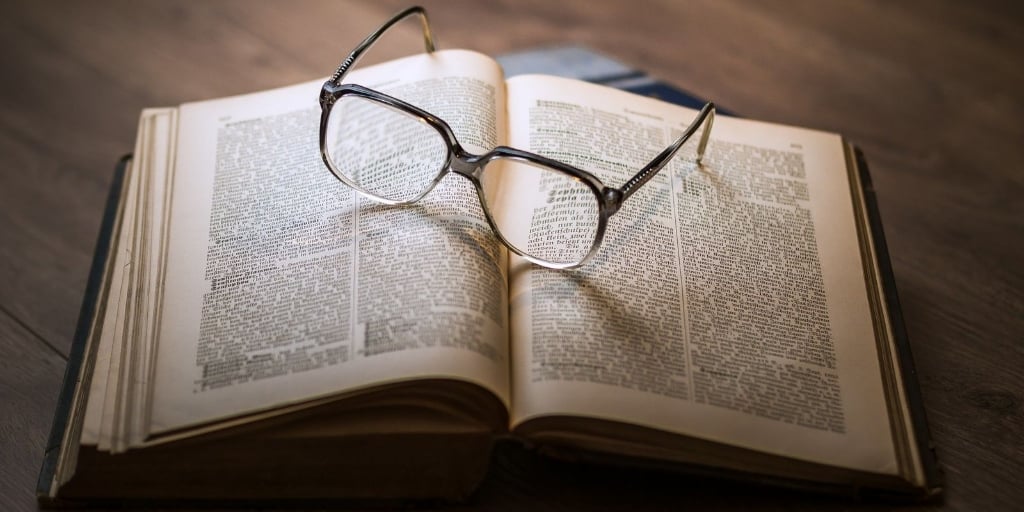 Welcome to the Nerd Corner - that one table in the cafeteria where conversations tend to revolve around weird and fascinating historical events, odd science, J.R.R. Tolkien, five-cent words, and the quirky ways the threads of the world entwine. Add a good dose of Catholicism, and the Nerd Corner gets pretty fun.
Did you know there are six women buried in St. Peter's Basilica? Yep, the massive, iconic church houses popes, saints, Michelangelo's Pieta, and the tombs of some truly unique Catholic women. [Part 1: Maria Clementina Sobieska] We're going back in time today from an 18th-century Polish princess to an ancient Christian.
The eldest of the Women of St. Peter's, and the only saint in this little sorority, St. Petronilla, is buried at an altar in the right aisle, at the end nearest the high altar. The annoying part about writing on an ancient saint is that ... well, she's ancient. So historical sources are few and far between, and we're left with some rather interesting legends. As best we can figure out, she was definitely a virgin, possibly a martyr, of the first century.
Speculation placed her as the daughter of Saint Peter; in an early account, it was told that she was so beautiful that St. Peter locked her in a tower to keep her from eligible men. Probably not legit, and it's more likely that she was a spiritual rather than a physical daughter of St. Peter. She was probably converted and possibly cured of a palsy by him. There's also a story that when a pagan king named Flaccus wished to marry her, she knew she couldn't marry against the faith, so she prayed and fasted for three days and then died after receiving the Eucharist.
But by the 17th century these stories were pretty thoroughly discounted, and if anything she was your common or garden-variety beheaded-or-thrown-to-the-lions martyr under Domitian. What we do know is that she's been revered as a saint since the fourth century. And thanks to the weaving of historical threads, her story is entwined with France and fine art. Petronilla was first buried in the catacombs, and we have a lovely fresco of her receiving another young woman into heaven.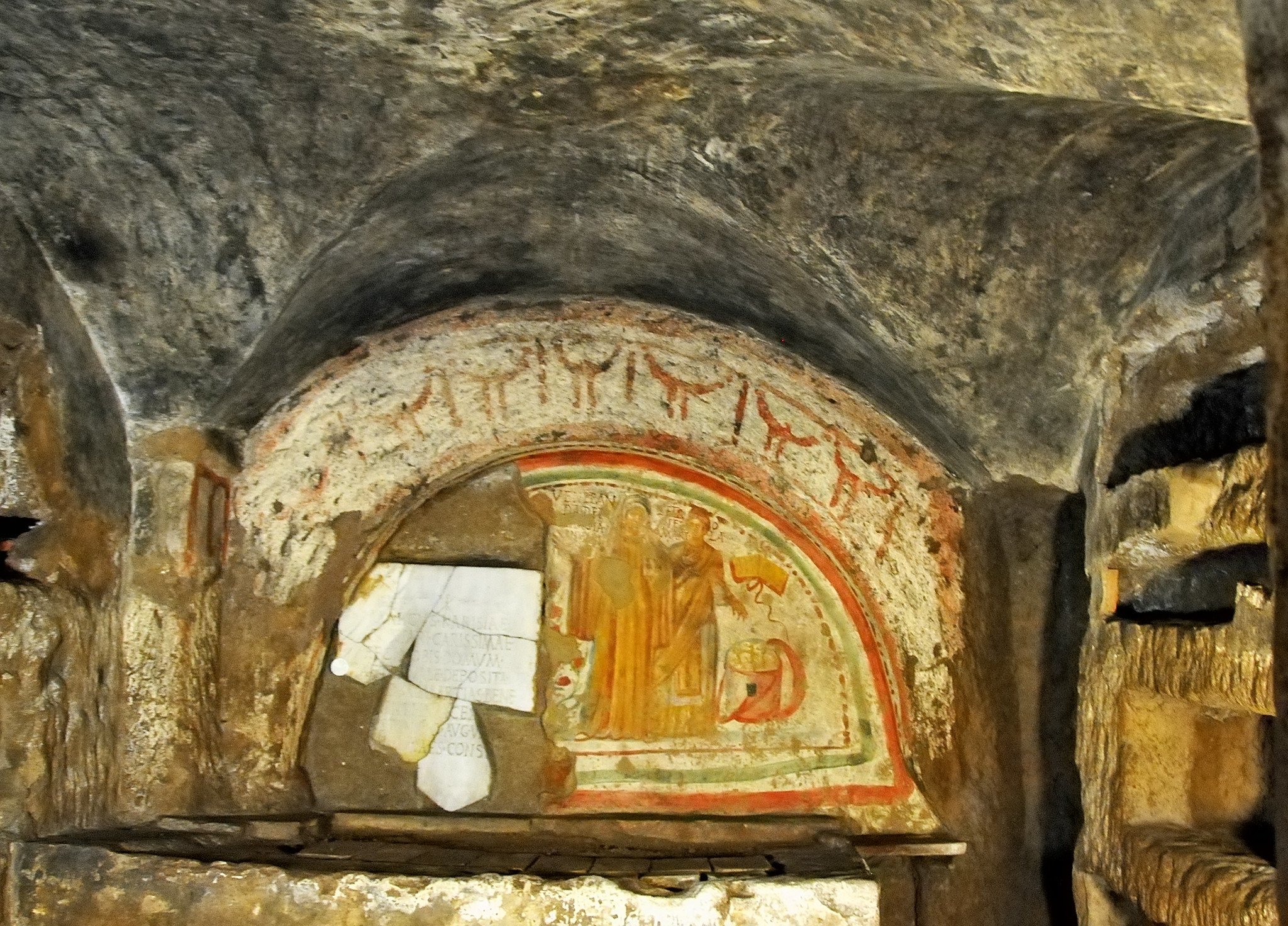 As the centuries went on, and the barbarian tribe of the Franks were converted, France became known as the "Eldest Daughter of the Church" and developed an affection for St. Petronilla as their spiritual sister in the Petrine family. In 750, her relics were moved into a large mausoleum next to the old basilica of St. Peter's (which had been built by the Emperor Constantine.) The kings of France adopted the chapel of St. Petronilla as their national church in Rome, giving money for its upkeep and praying there whenever they were in town. And, a few centuries later!
"In 1498, Cardinal Jean Bilhères de Lagraulas, the French ambassador to the Papal court, commissioned his own funerary monument to be added to the chapel, from a 23-year-old Florentine sculptor named Michaelangelo Buonarroti. This is, of course, one of the most loved and admired sculptures in the entire world, the Pietà." (New Liturgical Movement)
When St. Peter's was expanded dramatically in the 16th century (with all the drama that came with, thank you indulgence issues), St. Petronilla was moved over into her new resting place, at the opposite end of the aisle from the Pietà. For her new altar, a marvelous painting was commissioned, in which that guy in blue in the front is actually the artist's tribute to Michaelangelo.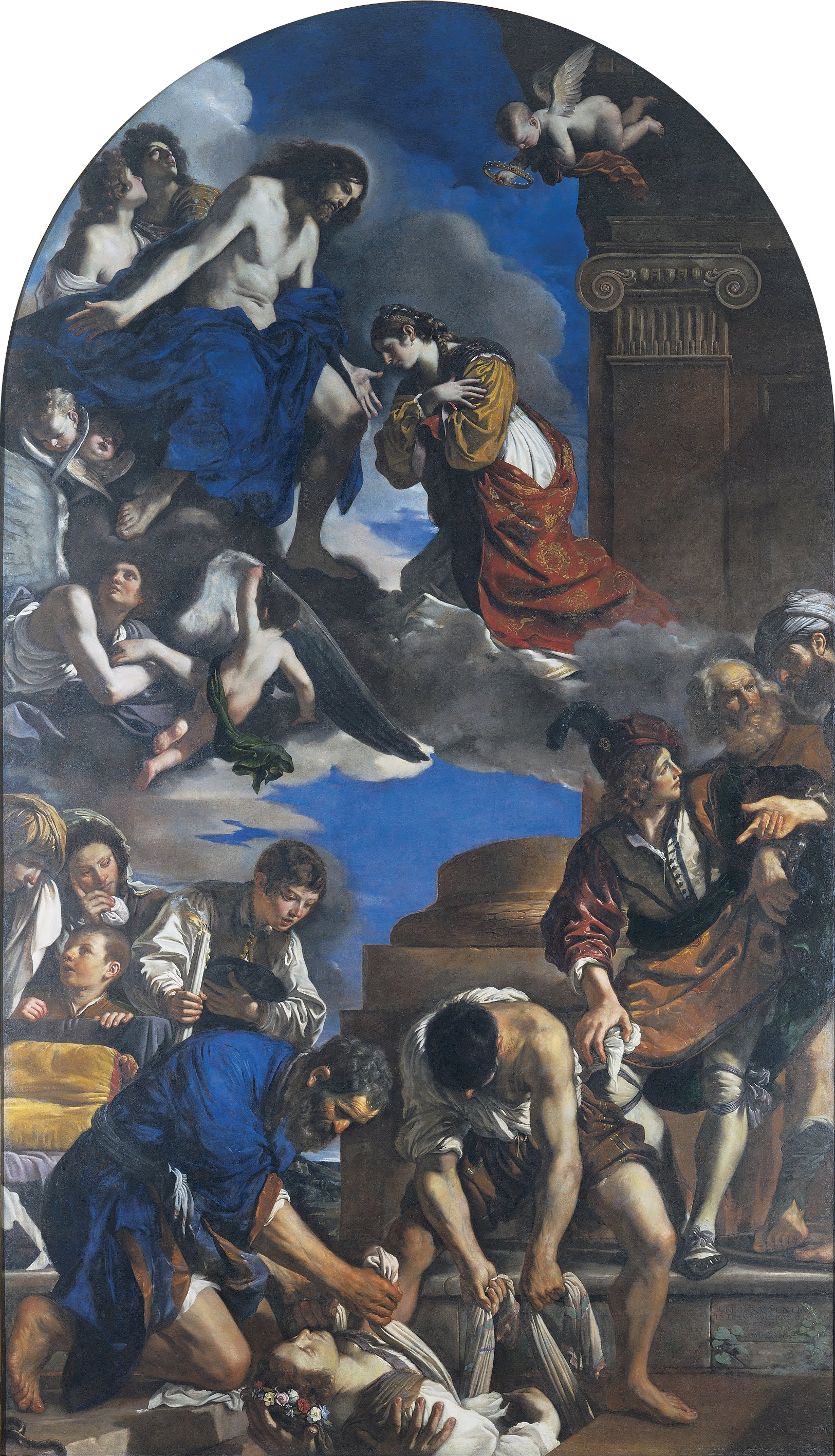 Fun fact: did you know that all the "paintings" in St. Peter's are actually mosaics? They're so incredibly detailed that they look like the paintings which originally hung there or were commissioned for the spaces, but each was then transferred into mosaic. In stone, the art is immortalized forever against the ravages of time, blazing sunlight, tourist flashbulbs, and candle and incense smoke.
St. Petronilla is still beloved by French Catholics. On her feast day, May 31, they hang out in her chapel for a big Mass and celebration. With the feast of All Saints coming up, we should remember all the random holy people that have faded away into the mists of time. They're saints in heaven, which means they have graces to share with us, if we only ask! And I can't help but think these lesser-known saints have so many graces and so much love to share with us, their spiritual little siblings in Christ.
Stay tuned for an Italian countess, a Swedish queen, and other gems of historical femininity on further appearances in the Nerd Corner!
---
Copyright 2018 Rebecca Willen
Images: Pixabay (2015); By Dennis Jarvis from Halifax, Canada - Italy-0709, CC BY-SA 2.0, Link; Guercino [Public domain], via Wikimedia Commons

About the Author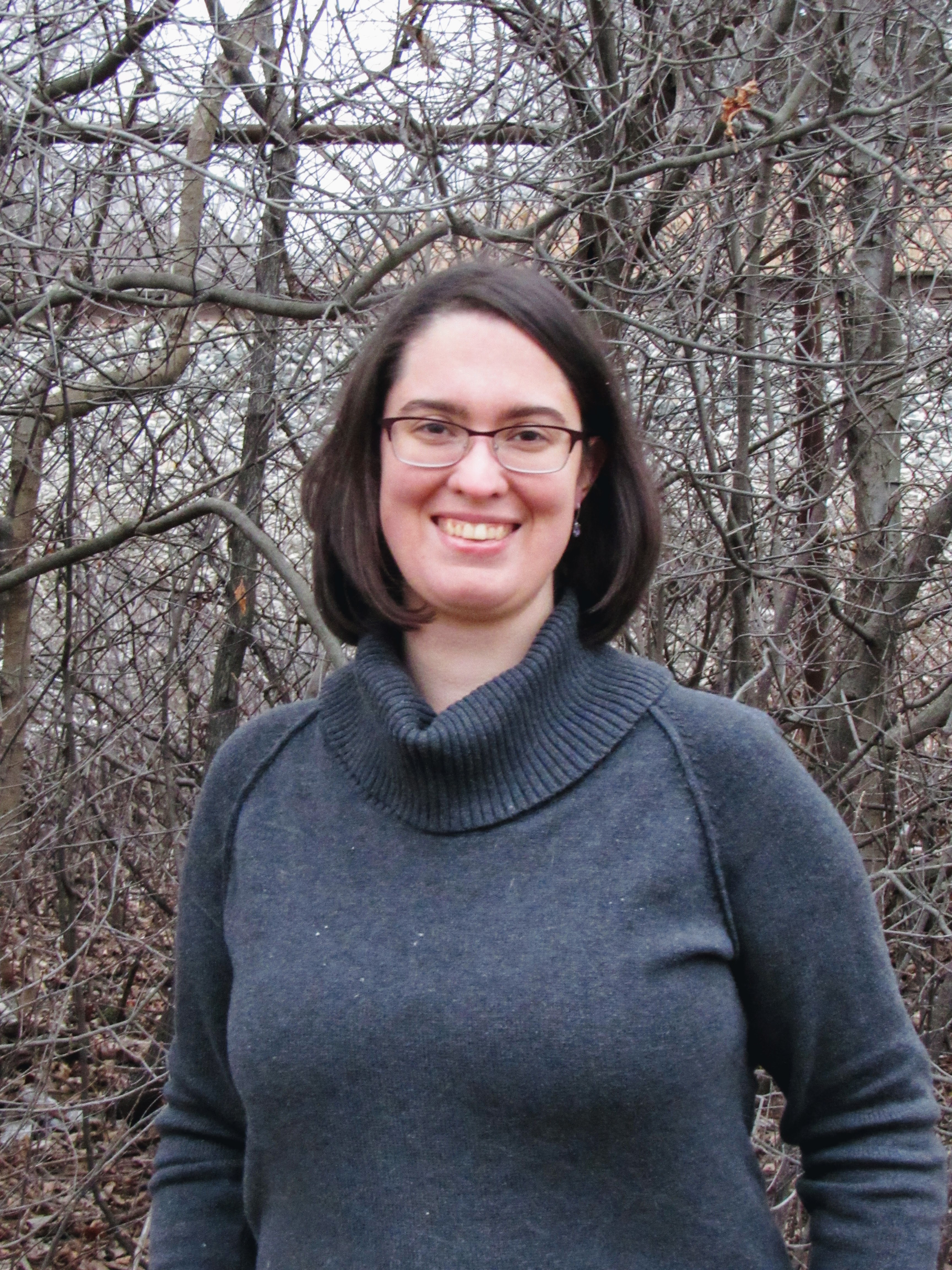 Rebecca Martin serves as Associate Editor for Our Sunday Visitor's trade books, and Daily Gospel Reflections editor at CatholicMom.com. A native Hoosier and Christendom College alumna, she lives in southeast Michigan with her husband and three cats. She is a Lay Dominican, book addict, Shakespeare fangirl, amateur baker, and musician.