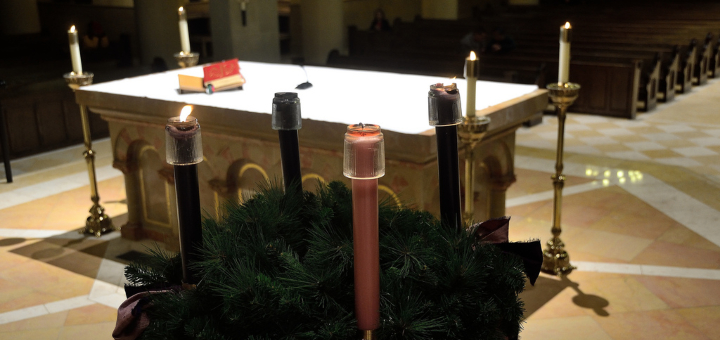 Image credit: Steve Grant (2012), Flickr.com, CC BY-NC-ND 2.0[/caption] I conducted a quick search within Catholicmom.com to see if there were any past articles on resolutions to make at Advent. Many of the articles about resolutions were published in January. That made sense because we normally think of making resolutions at the start of the new calendar year. This year, how about making your resolution now, in December, at Advent, the start of the Church's liturgical year? If we can make secular resolutions, why not spiritual ones? Like Lent, we Christians prepare ourselves for a great event during Advent: Christmas. Though not necessarily a penitential season like Lent, a great way for us to prepare for Jesus' birth and the new liturgical year would be to receive the Sacrament of Reconciliation. I did this the day before the start of Advent this year. I wanted to be whole, to be fresh, in order to welcome the Lord into the world and into my life during this great season. Like secular resolutions, where we make grandiose plans and then quit them in a matter of weeks, we should be tempered on what we resolve to do during our new liturgical year. Begin slowly with your resolution. As you develop and strengthen your discipline, you may even find yourself picking-up other ways of spiritual growth. The more the merrier! Say for instance, you resolve to go to confession more often, perhaps once a month. In your preparation (examination of conscience) you find yourself reflecting more on the sins you have committed. In your examination you may find yourself seeing how God has been present within your life in even the most mundane things (examination of conscience/the Examen). These two things may put you in a more prayerful mood/mode; perhaps a fruit you had not anticipated. That goes back to what I said earlier; you might pick-up more than one discipline from the one resolution you made. I had a bit of a head start on my own personal resolution. I want to become more knowledgeable about Scripture. I have my Bible commentaries and handbooks ready to go. I follow the daily readings for Mass. I write down my thoughts about the Gospel in a notebook that I keep in my back pocket, just in case I cannot mentally recall it hours later. But along the way, I discovered Lectio Divina, that ancient way of praying the Scriptures. It combines my daily Scripture reading with meditation, praying, and contemplation. This has become the bedrock of my Advent resolution. The spiritual resolution opportunities for you this Advent and new liturgical year are endless. Think of one that you would like to tackle, start slowly, and you may find yourself receiving more benefits than you ever imagined. Have a blessed Advent and a Merry Christmas.
---
Copyright 2018 Michael T Carrillo
About the Author

Michael Carrillo is a retired police officer from a large California metropolitan police department. He is married to Vicki and they have five adult children between them. He is an unabashed fan of Jesuit education, though he regrets not obtaining one himself. Day hikes and walks give him opportunities and inspirations to look for and find God.