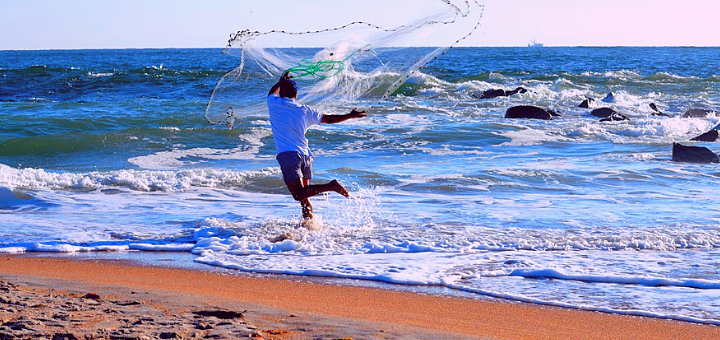 Image credit: Pixabay.com (2014), CC0 Public Domain
Scripture to Ponder
And when the Chief Shepherd appears, you will receive the unfading crown of glory. You younger men, likewise, be subject to your elders; and all of you, clothe yourselves with humility toward one another, for God is opposed to the proud, but gives grace to the humble. Therefore humble yourselves under the mighty hand of God, that He may exalt you at the proper time, casting all your anxiety on Him, because He cares for you. (1 Peter 5: 4-7) But when the day was now breaking, Jesus stood on the beach; yet the disciples did not know that it was Jesus. So Jesus said to them, "Children, you do not have any fish, do you?" They answered Him, "No." And He said to them, "Cast the net on the right-hand side of the boat and you will find a catch." So they cast, and then they were not able to haul it in because of the great number of fish. Therefore that disciple whom Jesus loved said to Peter, "It is the Lord." So when Simon Peter heard that it was the Lord, he put his outer garment on (for he was stripped for work), and threw himself into the sea. (John 21: 4-7)
Why Cast Your Anxieties
As a fisherman, Peter knew about casting nets, but what experience did he have with casting anxieties? Perhaps the answer comes from a very special moment during a really bad night of fishing and a well-timed visit from Jesus. In this reading from John's Gospel, Peter was not merely fishing for dinner. It was his livelihood. Bad fishing meant mounting worry. Jesus comes to help, though Peter does not recognize Him. It will take a friend, in this case, the apostle John, to help him recognize Jesus with them. Sometimes I need a godly friend to point out when Jesus is present and at work in my life too.
Done That Before
Although what Jesus suggests seems to be exactly what Peter had already done, he complies. The response to this act of trust was more than he could have imagined. Peter can speak with authority on casting our nets and trusting in Jesus because he lived it.
Put Down Your Fishing Pole
I try to cast my cares on Jesus; however, I use a fishing pole. Some of the problems I cast out seem so insignificant I feel guilty bothering Jesus. So I reel them back in. Other times, the concern feels big enough to hand to Jesus but if His response is not quick enough or I fear it will not be what I want, I again reel it back in. Still, there are moments I grow anxious, fearing I am wasting my prayer (think: fairy godmother, three wishes) for something I can probably handle on my own and should wait to bug Jesus with something more important in the future. When I do cast my worries to Jesus, willing to trust without reeling them back in, I am blessed to experience the incredible love and care Christ has for me.
Question for Personal Reflection
What are the current circumstances in your life that are causing you anxiety? Are you willing to cast these to Jesus? Which cares do you keep on the end of your prayer pole, reeling them back in again and again?
Connecting to the Scripture
Read 1 Peter 5:4-7. What words touch your heart? Consider what might be the reason these particular words are resonating with you?
How do you typically handle your anxieties?
Where have you seen Jesus at work in your life recently? Did you recognize Him or did you need someone to point His handiwork out to you?
Closing Prayer
Jesus, My nets feel empty. There are situations in my life that I work so hard to resolve yet I keep coming up empty. Please come to my assistance. If you can not fill the net with what I want, help me to see it will be what I need. In whatever circumstance, help me to feel the peace only you can bring.
---
Copyright 2018 Allison Gingras
About the Author