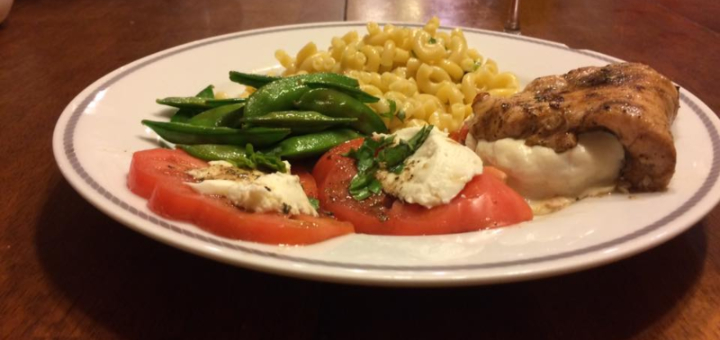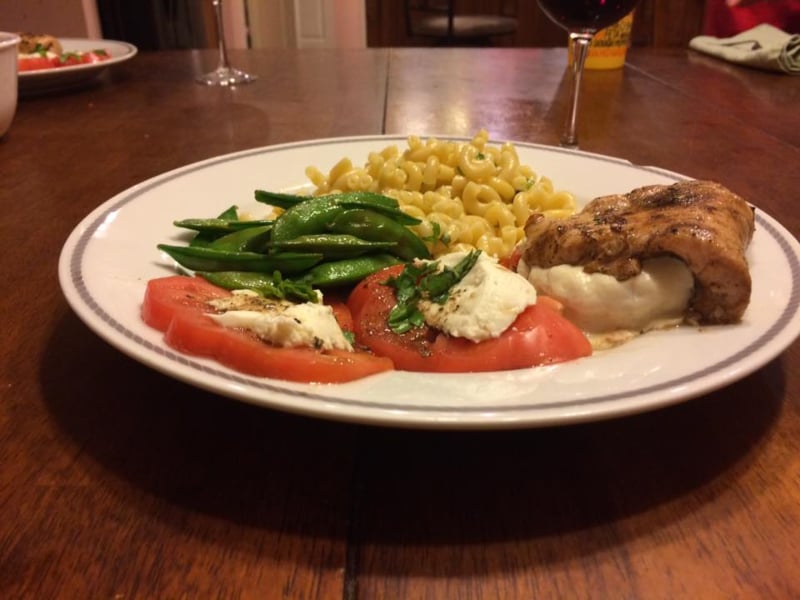 It's Friday … but not meatless! Here in the Octave of Christmas, we're celebrating the birth of the Savior, and that includes meat for the feast. Tomatoes and basil bring the colors of Christmas to the table in this delicious entrée version of a traditional Caprese salad.
Christmas Chicken Caprese
4 boneless, skinless chicken breasts
2 oz. olive oil
1 oz. balsamic vinegar
~1 T honey
¼ t salt
¼ t black pepper
½ t Italian seasoning
4 large leaves basil, chopped
8 slices of a large tomato
4 slices fresh mozzarella cheese
Make sure to get fresh mozzarella, which is usually packaged as a sphere with water in the case. It's wetter and more crumbly than the kind you would shred to put on a pizza. Lay the chicken breasts between two layers of cling wrap. Use a meat mallet to pound them until they are no more than about ¼ inch thick, thin enough to fold easily and cook evenly. Oil a baking dish and lay the chicken flat inside. Combine oil, vinegar, honey, salt, pepper, and Italian seasoning. Baste both sides of the chicken. On each breast, lay 2 thin slices of tomato, one slice of cheese, and one chopped basil leaf. Fold each breast over this filling and use a toothpick to secure it in place, so that it creates a sandwich around the caprese. Bake at 375 for about 20 minutes. Cooking time may vary according to the size and thickness of the breasts. Serve immediately with a caprese salad, if desired.
Merry Christmas! Enjoy!
---
Copyright 2018 Karen Ullo
About the Author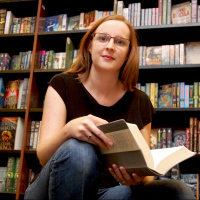 Karen Ullo is the author of two award-winning novels, Jennifer the Damned and Cinder Allia. She is one of the founding editors of Chrism Press, which is dedicated to publishing Catholic and Orthodox fiction, and the former managing editor of the Catholic literary journal Dappled Things. She's also a wife and mother of two. Find out more at KarenUllo.com.