As a young girl, I was fascinated with the concept of time travel. I desperately wanted to travel back to the 1930s and inhabit an MGM musical. I loved the fashions and phrases of years gone by and I wanted to be a part of a time that I had missed. As I grew older, I began to appreciate the era in which God placed me. I came to believe that God created me for a specific time, and that He had given me the graces to live out my time on earth in a way that was pleasing to Him. I understood that, despite my frailties and failures, I was built for times such as these. That realization has made life a sweet adventure.
Given my fascination with time, I was eager to read Eternity in the Midst of Time, a work by Fr. Wilfrid Stinissen published by Ignatius Press. Fr. Stinissen explores various aspects of time — from the meaning of time to Jesus' Time to one of my personal favorites: redeeming time. I found the preface especially captivating, for it states,
"We are like children in a land of fairy tales where everything is exciting and exploration never ends."
Fr. Stinissen also answered my previous doubts about the time in which I live by writing,
"We can only live in harmony with (God) and with ourselves when we wholeheartedly consent to the time God has decided for us. And without harmony in ourselves, we have no possibility of living in harmony with others."
The author offers a succinct explanation of the mystery of time by stating,
"Time always has to do with creation. If God had never created, there would never have been time."
Imagine a world without time. No time to reflect, no time to pray, no time to spend with loved ones. It is as inconceivable as a world without God. Eternity in the Midst of Time also reminded me of a time in my life when I did not use my days well. This was before a conversion experience that left me wanting to serve God as never before. In those dark days, I lived for the next award or compliment, rather than in humble service to my Creator.
"Most people do not answer immediately when they hear God knocking," Fr. Stinissen writes. "But God does not give up. He waits, and by giving us time, he shows what a great price he puts on our answer."
God gives us all the time we need. What a comforting thought in our busy age. May we all use our time wisely, to grow closer to God and to one another in peaceful harmony. How do you think you might use your time better to serve God and neighbor?
---
Copyright 2019 Maria V. Gallagher
About the Author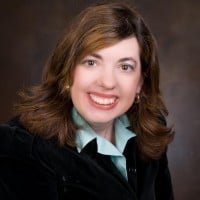 Maria V. Gallagher spends her days advocating for women, children, and families. She is the mother of a beautiful ballerina and a member of the worldwide Cursillo movement. In her spare time, Maria likes to blog, walk, sing, dance, and fill the room with laughter. Read her work at MariaVGallagher.com.